How to Transfer Clash Royale to a New Phone
This guide explains how to transfer Clash Royale to a new phone, or from Android to iOS. Clash Royale is one of the most popular mobile games on the market, and it takes lots of practice along with months of playing to advance. No one wants to start over. Gamers getting a shiny new Galaxy S7, HTC 10 or even the upcoming iPhone 7 will need to know how to transfer Clash Royale.
Following the success of the hit game Clash of Clans, Clash Royale burst on the the gaming scene in March after a short beta, and has been one of the most popular Android and iPhone games since. Now that we're nearly halfway through 2016, millions of players are getting new phones and need to transfer their progress.
Read: Clash Royale Decks to Reach Arena 6-7
Everything is saved on the developer, Supercell's server, meaning players can't simply copy and paste a username, or download the game on a new phone and start right where they left off. However, it's extremely easy to transfer Clash Royale especially if it's on Android. Read on for the quick and simple instructions.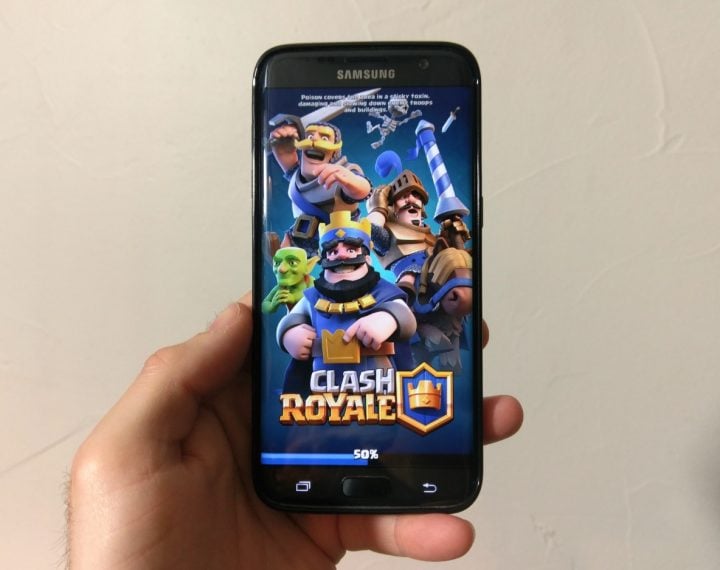 Whether you play Clash Royale on an iPhone and iPad, or on an Android device it's extremely easy to transfer to another device. This can be to switch phones, or to play on a secondary device. Supercell made it extremely easy to switch from device to device, or even from iPhone to Android all without losing progress.
One of the best aspects of Clash Royale is being able to enjoy the game on my tablet or Pixel C, then pickup and play on a smartphone like the Galaxy S7 Edge or Nexus 6P. Using my same information, deck, troops and more. Even switching to iPhone wouldn't matter, as everything transfers in a matter of seconds. The cross-platform abilities of Clash Royale separates it from many other games available today.
Read: 10 Best Casual Games for Android
If you recently bought a new phone, bought a tablet, or are switching from iPhone to Android (or Android to iPhone) here's how to bring Clash Royale with you.
Instructions
Thanks to Google Games the process on Android is extremely simple, and doesn't require anything more than a tap or two. Switching an iOS device or from one platfrm to the other takes more time, but is still extremely easy.
On Android simply start Clash Royale on the new device and tap the gear-shaped settings button near the top right of the screen. This is the settings menu loaded with options. Select the "Google Play Sign-In" button near the middle right as shown below. Now just sign into whatever Gmail account is being used, and everything will transfer in a matter of seconds, load the original, and you're ready to battle. If this doesn't work, make sure the old device is signed into Google Games first and try again.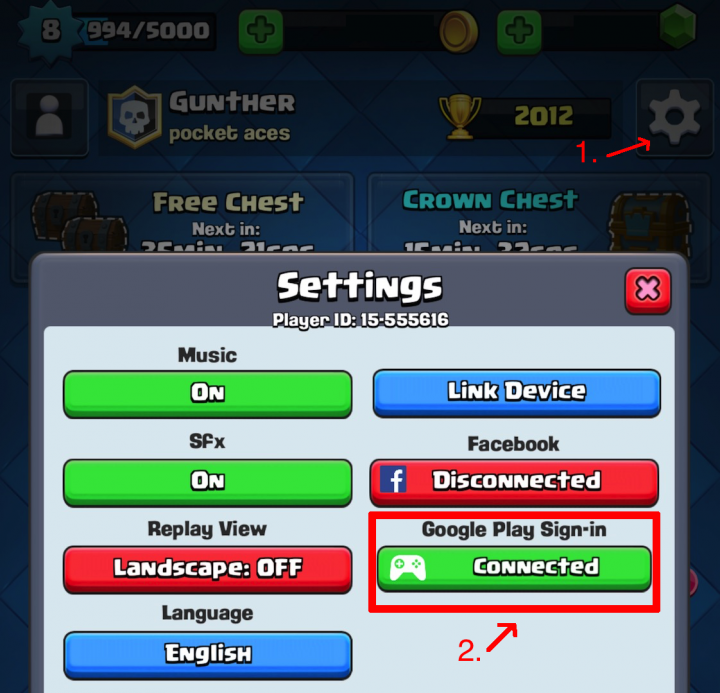 Transferring Clash Royale on Android couldn't be any easier thanks to Google Games. Simply sign in on each device and it does everything else. That's it, enjoy Clash Royale on a new phone or spare tablet.
Next up we'll be transferring Clash Royale on an iPhone, or from one operating system to the other. Like from Android to iOS, or vice versa. Here are photos showing where and what to do, followed with step-by-step instructions.
Open Clash Royale on both an Android or iOS devices (original device and target device).
Select the Gear-shaped settings button on both devices.
Press the 'Link a device' button.
Select OLD DEVICE on the device you would like to transfer FROM
Select NEW DEVICE on the device you would like to move TO
Select which type of device you want to link to.
Copy the Transfer Code (disappears and becomes invalid in 2 minutes.)
Use the device code provided on your OLD DEVICE and enter it on your NEW DEVICE. The game will reload and instantly transfer the entire account and all decks, clan and more from the old device to the new one.
These same steps apply to play on an iPhone and iPad, or on an iPhone with an Android tablet. Simply transfer Clash Royale from one to another.
Read: Clash Royale: 10 Tips for Beginners
It's worth noting that if you lose your Android device most likely you'll be able to simply sign into Google Games and transfer it to a new phone, as long as the old device was connected to Google Games, so we'd recommend everyone do that.
However, if the device is lost or stolen (an iPhone) this isn't as easy. iPhone users need to have the old device present to switch to a new one, which could be a problem for some. If your smartphone or tablet was stolen and you need to transfer Clash Royale to a new one, players can contact Supercell. Make sure to have the username, Clan name, experience level or even better, your user ID#. Tap the portrait-looking profile button and write down this information, so it's available in the case of loss or theft. Supercell should be able to find, recover, and return an account if a device is lost.
Good luck and Clash on.

As an Amazon Associate I earn from qualifying purchases.