How to Transfer iTunes Music to the Galaxy S7
If you've recently switched from an iPhone to Samsung's new Galaxy S7 or Galaxy S7 Edge for the water-resistance, micro-SD storage expansion, or other features, this guide will explain how to transfer iTunes music to the Galaxy S7. Those with a large collection of music won't want to leave it behind.
The Galaxy S7 and S7 Edge have a lot to offer, along with long battery life and big screen sizes similar to the iPhone lineup. If you've made the switch, there are multiple different ways to transfer everything from an iPhone to the Galaxy S7. That said, our main focus will be on music collections.
Read: Galaxy S7 Edge Setup Guide: 13 Steps to Get Started
First off owners will want to take a peek at our setup guide above, which goes over a lot of different points, including switching phones. Samsung's Galaxy S7 and S7 Edge have a dongle in the box that supports the data transfer, but that's just one of many ways this can be done. Read on for more details.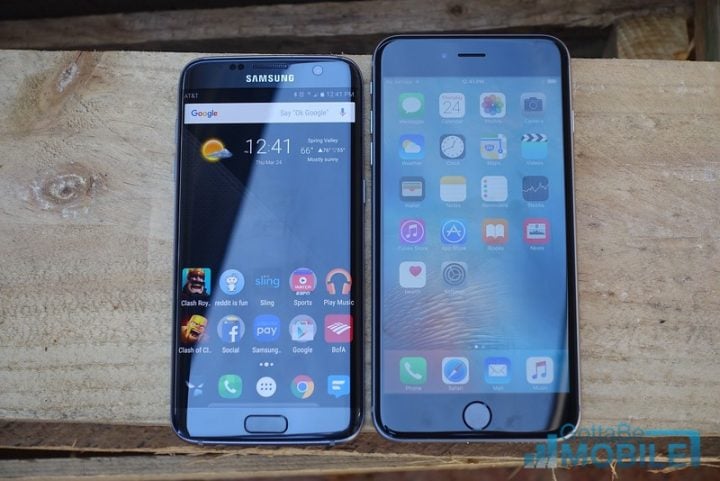 Here we'll explain how to use Samsung's own very fast and efficient method, called Smart Switch, as well as other options like click & drag to move audio files to the Galaxy S7 micro-SD card, to even programs that do it all for you. These are the two most popular phone lines on the market, and there's no shortage of tools at our disposal.
With that all said, lets get started. Here is how to transfer iTunes music to the Galaxy S7 or Galaxy S7 Edge.
Instructions
Samsung Smart Switch
First off we'll be explaining Samsung's own system called Smart Switch. It's extremely powerful and works on Android, iPhone and more. Simple plug the two phones in together using a cable and the supplied USB dongle in the box, and follow the on-screen prompts. This can transfer an entire iPhone in typically less than 30 minutes, along with all your music.
Connect an iPhone Lightning cable to the iPhone and the USB end to the dongle. Use the Smart Switch app on the Galaxy S7 Edge to transfer data. Open Settings and then tap Backup and reset to start Smart Switch. Tap Open Smart Switch. Follow Samsung's how to use Smart Switch.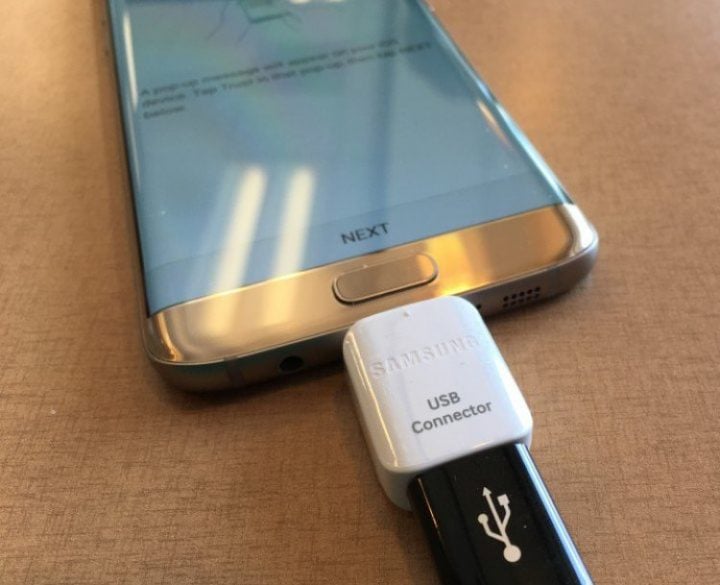 This will actually give users a choice on what they'd like to transfer, and if you don't need everything just select specific files, like iTunes music. How long this takes depend on the amount of songs, videos or data being transferred. I have a big collection, so it took nearly 45 minutes. Smart Switch can also be installed on a computer with a full interface to choose what gets transferred.
Drag & Drop
Personally, the easiest way to add iTunes music to the Galaxy S7 or S7 Edge is the usual drag and drop method. Plug a micro-SD card in, and drag and songs, albums, or collections to the SD card and insert it into the Galaxy S7 or S7 Edge.
This can also be done by plugging the phone into your computer and transferring files directly to the Galaxy S7 using the included micro-USB cable.
First you'll need to find where your iTunes music is stores on your computer, and below are the typical locations.
Windows XP – C:\Documents and Settings\ (username)\ My Documents \My Music \iTunes
Windows 7, Windows Vista and Windows 8 – C:\ (username) \My Music \iTunes
Mac OS X – /users /username/ Music/ iTunes
Once you've found your iTunes music folder you'll want to open that and have it handy on the desktop, and now simply plug in the S7 via USB to your computer. Users may need to pulldown the notification bar on the Galaxy S7 and select USB options to turn on Media Transfer Protocol (MTP). Although this is usually the method of USB it uses when plugged in. If you're on a Mac you'll need to quickly install the Android File Transfer program. Once done plug it in, and something similar will popup showing the contents of the device. Locate or create a music folder. Images below are from a Galaxy S6, but the same rules apply for the Galaxy S7.
From here all you need to do is simply click on the iTunes Music folder you left on your desktop and drag it into the "Music" folder on the new S7 Edge. It may take a while depending on the size, and speed of your computer or USB port.
Shown above is an image from my computer where I'm transferring 14GB of music from iTunes right into my Samsung Galaxy S6. This is the easiest method as I can click and drag the entire file, or open the iTunes music folder and select individual songs or albums, if the entire music collection isn't needed. Again, it's best to transfer everything to the micro-SD card, not the internal storage of the Galaxy S7.
Once this finishes you're all done. Owners can now unplug the phone and enjoy all their iTunes music on Android. There's a dedicated music player on the Galaxy S7, Google Music will find all files on the device, or download a media player from the Google Play Store like DoubleTwist. That app also has a sync and transfer tool, for those who want multiple options or ways to get iTunes music on the Galaxy S7.
iTunes to Android Transfer Tool
As we said above, there are a lot of different options that will transfer iTunes. Those who'd rather not dig through files and folders can use a program called iTunes to Android Transfer. This is a free tool you can download on Windows or MAC, and it simply syncs you entire music collection, playlists, movies and more with the click of a button.
Install iTunes to Android on your PC or Mac, and run it. The software will be opened together with your iTunes library. Then just plug the USB cable to connect your Galaxy S7 or S7 Edge to the computer. There are two options you can choose: "Sync iTunes to Android" and "Clean Up iTunes Library".
Click on "Sync iTunes to Android", you can choose "Entire library" or "Select playlists" to sync iTunes to a new Galaxy. Music, Movies, TV Sows and more are all supported.
Alternatively users can also use this tool to manually click and drag songs or albums as shown above, similar to what we mentioned earlier, just using their interface instead which streamlines the process.
It's worth noting that this tool also supports transferring contacts, pictures, videos, books and more from a computer to any Android device.
Google Play Music
Last but not least we can even use the Google Play Music Manager. This is another excellent route, as you can use it to move all the music over WiFi to your device, or to the Cloud rather than wasting space on a device. Although having a micro-SD card makes this less of an issue on the Galaxy S7. Google Play Music allows users to store 50,000 songs in the cloud, which should be more than enough for most.
Head to Google Play Music in a web browser on a computer. Tap the three lines at the top left and scroll down to "upload music". From here you'll be instructed to download the Google Play Music Manager tool.
Install the Music Manager and sign into your Gmail account, it will instantly find and start uploading all of your music from iTunes to the cloud. You can select preferences and choose specific songs, or the entire iTunes music library from your computer. This may take a while depending on song count.
If you only transfer music to the Google cloud, you'll be streaming your iTunes music over the internet with WiFi or your data connection, which could burn through users data limit from carriers. Which is why we'd recommend adding songs to the SD card. Google Play Music remains one of the best options around for the interface, options, and 50,000 song storage limit.
In closing, the steps mentioned above will transfer an entire iTunes music collection to any Android device, not just the Galaxy S7. Do this on any Android device and enjoy all iTunes music on Android with ease.

As an Amazon Associate I earn from qualifying purchases.