How to Transfer iTunes Music to the LG G4
If you've recently switched from an iPhone to the new LG G4 after seeing the stunning genuine leather design or how great the 16 megapixel camera takes photos, you'll need to transfer some things to the Android world. Our helpful guide below will explain how to transfer iTunes music and more to the LG G4.
Devices like the Galaxy S6 and LG G4 have many iPhone users switching to Android. The G4 offers a unique design, beautiful genuine leather on the back, a huge 5.5-inch Quad-HD display and is one of the better phones available today, and now that users have it they'll need to transfer all of those iTunes songs over to Android.
Read: How to Switch from iPhone to Android: The Google Way
One of the first steps is following the simple steps and guide linked to above, made by Google, which covers everything from pictures, contacts, videos and music. Then, read on for even more details, click & drag instructions, and some software that will sync everything (even movies and TV shows) for you.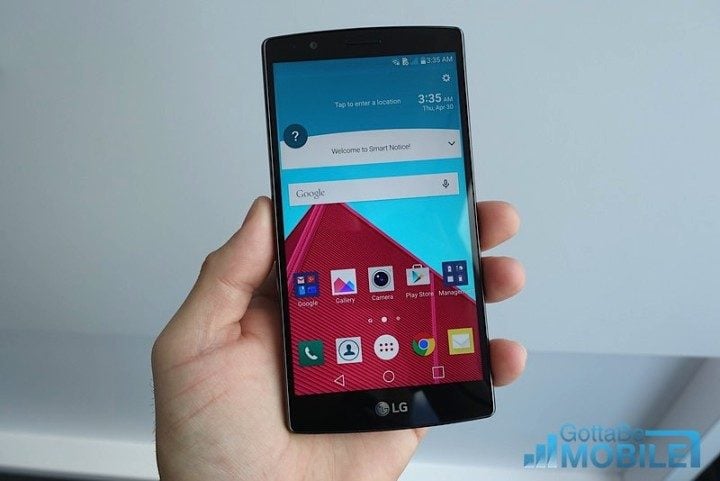 The important things you'll want to get off of an iPhone when you switch to Android are photos, video, texts, and music. And while we aren't explaining everything here, there are plenty of tools to do all of that. Below our focus is mainly on music.
Instructions
Owners looking to transfer all their iTunes music to the LG G4 can use a USB cord and do it the old fashion way by clicking and dragging folders or files, transfer it with a one-click tool or program, or even over WiFi, so lets get started.
Drag & Drop
My preferred method and for the most control is simply using the drag and drop method by connecting the LG G4 to a Windows computer or Mac, and manually dragging the entire iTunes Music folder onto the it. Users can choose certain albums, songs, or move the entire folder to the LG G4. That, or just copy it all to a micro-SD card and toss it in the G4.
First you'll need to find where your iTunes music is stores on your computer, and below are the typical locations.
Windows XP – C:\Documents and Settings\ (username)\ My Documents \My Music \iTunes
Windows 7, Windows Vista and Windows 8 – C:\ (username) \My Music \iTunes
Mac OS X – /users /username/ Music/ iTunes
Once you've found your iTunes music folder you'll want to open that and have it handy on the desktop, and now simply plug in the G4 via USB to a computer. Users may need to pulldown the notification bar on the G4 and select USB options to turn on Media Transfer Protocol (MTP). Although this is usually the method of USB it uses when plugged in. If you're on a Mac you'll need to quickly install the Android File Transfer program. Once you plug in the LG G4 you'll see the entire device storage list, and navigate to Music.
From here all you need to do is simply click on the iTunes Music folder you left on your desktop and drag it into the "Music" folder on the LG G4. It may take a while depending on the size, and speed of your computer or USB port. Personally the easiest way is just putting all iTunes music on a micro-SD card, but to each his own.
This is the easiest method as users can click and drag an entire file, or open the iTunes music folder and select individual songs or albums, if the entire music collection isn't needed. If you use up all the G4 internal storage just put it on a micro-SD card instead, or we'd recommend your entire music, video, and photo collection to be on a removable SD card.
Once this finishes you're all done. Owners can now unplug the phone and enjoy all their iTunes music right on the fancy LG G4. Google Music will find all the music on your device, not to mention there's a downloads only tab you can switch on. Owners can also use LG's own music player pre-installed, or download a media player from the Google Play Store like DoubleTwist. That app also has a sync and transfer tool, for those who want multiple options or ways to get iTunes music on LG's latest smartphone.
iTunes to Android Transfer
Another option for those who'd rather not dig through files and folders looking for the right stuff, is a program called iTunes to Android Transfer, also known as TunesGo. This is a free tool you can download on Windows or MAC, which easily syncs an entire music collection, playlists, movies and more with the click of a button.
Download and install TunesGo on your PC or Mac, and run it. The software will be opened together with your iTunes library. Then just plug the USB cable to connect the G4 to the computer. There are two options you can choose: "Sync iTunes to Android" and "Clean Up iTunes Library".
Click on "Sync iTunes to Android", you can choose "Entire library" or "Selected playlists" to sync iTunes to your Android phone. Music, Movies, TV Sows, My favorite, POP Music and Top 10 are supported. Even transferring data is available with this tool.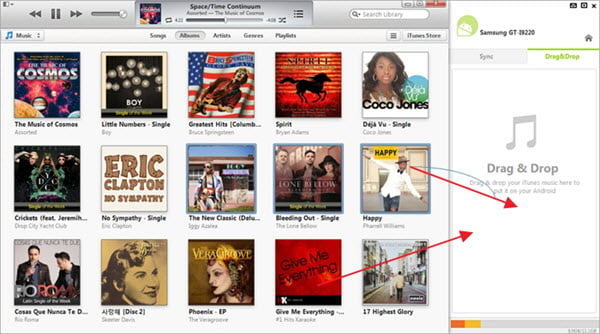 Alternatively users can also use this tool to manually click and drag songs or albums as shown above, similar to what we mentioned earlier, just using their interface instead which streamlines the process.
It's worth noting that this tool will also let you transfer contacts, pictures, videos, books and more from your computer to the LG G4.
Google Play Music
Finally, use the Google Play Music Manager. This is another excellent route, as owners can use it to move all of their music over WiFi to any device, or to the Cloud instead of physically taking up space on a device. Google Play Music allows users to store 50,000 songs in the cloud, which should be more than enough for just about everyone.
Head to Google Play Music in a web browser on your computer. Tap the three lines at the top left and scroll down to "upload music". From here you'll be instructed to download the Google Play Music Manager tool.
Once you install the Music Manager on a computer or Mac and sign into your Gmail account, it will instantly find and start uploading all of your music from iTunes to the cloud. You can select preferences and choose specific songs, or the entire iTunes music library from your computer. This also may take a while, and you'll want to open Google Play Music on the LG G4 and head into settings. It will block explicit songs in mixes by default, and upload clean versions, so turn that off. Because no one wants that. There's also an option to cache music during playback, where the G4 will temporarily save songs to the device. Use this if you'd like, especially if you're sending everything to the cloud.
However, if you only transfer music to the Google cloud, you'll be streaming your iTunes music over the internet with WiFi or your data connection, and users can use up a 2 or 5GB monthly data plan in a matter of days. Google Play Music remains one of the best options around for the interface, options, and storage limit, but you'll want to make sure you aren't streaming music 24/7 or it will eat up all of your data.
Last but not least, these tools and steps will work for any Android smartphone or tablet. Not just the LG G4. That means nearly all Android smartphones and tablets from any manufacturer can use these tools to transfer anything from an iPhone or iTunes, to the Android side mobile. Give it a try today, and enjoy.

As an Amazon Associate I earn from qualifying purchases.