How to Transfer Photos from the Lumia 635 to Your PC
If you're looking to move photos from the Lumia 635 than you've probably noticed one of the key things that Microsoft has done right with his mobile operating system and hardware. Windows Phone isn't the step child of the wireless industry that it once was. Today, many of the devices Microsoft makes are just as good if not better than their direct Android and iPhone competitors. The Lumia 635 and its camera experience are a perfect example of that. Whether you've just taken a single picture or you need to move a ton of them away from your Lumia 635 here's how.
Before we begin, it's important that you have all the necessary tools to get the job done and know about the options that are available to you. In most cases you'd move pictures and videos that you record off your device and on to you PC using a USB cable. With the Lumia 635 you can still do that but not necessarily out of the box. Microsoft doesn't actually provide users with a USB cable with the Lumia 635, meaning you'd have to find a spare USB cable around the house or purchase one separately from the cost of the device. So instead, of requiring you to do that – which you certainly can with the Lumia 635 if you're willing to spend some extra cash – we're going to show you how to transfer the pictures you take and the videos you record using Microsoft's OneDrive cloud syncing service.
First, pick up your Lumia 635 and unlock it. If you have a passcode on your device you'll need to enter that now.
Welcome to the Start Screen. Typically this is where you're able to quickly and easily access the apps installed on your phone. Look for the Settings tile represented by a large cog. By default, many of the versions of the Lumia 635 being sold don't include the Settings app directly on the Start Screen. Place your finger anywhere on your screen and swipe to the left to reveal a list of all the apps installed on your Lumia 635.
Scroll down to the S and tap on Settings to open the app.
Tap on Applications.
Look for Photos + Camera in the list and tap on it.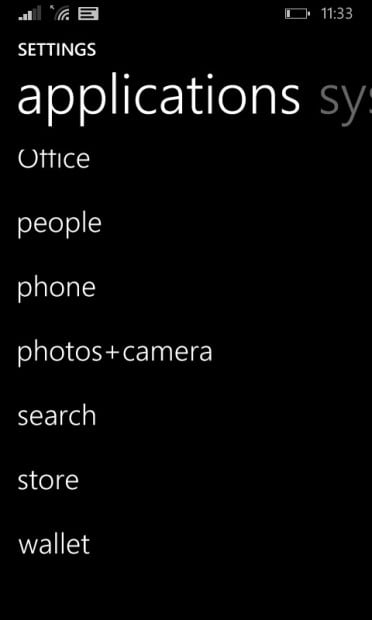 Inside the Photos + Camera screen scroll down to the bottom area that houses Auto Upload. Tap on it.
Turn on Photo uploading. Tap on Best Quality. Do the same for videos.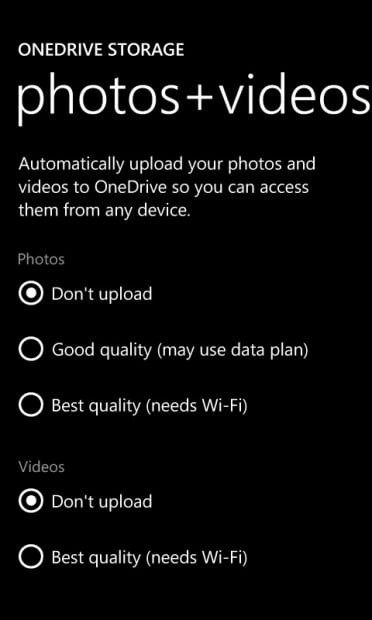 From this point on, every picture you take or video you record will be uploaded to Microsoft's OneDrive cloud storage service. This means, that you won't need to purchase a USB cable because your Lumia 635 will upload the best version of each photo and video you capture automatically.
In order for this to work seamless there is one catch. You'll need to have a Wi-Fi connection at home. Typically, if you have a smartphone than you've already got wireless internet at home, but any wireless internet connection will do. If you don't have a wireless network that you can use, go back to the Photos + Videos area and choose Good Quality instead. This will allow your Lumia 635 to upload photos on your wireless data connection being. Just note, that data charges will apply and they won't look as good as if they'd been uploaded over Wi-Fi.
Getting to those Photos
Now that you have your photos being uploaded to Microsoft's servers wirelessly, you need to access them from your PC so that you can upload them to Facebook or save them for your enjoyment later. As it turns out, this is actually the easiest part of all. For this to go well, you'll need to know the username and password for the Microsoft Account that you used to setup your Lumia 635. For most Microsoft Account owners this is the same username and password that they use for the Xbox One, Xbox 360, Windows 8 and Outlook email.
Go to your PC or Mac and turn it on.
Open your web browser, and go to OneDrive.com. No, this doesn't have to be a Microsoft-made web browser. Safari, Chrome and Firefox all work pretty well with OneDrive.
Click on the Sign In button in the top-right corner.
Now, put in that username and password for the Microsoft Account that you used when setting up your Windows Phone.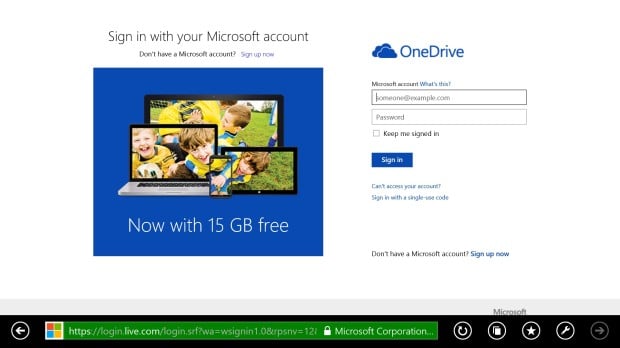 Welcome to OneDrive. Don't worry if your OneDrive area doesn't look as crowded as ours does. Look for the folder labeled Camera Roll. Click on it to open it.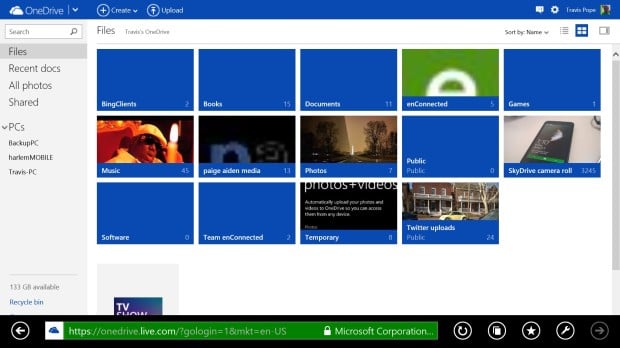 For now on go here to get at the pictures and video you've taken with your Lumia 635. Right click on any picture or video to download it to your PC or Mac for safe keeping.
Happy picture-taking, and remember to connect to a Wi-Fi network every so often if you're worried about losing some of your photos. Of course, there's still that option to purchase a USB cable too and upload your pictures directly to your computer too.

This article may contain affiliate links. Click here for more details.