How to Turn Live Photos into GIFs on the iPhone 6s
Live Photos is a new feature exclusive on the iPhone 6s. Here's how to turn Live Photos into GIFs or even standalone videos.
The iPhone 6s was released last month, and while it has the same overall design and look as the iPhone 6, the new device comes with some new features that are hidden at first. Most notably, the iPhone 6s comes with a new display technology called 3D Touch, that is pressure sensitive so you can do different things, like tap to open or select something, or press down harder to bring up alternative options and shortcuts.
The iPhone 6s also has a better camera this time around, sporting a 12-megapixel sensor instead of an 8-megapixel sensor in the iPhone 6. This means better photos, but Apple also added on the ability to record videos in 4K resolution, which is four times larger than standard 1080p HD video.
Another new feature of the camera is the ability to take what Apple calls Live Photos, which records a short 3-second video to accompany any photo that you take, giving you a short animated GIF of sorts of the moment that you just snapped.
However, they're not actually animated GIFs, but instead use Apple's own proprietary file format, which isn't quite known about yet. The good news is that there are apps already available that can turn your Live Photos into animated GIFs or even standalone videos that you can watch on any device.
Convert Live Photos Into GIFs
Animated GIFs are a huge deal on the internet, and they're plastered everywhere. You can't go on the internet without seeing a GIF at some point.
One big problem with Live Photos on the iPhone 6s is that they can only be viewed on devices running iOS 9 or OS X El Capitan. This is pretty limited, as you can't share them directly on Facebook, Twitter, Instagram, etc.
However, a new app called Live GIF makes this possible by simply converting Live Photos into GIF format or video format.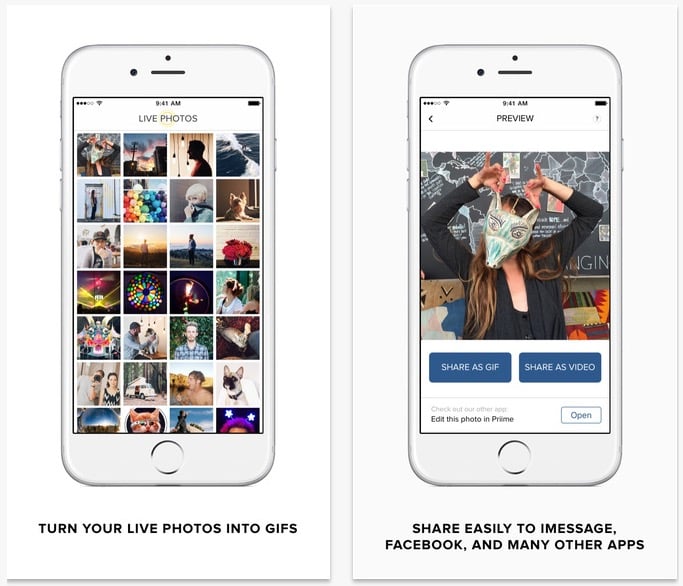 After downloading the app and giving it access to your photos, your Live Photos will appear in the app, and then you can proceed to convert them to an animated GIF or just a regular video.
You can then share the GIF or video directly from the Live GIF app, and while you can still share them through iMessage and such (just like with a normal Live Photo), you can also share it on Facebook, Twitter, Instagram, and a handful of other apps.
Live Photos is turned on by default on your iPhone 6s, so if you've never taken the effort to manually turn it off, then you've been taking Live Photos with every picture you're taking. However, you can turn off Live Photos in the settings.
If you have an older iPhone and want the Live Photos feature, there's a way to make it happen, although you'll need to be jailbroken on iOS 9. The process is fairly straightforward and rather easy, and after it's complete you'll be able to install a jailbreak tweak that gives you the Live Photos feature on your iPhone, even if you don't have an iPhone 6s.
Of course, you'll want to be aware of how much storage space Live Photos take up on your iPhone. Apple doesn't provide an estimate as far as how much space they take up, but it's said that a Live Photo takes up about twice the space of a normal photo, so essentially you're reducing your photo storage capacity by half.
This isn't a huge deal if you have a 64GB iPhone or even a 128GB model, but 16GB owners will need to purge their photos often in order to make room for more.

As an Amazon Associate I earn from qualifying purchases.