How to Turn Off Automatic App Updates in iOS 9
If your iPhone or iPad is automatically updating apps without your permission, there's a way you can disable that from happening again, and here's how to do it.
A feature that was introduced in iOS 7 allows your iPhone or iPad to automatically download and install app updates, meaning that you don't have to go into the App Store app and manually download any updates you get, which can be an everyday occurrence depending on how many apps you have.
However, this is a feature that not every user will enjoy, since many users like to be in control of what exactly they're downloading. In that case, automatic app updates isn't exactly a terrific feature and it can eat away at your monthly data allowance if you're not careful.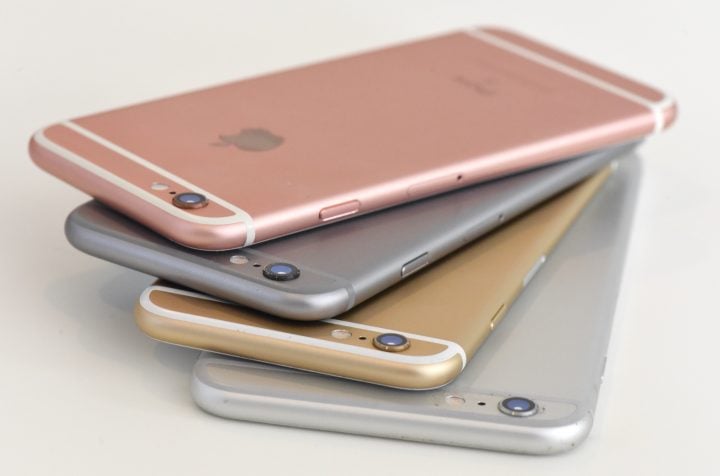 By default, automatic app updates are enabled, so you'll have to go adventuring into the settings to turn it off, but it's not difficult to do at all. Here's how to disable automatic app updates on your iPhone or iPad running iOS 9.
Disabling Automatic App Updates
Turning off automatic app updates can be a bit tricky to find in the settings, but follow these quick steps and you'll be done in no time.
Open up the Settings app.
Tap on App and iTunes Stores.
Under the section titled Automatic Downloads, you'll see an item called Updates.
Tap on the toggle switch to turn it off so that it goes from green to gray. If it's already gray, then the setting is already changed and there's nothing you need to do further.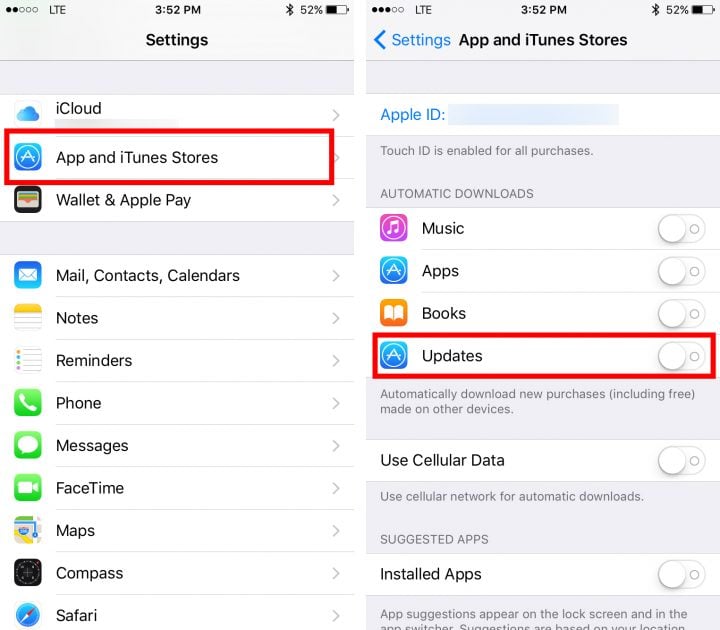 From now on, app updates won't automatically download and install on your iPhone or iPad, but you will have to open up the App Store every time and check for app updates. However, this is far more preferable for a lot of users, including myself, who like to be in control of what app updates you download and when you download them.
Read: 57 iOS 9 Tips, Tricks & Hidden Features
If you do want automatic app updates enabled, you can at least set whether or not you want automatic app updates to be enabled when using a data connection. Right below the Automatic Downloads section, there's an item called Use Cellular Data.
Flicking this toggle on will allow the App Store (as well as other iOS services) to download updates and other content over a data connection when your iPhone isn't connected to WiFi. Turning the feature off will limit the App Store to download updates only when on a WiFi connection.
Should You Use This Feature?
Automatic app updates can be useful for some, and not useful for others, but it depends on your situation.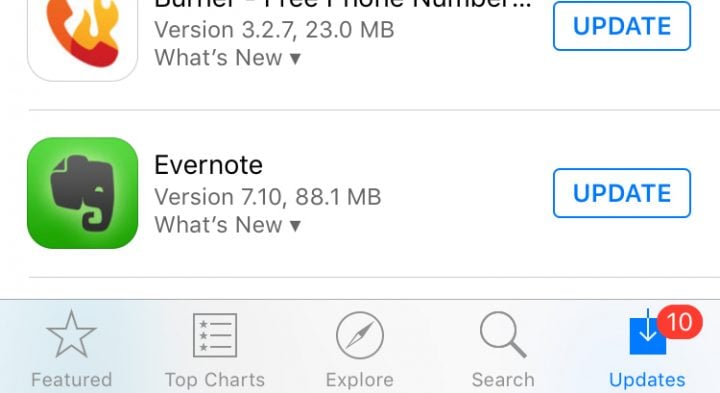 Sadly, you can't select specific apps to receive automatic updates while other apps remain manual. This is one of the biggest criticisms with this feature. You either have to disable automatic app updates for all of your apps, or you have to install updates manually for all of them. If you're looking for such control, you won't find it in iOS 9.
Secondly, if you're the type that always waits to install an update just to make sure it's not a broken update that contains a critical bug, then you probably want to disable automatic app updates.
While most updates fix bugs and improve performance over the previous versions, some app updates get hiccups at times, and it can wreak havoc on your iPhone or iPad, which has more and more users cautious about installing updates until they know it's okay to install.

As an Amazon Associate I earn from qualifying purchases.