How to Turn Off Comcast Home Hotspot Feature
Today Comcast is extending its roll out of the public Comcast Home Hotspot feature to Houston, Texas. For those who haven't been paying attention, Comcast is turning homes and small businesses into WiFi hotspots. The technology in the Arris Touchstone Telephony Wireless Gateway Modems allows Comcast to turn your home into a public WiFi hotspot and the feature can be turned on and off. If it is turned on, (which it is by default), devices searching for a public hotspot can connect to your cable modem. Put up a sign to sell coffee or lemonade and you've got yourself a business. Houston is the latest roll out target for this. And while it sounds like a great idea to increase the number of WiFi hotspots available to users there are some concerns that have been voiced by users about the program.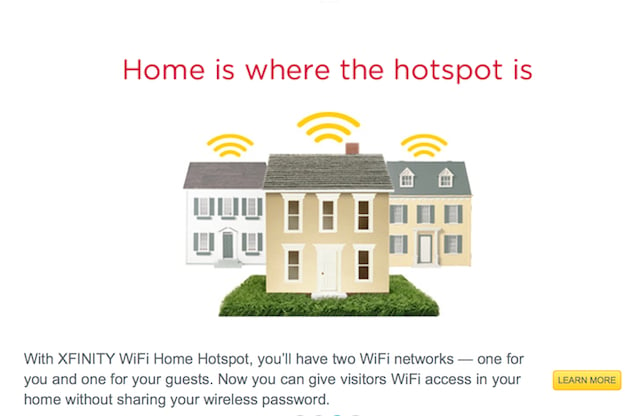 Comcast began rolling this out in Chicago, where I live, back in March. When I read the news reports about the Chicago roll out, I checked in and sure enough it was available on my account with the equipment in my home. That highlights one of the first user concerns.
Turned On By Default
The feature is turned on by default. If you don't want your home to be a public WiFi hotspot, you have to manually turn it off, or "opt out." Initially when Comcast was testing this Home Hotspot feature users needed to call Comcast customer service to have the feature turned off. Now users can do this themselves through their Comcast account page. Instructions to do that follow at the end of this post.
Does the Home Hotspot Affect Existing WiFi Networks?
Another concern that users have is whether or not sharing a WiFi connection from their modem/router will impact the performance of their home network. Comcast states that the hotspot the modem creates a second network that shouldn't impact your home network you have set up via a separate router. The hotspot shows up with a name of xfinitywifi.

It is probably too early for definitive results to be shared by Comcast on whether or not there is impact on adjacent networks. But in my testing I notice that I have less sporadic or random WiFi connection issues in my home if I have the feature turned off. Again, that's unscientific testing. The bottom line: with the feature turned off I had less issues with multiple devices (especially on the fringe of my WiFi network coverage) than I do with the feature turned on.
Connecting to XFinity WiFi by Default
Another issue that concerns users is that they find that their devices will choose to connect to the xfinitywifi network prior to connecting to their home network. That issue arises because most devices will automatically connect to the last network they successfully connected to. And here's where this issue gets a bit tricky.
To connect to any xfinitywifi network you need to enter your Comcast credentials if you have a Comcast account or sign in as a guest for a trial. The limited free trial will allow a user to surf the web on an xfinitywifi network for two 60 minute sessions per month. You have two wait 24 hours between the end of one session and the beginning of the next.  Or you could opt to purchase a Xfinity WiFi Access pass with rates that start at $2.95 an hour and scale up to $19.95 per month.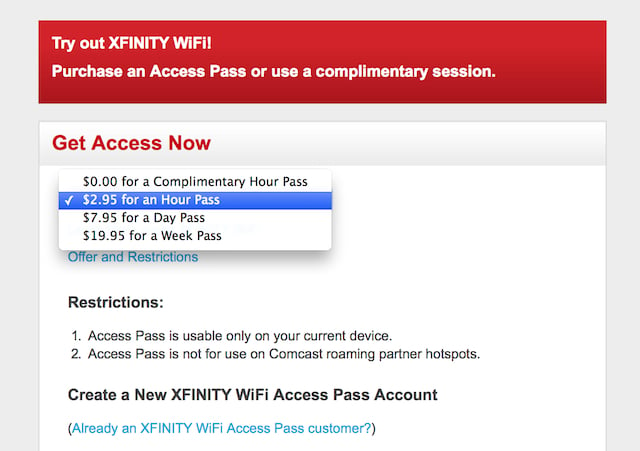 So, if you've used a xfinitywifi network in your home or at another location, and have the xfinitywifi network turned on in your home, you might find that your devices are connecting to that public network by default.
You'll also discover that once you've signed on to the xfinitywifi network and you travel around an area where the program is active that you'll connect to that network periodically. If, for example, you have Apps or services that only perform functions connected to WiFi you might notice those functions happening in what might be perceived as otherwise random locations.
After logging on to test the service when it rolled out in Chicago back in March, I've noticed that my smartphones and tablets would connect up to an xfinitywifi network and start uploading photos to Dropbox (which I only allow to happen when the device is connected to WiFi) as I traveled through the city.
How To Turn Off the Xfinity WiFi Home Hotspot Feature
If you want to turn off the feature you need to go to your Comcast Account page. Once you've logged in, click on Users and Preferences.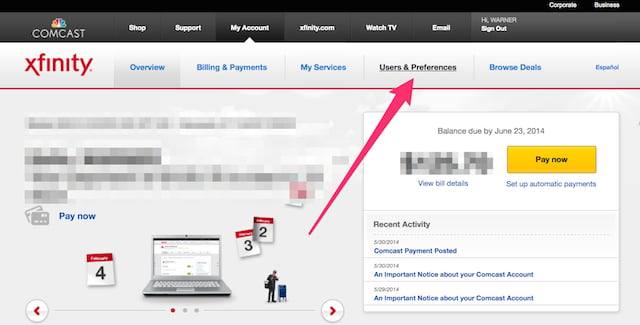 You then need to find the Service Address heading. Click on Manage Xfinity Wifi.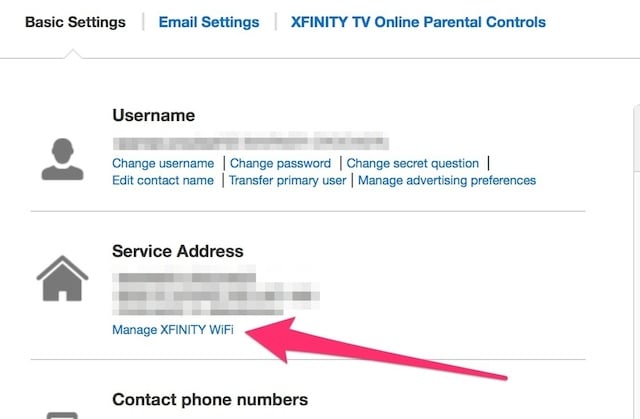 You will then see a pop up with options to enable or disable the Home Hotspot feature.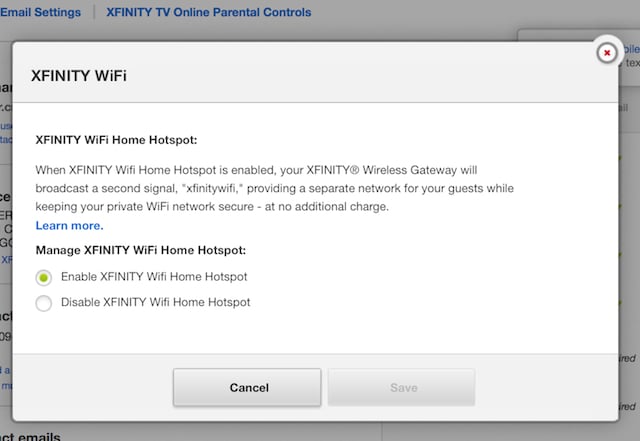 How To Keep From Connecting to xfinitywifi as a Default
If have signed into a xfinitywifi hotspot at home or elsewhere and you do choose to have the Home Hotspot feature turned on in your home and don't wish for your devices to log on to it as a default, you can go into your Network Settings on Windows or OS X and arrange the order of the networks that your devices will connect to.
Here's a link to changing the priority for Windows 8 and 8.1 devices.
Here's a link to changing the priority for Mac OS X devices.
Unfortunately on our mobile devices such as smartphones and tablets there is no easy way to move a particular WiFi network up or down in the priority list. You can choose to "Forget a Network" you've previously logged into, but you'll have to enter in the log in information if you wish to connect to it again.
The purpose of the Home Hotspot feature is obviously to make it easier for users to connect via Wifi while on the go. That's a good thing. Comcast states one of the selling points is to allow guests in your home to sign in with their accounts (or to create an account.) This keeps you from having to give your your network password. It is still too early to tell if Comcast's turning your home or small business into a WiFi hotspot is a good solution for Comcast subscribers. Fortunately, you can choose to participate or not.
There are other questions that will need answers in the future on endeavors like this. For example, I live in a five story building that only allows Comcast as our broadband and cable provider. The network density was already pretty heavy before this feature was turned on. But now that density is increased with the large number of units in our building broadcasting xfinitywifi hotspots. Before I "forgot" the xfinitywifi network on my smartphones, just walking down the halls to wait for the elevator would create such congestion that I would need to turn off WiFi just to complete a connection. Those living in a single family home would obviously have different results.

As an Amazon Associate I earn from qualifying purchases.