How to Turn Off Cortana on Xbox One
There was a time when not everyone knew that Windows and Xbox were made by the same company. If there's still anyone out there that doesn't know that this is the case, it's hard to imagine that they've been gaming on one these last three years. Windows 10 and the Xbox One are so aligned that it's sometimes hard to understand why one has a feature that the other doesn't. Cortana on Xbox One, Microsoft's personal digital assistant is a perfect example of the synergy the company is trying to foster between its computer operating system and video game console.
Cortana arrived on Xbox One early this year. At that point, it'd been delayed for months. It was originally confirmed for launch late last year, before being pushed back. The promise was that Cortana would be everyone's digital gaming assistant. She was said to offer all the functionality of older commands, plus the personality, information management and syncing that she's known for on other devices that have her.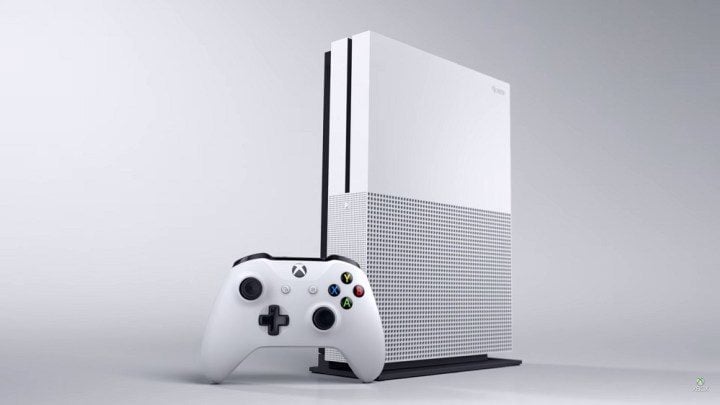 Read: How to Use Cortana on Xbox One
Certainly, Cortana on Xbox One allows for more natural ways of speaking and is a great deal more intelligent than the straight-forward commands that originally shipped with the console. She also constantly needs to warm up. Even after she's warmed up, she sometimes doesn't fully acknowledge a command in a timely fashion. Sometimes she even stalls out in the middle of a command.
When this happens, Microsoft hopes that Xbox One owners will recalibrate their sensor's microphones. It also recommends that they restart their console. That's probably what's not going to happen. Instead, users are going to become so frustrated by not being able to use the commands that they're comfortable with that they're going to want to turn off Cortana on Xbox One. Here's how.
Turning Off Cortana on Xbox One: Before We Begin
Microsoft, sensing that Cortana was going to be a controversial addition to the big Xbox One update from the summer, opted to keep it very easy to turn off the personal assistant. Turning off the personal assistant doesn't harm your experience in any way. In fact, it restores the regular Xbox commands that have existed since 2013.
What you want to do is make sure that you're logged into the Xbox One with an adult account and that you've saved and exited all of your favorite games. Completing this process will force you to restart your Xbox One. You'll lose any unsaved progress entirely.
Read: 31 Tips for a Better Xbox One Experience
Turning Off Cortana on Xbox One
Picking up your controller, go ahead and press the glowing Xbox logo in its center to take you back to the Home screen.
Now, push the left joystick to the left until the Xbox Guide opens.
Inside the Xbox Guide, push the left joystick down until you reach the Settings area. Now select Settings from the menu inside the Guide.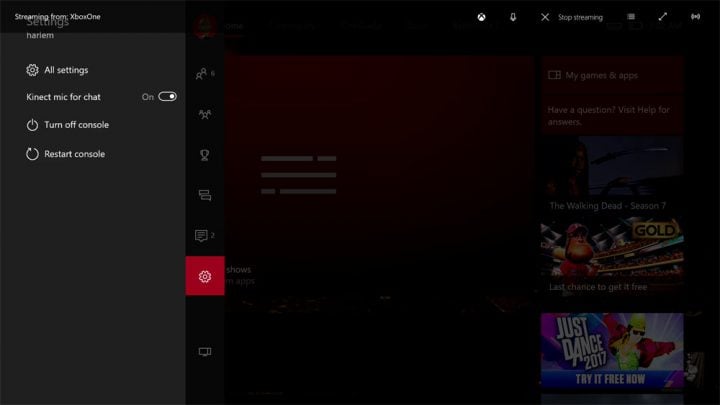 Welcome to the Settings app. The first area you're taken to is the Account settings. Cortana's switch isn't there. Select the System option from the menu on the left. It's the option fourth down from the top.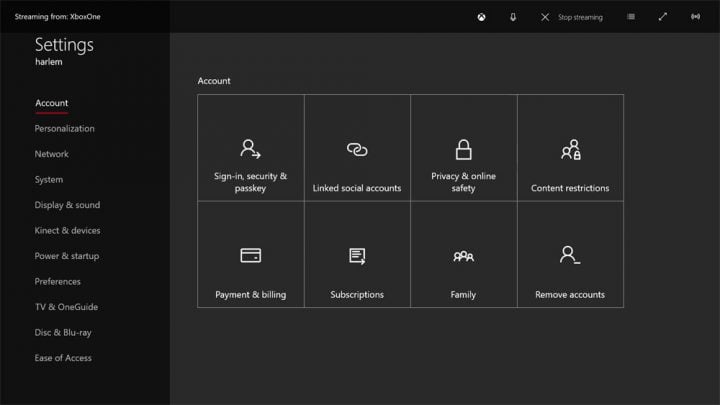 Select Cortana settings in the large pane on the right side of your screen.
Another pane should have opened on the right side of your screen. This pane has all of Cortana's Settings. Go ahead and change Cortana's on switch, to off by pressing the A button on your controller once you've selected it.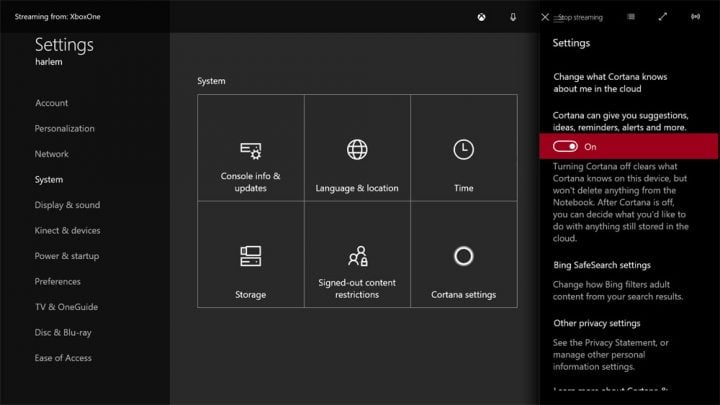 Finally, you'll need to confirm that you want Cortana disabled. Select Restart from the pop-up notification. Your console will immediately shut down your controller and anything else that you've paired with your Xbox One – like a Kinect or television.
Read: 10 Cortana Tips for Windows 10 & Xbox Users
That's it, you've successfully turned off Cortana on Xbox One. Microsoft is always updating the console with new stability fixes and improvements. For example, its fall update makes Cortana faster and usable, according to reports. As such, you may want to turn Cortana on at some point in the future. Just repeat the steps to do so.
Remember, that you won't be able to use any of the new commands and you'll need to start any commands that do still work with "Xbox." If you don't, the console won't recognize that you want its attention. Unfortunately, it's Cortana that powers the voice commands feature on headsets connected to Xbox One Wireless Controllers. Turning her off, means you'll need to go back to using a Kinect for voice commands or give up on them entirely.