How to Turn Off Facebook Birthday Alerts on the iPhone
Having birthday alerts show up on your iPhone get to the very heart of what the modern smartphone is intended to be. Part personal assistant, Facebook birthday alerts on the iPhone are meant to make you aware of the friends and family you might want to plan something special ahead of schedule. They're also meant as a sort of "here look at these people." – a way for Facebook to drive traffic by reminding you of someone you might have forgotten. Facebook birthday alerts are useful, but they're also ridiculous annoying – especially, for those who have tons of friends. You could be anywhere and just suddenly have your device flashing alert after alert.
Here's how to turn off Facebook birthday alerts on the iPhone so that you can focus on the things you need to.
Let's get started. For the purposes of this tutorial we're using the iPhone 5s and Apple's iOS 7 operating system for the iPhone, iPad and iPod Touch. We're also using the latest version of Facebook for iOS. Depending on which iPhone you have things could look a bit differently because iOS 7 is a huge departure from past versions of iOS. Chances are if you own an iPhone 5, iPhone 5s, iPhone 5c, iPhone 5s, iPhone 4 and iPhone 4s then what you see on your device will match with what's shown here. If the Facebook app on your iPhone looks differently than what's shown here, that's ok. Head to the iTunes App Store on your device to manually update to the latest version of Facebook for iPhone.
Unlock your iPhone by putting in your four digit pin code or by swiping from the left to the right at the bottom of your screen. iPhone 5s users can also use their fingerprint to unlock their iPhone if they've previously setup Touch ID, the iPhone's fingerprint reader Home button.
Immediately, you should be taken to the Home screen. Look around for the Settings app on your home screen. It's entirely possible that you may have hidden it in app folder if you don't see it. In our example its represented by the cog icon in the bottom-right corner. Open Settings.
Inside the Settings app scroll down until you see an option for Mail, Contacts, Calendars. Tap on that option.
Inside the Mail, Contacts, and Calendar settings you'll want to scroll down until you see the option for Default Alert Times.
Now tap on Birthdays. Tap Off to kill any iOS birthday notifications.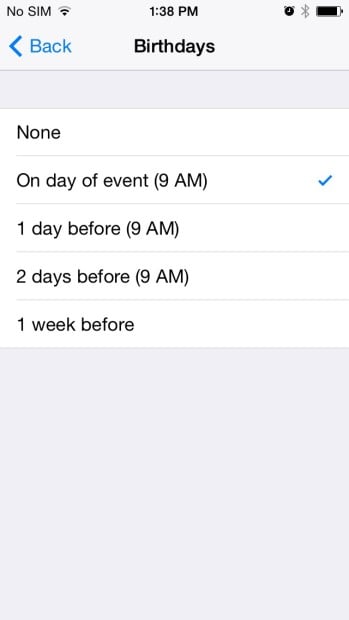 You've just successfully killed all alerts related to iOS's Birthday calendar. What that means is that your iPhone will no longer show you notifications for birthdays. What that doesn't do is kill off Birthday notifications altogether. In short, users who stop here will no longer see Birthday alerts on their iPhone, but still get them online and through the Facebook app for iPhone. Luckily we can kill those too.
Go back to the Home screen by pressing the Home button below your device's screen. Now look for the Facebook app and open it.
Welcome to the Facebook News feed. Tap the More icon at the bottom-right corner of your screen.
Scroll down until you see Settings and tap on it.
Tap on Notifications.
Scroll down until you see the Birthdays under "What Notifications You Get." Tap on it.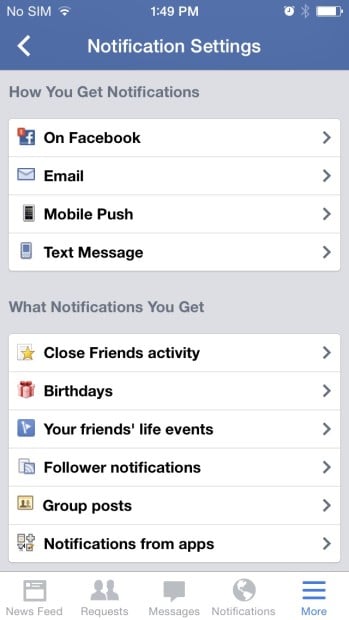 Now uncheck the Get Notifications box. From this point on the Facebook, won't keep reminding you of birthdays either. Now you won't have to contend with the dozens of reminders we talked about a bit earlier. Turn them off here could also kill them on other devices you might own like Windows Phones and Android tablets since Facebook App settings sync.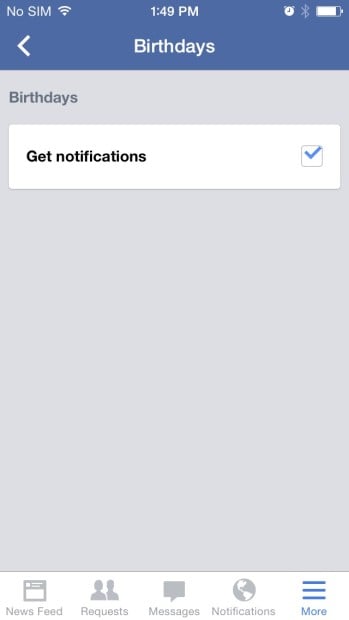 Before you decide to turn off Birthday alerts on your iPhone, I encourage you to consider how useful they are first. For many, Facebook is the only way they're able to remember individual birthdays. That makes sense. If that's the case for you, it may be a better idea to put up with them so that you don't forget someone's special day. If you're ok with that then go ahead and turn off Facebook birthday alerts on your iPhone.
Thankfully, Apple also pulls the birthdays of friends and family from Facebook and integrates into a Calendar for iPhone. Birthdays are pulled from Facebook and also available online through Apple's iCloud service and Mac OS operating system. You can turn off Facebook birthday events in your calendar if you'd like to ditch them there too. However, going that far might not be such a good idea.
Because Facebook likes to build traffic and let everyone you are friends with know about what's going on in your life, your friends and family will continue to get Facebook birthday alerts on their phone concerning you. They'll continue to pop up online as well.