How to Turn Off In-App Purchases on the iPhone
The iPhone App store convinces many people to buy Apple, compared to other devices. While the App store experience on the iPhone is a great one, a hidden problem is with in-app purchases.
In-app purchases are add-ons to an app that has previously been bought, or was originally a free app. While these additions improve the app or unlock functionality in games, they can rack up fees without the user realizing it. This is not a problem for adults, but if you have children they can accidentally buy things without you knowing.
Read: Policeman reports son for fraud after £3,700 iPad gaming bill.
The best way to avoid this problem is to disable in-app purchases unless you have a specific pass code. This way in app purchases can still be made, but only by those who have the proper pass code
How to disable In-App Purchases
Tap Settings.
Select General.
Scroll down and select Restrictions.
If you previously set up restrictions on the iPhone, enter the pass code to change options. Otherwise, tap Enable Restrictions.
For those who are just setting up restrictions a pass code locks other users out from changing these settings. The pass code is only four digits, so it is important to make it different from the one used to lock and unlock your iPhone.
Enter the passcode for restrictions.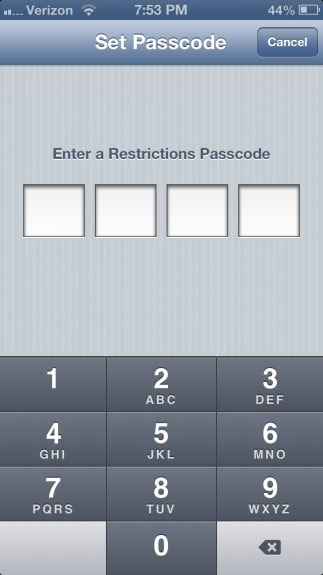 Enter the same passcode again to verify.
As long as the passcode matches the first one, scroll down and find In-App Purchases.
Turn the In-App Purchases slider OFF.
After the slider is off, in-app purchases cannot be completed without the passcode for restrictions. To re-enable this setting go back into the restrictions settings and turn the slider back to ON.

Another option that users have is to not link a credit card with their account. Rather than making purchases with a credit card, apps and other content can be purchased with iTunes gift cards. This can help keep a budget, cut costs and prevent kids from going on insane spending spree.
Read: How to use iTunes without a credit card.
If not linking your credit card to iTunes is too inconvenient, iTunes also has an allowances feature. This process creates a credit on an Apple ID for the user to spend over a certain time. For kids the allowance feature is perfect, because it does not let them have access to the limit on the card, but only their allowance.

As an Amazon Associate I earn from qualifying purchases.