How to Turn Off Obnoxious Galaxy S5 Sounds
Now that the all-new Samsung Galaxy S5 is finally available on all carriers throughout the United States and around the globe, we're getting more and more questions regarding specific functions of the smartphone.
More importantly, we've received more than a few questions and comments regarding those obnoxious water sounds and noises every time you interact with the device. These are actually called touch sounds and are enabled by default as a part of Samsung's "Nature UX' interface changes that first debuted with the Galaxy S III.
Read: 5 Best Wallet Cases for the Samsung Galaxy S5
If you've recently purchased the new Galaxy S5 you're probably getting frustrated, and annoying those around you, with the little sounds and noises your phone makes every time you do anything. Samsung has lockscreen sound effects, a noise every time you tap a setting or option on the device, and even keyboard sounds all enabled out of the box.
If you're like me and hate these options, or just want to be courteous to those around you, read on to see how to quickly remove all those pesky sounds and settings.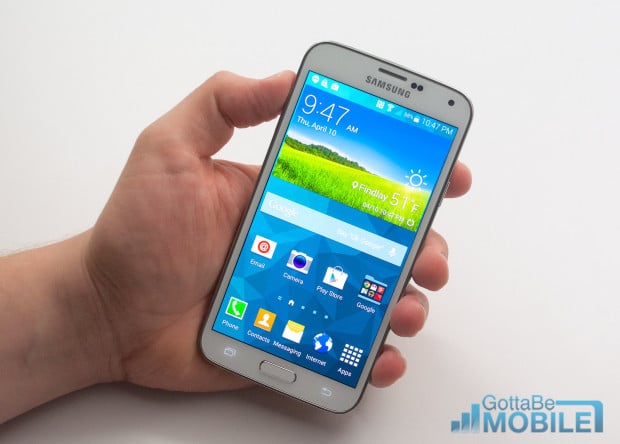 Sure the nature tones and touch sounds may be a nice touch at first, but after a few hours of use they quickly get irritating for some users, and you may want to disable them. Below is the few extremely simple steps you'll need to take to disable the Galaxy S5 system and touch sound, as well as keyboard click noises.
Disable Touch Sounds
Little audible alerts for unlocking the screen are fine, but getting a weird water-drop noise every single time you tap on the Galaxy S5 can get old very fast. As a result, users may opt to head into settings and disable the "Touch Sounds" option first and foremost. So here's how.
Pull down the notification bar and tap the top right gear-shaped icon to head to settings, or just find the settings app in the application tray. The first few options you'll see a purple "Sound" icon, and tap that. Scroll down to the feedback section and uncheck "Touch sounds" and even the "Screen lock sound" option. You can also disable the haptic feedback (vibrate) feature in this menu as well.
Some users may also want to disable the dial keypad tone, but for whatever reason that just makes sense and I've kept it enabled. That's it. You're now done and every time you select an option, open an app, or head into settings your Galaxy S5 will no longer make those obnoxious noises.
Keyboard Sounds
Call me crazy but another pet peeve I have (and surely I'm not alone) are those users that type away and text for hours while on a flight, riding the subway, or sitting at a restaurant and they have the keyboard tap sounds enabled. Hearing the little typewriter click click click sounds. Like most phones the Samsung Galaxy S5 comes with keyboard tap sounds enabled by default as well, and you'll want to disable them so you're not "that guy or girl" while using your phone.
You're going to want to disable the keyboard sounds, and to do so you'll need to head into the same settings menu as detailed above. Tap the gear-shaped settings icon but this time we'll be scrolling down til you see the "Language and input" icon in the system category of your settings menu. Tap Language and input, then select the gear-shaped settings menu for whichever keyboard you're currently using. Out of the box this will be the greyed out "Samsung Keyboard" as shown below.
Tap settings for the Samsung Keyboard, scroll down to Key-Tap feedback and uncheck the sound box. That's it. You'll now be able to type as much as you'd like with that on-screen keyboard without disturbing those around you. Many users also opt to disable the keyboard vibrate feature, which is conveniently located in this same settings list.
Read: How to Disable My Magazine on the Galaxy S5
Again, these are features that many users simply enjoy and would like to keep enabled, but we've received countless questions and emails regarding how to disable them. The Galaxy S5 will be one of the best selling smartphones in 2014, and for the millions of users that don't want those touch sounds annoying everyone around you, follow the steps outlined above and you'll be set.
For new Galaxy S5 owners that want to learn how to enable other features or get the best of the brand new smartphone, don't forget to check out our impressive 50 Galaxy S5 Tips, Tricks & Hidden Features post for a full rundown.

As an Amazon Associate I earn from qualifying purchases.