How to Turn Off OneDrive Syncing in Windows 8.1
No matter how great their internet connection is or how crucial maintaining off-site backups become, there are always going to be people who don't like the idea of Microsoft's OneDrive syncing in Windows 8.1. These people are likely looking for a way to turn off OneDrive syncing in Windows 8.1.
With Windows 8 you had to install OneDrive by downloading a separate application. Once you downloaded the installation package and customized a few settings Microsoft would begin automatically uploading everything in a specific folder. Make a change to a file or add another file to that folder and OneDrive would quietly sync it to Microsoft's servers and other PCs. This worked out great for detail oriented and well informed users. It was absolutely the wrong move for everyone else, the best cloud back-up and storage solution that you have is the one that you can easily access. By Making Windows users jump through hoops to access OneDrive they made it more complex, guaranteeing that many users wouldn't take advantage of the service.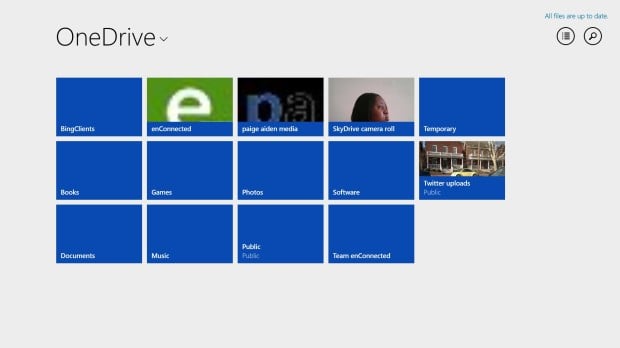 Read: OneDrive Review
OneDrive is built into Windows 8.1. Users are asked whether they'd like to turn it on or turn it on during the setup process. If they choose to turn it off nothing else happens. If they choose to turn it on it starts uploading document changes, new pictures when you have a stable internet connection. Files are synced between the OneDrive folder on user's PCs. There's also some settings syncing in Windows 8.1 that's happening behind the scenes.
Let's begin.
Turn Off OneDrive Settings Syncing
First, let's start with settings syncing to OneDrive. Press the Windows key on your keyboard or the Windows button near your touchscreen device. This will take you back to the Start Screen.
If you have a touchscreen device, place your finger on the right edge of your screen and slide your finger to the left to open the Charms Bar. If you have a mouse and keyboard, place your mouse cursor in the top-right or bottom-right corner of your display to open the Charms Bar.
Tap or click on Settings.
Tap or click on Change PC Settings.
Welcome to the Settings app. Tap or click on OneDrive in the menu on the left side of your screen. It's the third option from the top of your menu.
The first screen you'll notice in the OneDrive settings area is the OneDrive storage area. It's here that you need to hit your first toggle for turning off OneDrive syncing. Tap or click on the Save documents to OneDrive by default option below the Buy More storage button.
Next, tap or click on the Sync Settings option in the menu of the left side of your screen. It's the third option from the top of your screen.
Here you can stop Windows 8.1 and OneDrive from syncing individual settings. For example, many times people kill off background syncing for privacy reasons. Click or tap on the toggle for Sync your settings on this PC to completely kill off any and all OneDrive settings syncing.
Empty the OneDrive Folder and Stop Syncing
That's just one part of the equation. Windows 8.1 is an operating system with two parts. You may have stopped the settings syncing, but the Desktop has another component that you need to stop too.
Press the Windows key on your keyboard or the Windows button on near your devices screen. Look for a Live Tile named Desktop. It's the Desktop that behaves and works like versions of Windows you've encountered for years.
Inside the Desktop, look for a white cloud button on the right side of your Taskbar. You may need to click or tap on the arrow if you don't frequently access OneDrive settings. Don't click on the logo to open it. Instead, right-click on it to open a menu. Touch user should place their finger on the icon and hold it there until they see a box appear round their finger.
Tap or click on Pause Syncing. Tap or click on Settings from the menu.
Click Make all files online-only to free up any space files from OneDrive are already taking up.
You have the option to delete all of the files in the OneDrive folder if you want, but I'd recommend against it. If OneDrive syncing is turned back on, doing this will delete everything you've stored on Microsoft's services too. Tap or click on Ok once you're done making changes.
To be honest, I'd recommend leaving OneDrive settings sync on at the very least. Even if you have a backup of your files, having to switch your settings after a fresh installation of Windows is troublesome. Having settings sync also allows you to get started with a new Windows 8.1 device pretty quickly. Turning off OneDrive sync could ruin your experience with other apps like Microsoft's Xbox Music client, which streams music from your OneDrive Music folder.  
Read: 21 Windows 8.1 Tips
Unfortunately, OneDrive is built into Windows 8.1. You can certainly choose not to sync any files and settings or avoid the OneDrive folder altogether, but there's no way to wholesale remove the feature entirely.