How to Turn Off or Adjust Galaxy S5 Button Lights
When it comes to using the Samsung Galaxy S5 there are plenty of options, features, advanced controls and even settings to change how everything works. Consumers likely have plenty of questions about how everything works on the Galaxy S5, and we have the answers.
With millions of Galaxy S5 owners starting to enjoy the device now that it has been available for a few months, the questions keep coming in regarding how to do certain things, or disable features that each individual user doesn't need. Personally I hate the lights on the back and menu buttons, so here we'll explain how to disable or adjust those.
Read: How to Turn Off My Magazine on the Galaxy S5
The Samsung Galaxy S5 has two capacitive touch buttons that light up with each tap, then the dedicated home button in the middle. While many users like the bright LED light under these buttons, they can be frustrating when they're illuminated for 6 seconds, not to mention extremely bright at night. Here's how to change that.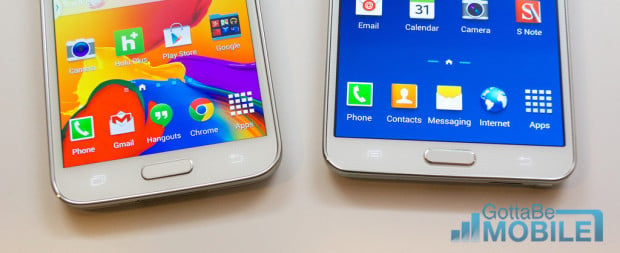 If you've owned a Samsung Galaxy device in the past few years you're probably quite familiar with what all the buttons do, and where they're located. As a result you don't need the capacitive touch buttons to light up and stay lit for 6 seconds while you're using the smartphone.
For first time users it can be confusing at first, and having them light up may help users remember where the back key is for easy navigation. So whether you are new to the device, or a seasoned user and want to adjust how long the buttons stay lit up, or disable them completely, read on for pictures and the few quick steps you'll need to take to complete this task.
Instructions
In order to change how long the buttons on your Galaxy S5 stay lit up, or to disable them completely you'll need to head into settings and tap a few menus. The entire process takes less than 30 seconds if you know what you're doing, so lets get started.
Pull down the notification bar and tap the gear-shaped settings button near the top right side of the display. You can also find the blue and silver gear-shaped icon in the application drawer, which takes you to the same place. Once in settings you'll see "Quick Settings" at the top and there's an option for "Display" so select this. Essentially we're going to settings > display > scroll down to "Touch key light duration".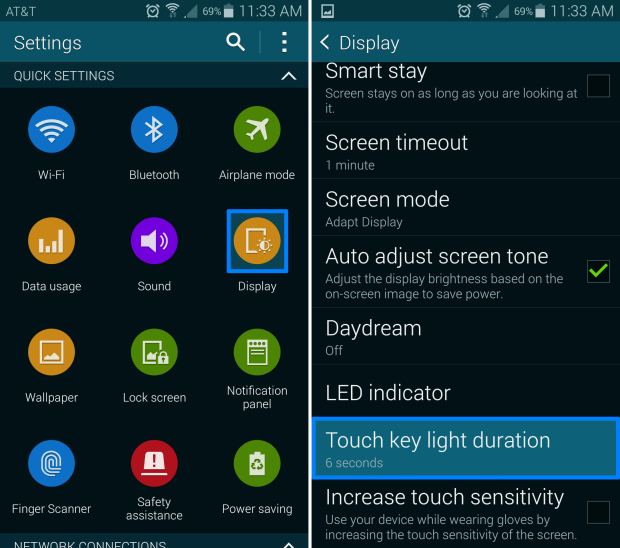 Once you're here and see the settings and options shown above you'll simply tap the option to enter the touch key light duration settings, and you'll be greeted by the popup shown below. Right here is how we control how long those two buttons on the left and right of the home button stay glowing.
By default the Galaxy S5 is set to 6 seconds, which gives users enough time to decide what they'd like to do, but also can be frustrating while watching Netflix or reading late at night when its dark. The keys are rather bright, and once you know where they are you don't need an LED showing you for six seconds.
From here you'll be able to choose from 1.5 seconds, 6 seconds, or even turn them off completely like you see in our popup option above. I've shut mine off to keep me from being distracted while reading, and it also probably saves battery life throughout the day although the gains are probably minimal.
Read: How to Take a Screenshot on the Galaxy S5
Alternatively you can set this to "Always on" which will ensure the touch keys on your Samsung Galaxy S5 are always illuminated as long as your screen is also turned on. This is good for first-time users, but you'll probably eventually want to disable this via the quick instructions detailed above.
That's all there is to it. Simply head into display settings and change how long those buttons or touch keys light up. Enjoy!