How to Turn Off the Galaxy S5 Camera Shutter Sound
There are plenty of excellent features to like about the new Samsung Galaxy S5, and one of those is the impressive 16 megapixel camera located on the back. However, if you don't like the irritating camera shutter sound, we have you covered.
The Samsung Galaxy S5 is chalked full of tons of advanced technology, impressive features, and tons of settings for everything. So many that some users may get a bit frustrated trying to do the easiest of tasks. One question we've heard time and time again is how to disable the Galaxy S5 camera sound.
Read: How to Take a Screenshot on the Galaxy S5
For whatever reason this is a feature that most smartphones don't let you change. Whether it be for legal reasons, privacy (creeper shots) and respect, or just carriers opting for certain things. Many of Samsung's devices don't allow this to be turned off, but some Galaxy S5 owners do have the option, which we'll explain below.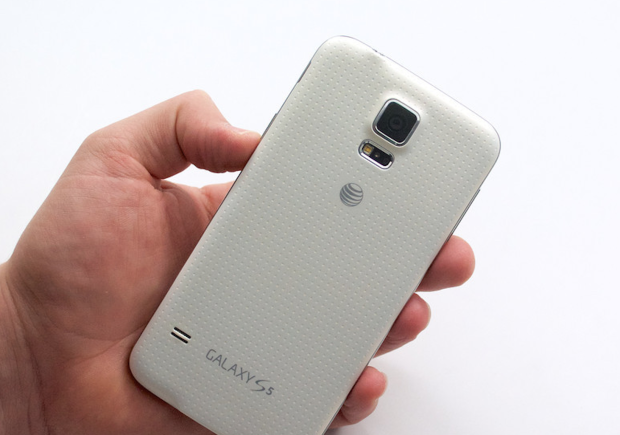 Oddly enough some of the Galaxy S5 variants in the United States will let you turn off the Galaxy S5 camera sound, and others wont. If you have a Sprint or Verizon Galaxy S5 you will not be able to remove the camera shutter sound with the stock camera software, and you'll have to download a third party camera with the option, or install a 3rd party app that turns it off.
However, for the rest of the Galaxy S5 owners in the United States, like those on AT&T, and almost all variants around the globe, a quick stroll through settings will have you fixed in no time.
Read: 5 Best Wallet Cases for the Galaxy S5
It's worth noting that as long as you set the phone volume all the way down past vibrate and completely to silent, the above models should lose the shutter sound. That said, we don't have all five carrier versions here to test it. We do know however, that there isn't a setting on Verizon or Sprint's model, but it's present on T-Mobile and AT&T.
Instructions
Launch the camera app on the Samsung Galaxy S5 and tap on the gear-shaped settings button. It should be located on the bottom left as pictured below. This will bring you to a rather massive list of options, controls and settings for the Galaxy S5 camera. As usual there's far more than most users need, and you won't see an option to disable the camera shutter sound. It's a bit further down the list.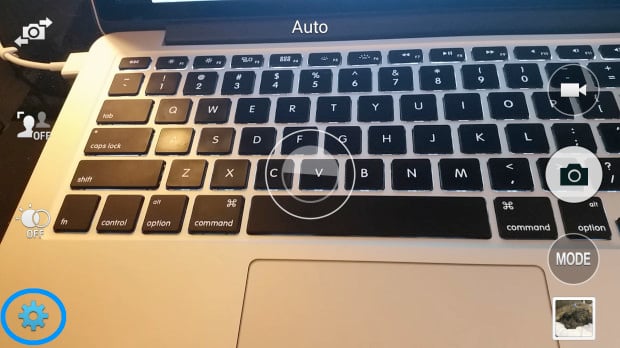 However, scroll down (yes there's so many settings you'll have to scroll if holding the phone sideways) and near the very bottom you'll notice an option on the bottom right for shutter sound. Simply tap this to turn it off, and you're done. It is seriously that easy, so long as your carrier allowed the option. Verizon and a few others don't for whatever reason, but that's out of our control.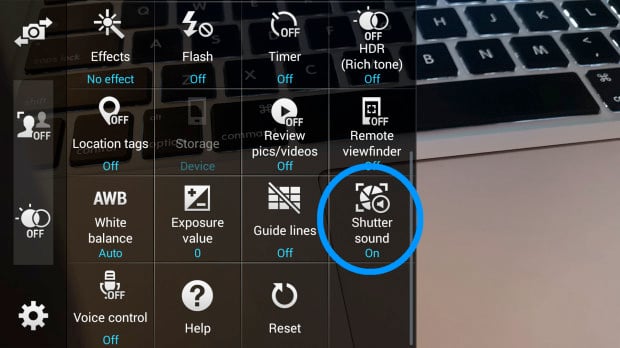 Tap to turn Shutter sound to "off" and you're all done. Now when you snap photos there won't be a sound, but the rest of your device will still have regular volume and audible levels. Most apps or third party software just turn off all sounds in general while the camera is open, which isn't ideal, but that's the only solution for some.
Again, this Galaxy S5 camera shutter disable option isn't available on all variants of the Galaxy S5. Some have it, some don't. It also may not be located in the same place on each individual carriers Galaxy S5. Shown above is an AT&T model, and you may have to look elsewhere on other variants.
For more tips and tricks regarding the Galaxy S5 be sure to view our 50 Hidden Features, or look through our Galaxy S5 how to list.