How to Turn Off WiFi Calling on the HTC One M9
The HTC One M9 is now available in the United States from multiple sources, hitting carriers on April 10th, and even shipping a few days early for those who pre-ordered on T-Mobile. Now that the device is in users hands, we're starting to get a lot of questions regarding the new phone. One of which is regarding WiFi calling on the T-Mobile HTC One M9.
On March 1st HTC took the stage at Mobile World Congress and announced its new HTC One M9. The smartphone was leaked countless times before the reveal, so there were no surprises when it was unveiled. It replaces the One M8 from last year, and has plenty to offer that will help it compete with the new Galaxy S6 and more.
Read: 5 Things to Know About the HTC One M9
When you first turn on your new HTC One M9, most notably the T-Mobile version, you'll quickly notice the notification pulldown bar is already half-full with tons of notifications that won't go away. If you want to make room for incoming notifications for calls, texts, updates and more, you may want to turn off Lookout Mobile security scanning, uncheck the usage information in the My T-Mobile app or even disable WiFi calling.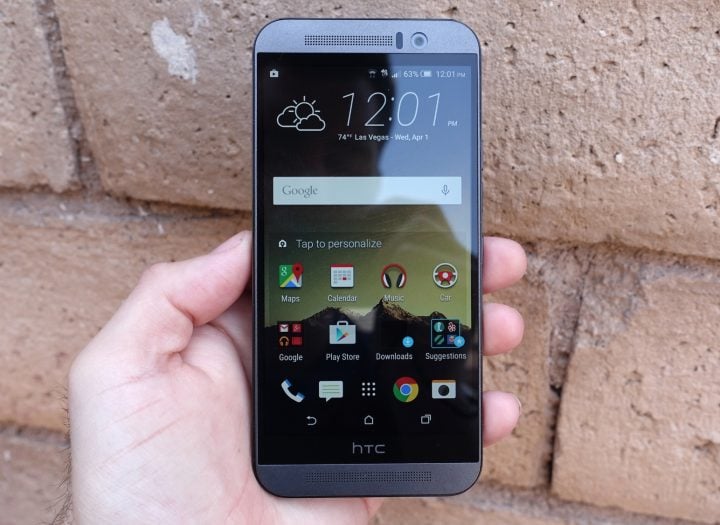 T-Mobile is one of a few carriers that offers WiFi calling with almost all of its smartphones. Allowing users to make calls over a WiFi connection at home (or out and about like at Starbucks) and use WiFi internet connections to make calls rather than using your own minutes and some of T-Mobile's network towers.
And while WiFi calling is a nice feature, it isn't for everyone. The T-Mobile HTC One M9 puts WiFi calling in your face from the moment you turn it on. It's on the main screen, and there is a persistent notification in the pulldown bar that won't go away, suggesting you make calls over WiFi.
For those who'd like to get part of the notification bar back, or disable WiFi calling so it isn't constantly annoying you and appearing in your dropdown bar, here's how. While you're at it disable the usage meter that's also taking up half of your notification bar.
Instructions
Our initial impressions of the HTC One M9 have been mostly positive, but we didn't like the fact that so much was going on in the notification bar right out of the box. WiFi calling was one of the first things I disabled, and if you'd like to do the same below are two sets of instructions to disable it.
The HTC One M9 has tons of T-Mobile apps pre-installed out of the box, and they can't be removed. This includes the WiFi calling app and feature. Start by tapping the WiFi calling notification in the pulldown bar and simply turn it off. This will end the feature, and get rid of the notification in your pulldown bar.
You can also pull down the notification bar twice and tap the gear-shaped icon and head into settings, then find the Call setting, scroll to the bottom and uncheck WiFi Calling. This will turn it off, and remove the notification as well. That's it.
You'll also probably see Lookout Security scanning apps, which gets irritating, as well as T-Mobile's usage notification reminder. That's three notifications almost always visible, wasting more than half of your notification bar. This will show you how many minutes you've used, messages sent and more, but most don't need this on their notification bar 24/7. Head into the application tray and find the T-Mobile folder, select T-Mobile My Account, hit the three buttons at the top and select Options, then uncheck the "display usage information in the notification bar" option.
This same T-Mobile folder is where you can head in and manage all things T-Mobile. There's an option here to disable WiFi calling as well, not to mention you can open Lookout Mobile Security and uncheck the option to scan apps. While you may want to leave this on to keep your device protected, the constant scanning and notifications may get irritating, not to mention be a drain on battery life.
Turn off WiFi calling, uncheck some of T-Mobile's persistent notifications, and get back your pulldown bar so you'll see what's really important. Not what T-Mobile wants you to see. Stay tuned for more HTC One M9 how tos as the April 10th release nears.