How to Turn on Kids Corner on Windows Phone 8
Just as smartphones have become essential to productivity, for parents they've become essential to keeping kids occupied on long road trips and errands. Unfortunately, handing your child your Windows Phone could leave you vulnerable to whatever mistakes or changes they make to your device.
Thankfully, Windows Phone 8 enables an option called Kids Corner. With the option in enabled, parents can quickly rope their children's mobile experience off into its own separate area complete with Start Screen and customization options.
Here's how to turn on Kids Corner on Windows Phone 8 devices so that you can keep your children entertained and your information safe, all at the same time.
Open your Windows Phone's Settings app.
Tap the Kids Corner option inside, underneath the System Settings.
Tap next to skip the explanation of Kids Corner.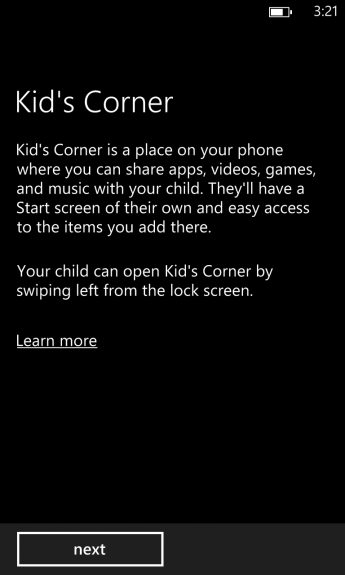 Add the content that you would like to make available inside your Kids Corner Application. Tap to select each game, application, or album you wish to accessible from the Kids Corner. Then tap next.
Tap Finish.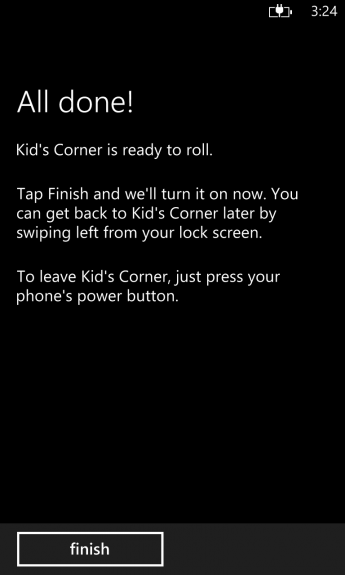 Your Windows Phone will immediately relock and show the Kids Corner area. On the lock screen swipe from right to left to trigger Kids Corner when your device is locked. You'll need to enter the same PIN you've been using on your device if you've already enabled it.
The first time you or your child opens Kids Corner, they'll be greeted by a small message reminding them to press the device's power button to exit Kids Corner.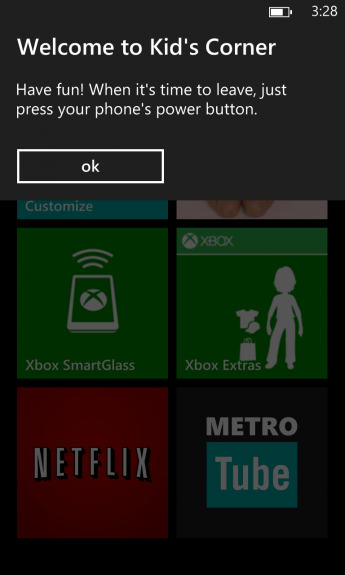 Kids Corner will now be filled with the apps and music that you decided to add to Kids Corner.
The Kids Corner can be customized for your child. Tap the Customize tile to add your child's name, choose a picture for their Kids Corner lock screen or customize their Start Screen's colors.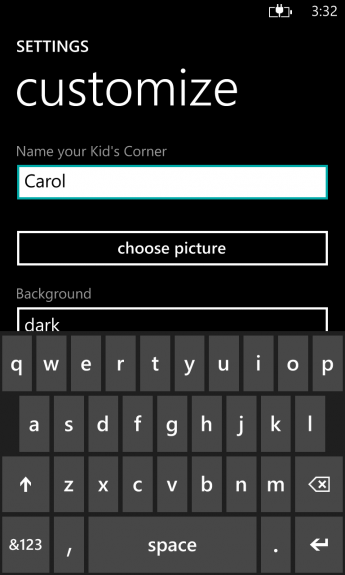 You've just enabled Kids Corner on your Windows Phone 8 device. For now on you can limit the access your children have to the applications and settings on your phone, while enabling them to watch their favorite videos and play their favorite games. You don't need to follow these steps to activate Kids Corner every time. Instead just swipe from right to left on your device's lock screen anytime.

This article may contain affiliate links. Click here for more details.