How to Turn on Offline Mode in Apple Music
If you won't be connected to WiFi during your plane ride, but still want to listen to your tunes in Apple Music, here's how to turn on offline mode in Apple Music.
Apple Music has been out for almost two months now, and those who signed up for it the very first day are still enjoying their free trials, as Apple is offering a very generous three-month trial of the new music service for those who want to try it out before they pay for it on a monthly basis.
If you don't know what Apple Music is, it's Apple's new music streaming service that allows users to listen to any available song on-demand, as well as get access to hand-picked playlists and curated radio stations, like Beats 1, which is manned by real DJs playing hand-picked music, as well as featuring interviews with popular artists.
Apple Music launched in June alongside the iOS 8.4 update, and it's the company's first big move with music since 2001 with the introduction of the iPod and the launch of the iTunes Store in 2003. Apple is now aiming to compete against other music streaming giants, like Spotify, Pandora, Rdio, Tidal, and more.
Apple Music is integrated into the iOS Music app and essentially replaces the old Music app interface, so this means that both the user's locally-stored library of music and Apple Music exist in the same environment.
However, with Apple Music songs, users need to be online in order to listen to any song on demand, unless they have a particular song saved for offline listening. Here's how to turn on offline mode in Apple Music so that you can listen to streaming songs without an internet connection.
Offline Mode in Apple Music
First, before we get started, there technically is no official offline mode in Apple Music, but rather you simply select specific songs that you want to make available to listen to offline. With that said, let's get started listening to some music without WiFi or LTE.
The first thing you'll want to do is open up the Apple Music app and select the For You section or New section at the bottom (it doesn't matter).
Find any song or album that you want saved for offline listening and then tap the ellipses menu button next to that song or album.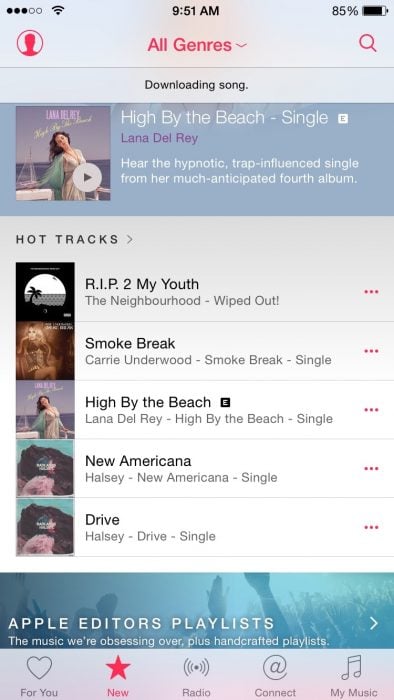 A pop-up menu will appear with several options to choose from. Tap on Make Available Offline. If you selected a single song, that one song will be available offline, and if you selected an entire album, all of those songs in that album will be saved for offline listening.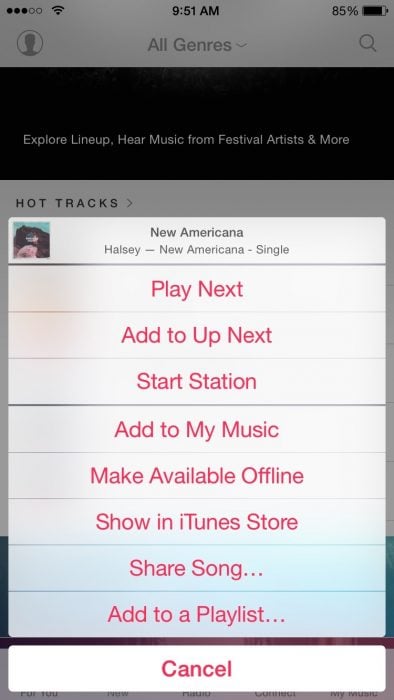 The song or album will now appear in the My Music section and will download in the background so that you can listen to it whenever, whether you have an internet connection or not.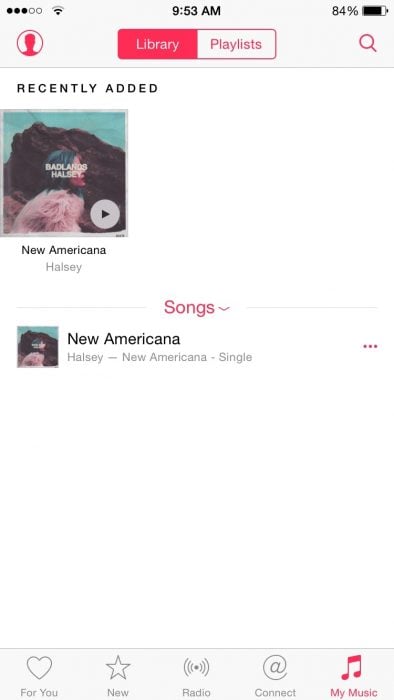 Be aware that making songs available for offline listening will take up storage space on your iPhone, so the more songs that you download, the more storage they will all take up. So if you want to keep a song in your library, but no longer want to make it available for offline listening, Go to My Music and tap on the ellipses to the right. A menu will pop up giving you several options. From here, select Remove Download.
This will delete the local download of the song, but still keep it in your library. However, you'll have to be connected to the internet in order to listen to the song or album next time.
Unfortunately, there isn't a true offline mode like there is in Spotify, where you can flip a switch and your songs will be saved for offline listening, but at least there's an option to download music in Apple Music, and it's possible that Apple could eventually improve this feature over time.

This article may contain affiliate links. Click here for more details.