How to Unjailbreak Your iPhone and Stay with iOS 8.4
If you jailbreak your iPhone or iPad but want to revert back to vanilla land, here's how to unjailbreak your iPhone while remaining on that same version of iOS.
An iOS 8.4 jailbreak was released last month just hours after the iOS 8.4 update itself released to the public. It wasn't a huge update by any means, but it does include Apple Music, which is the company's own music streaming service that aims to compete with Spotify, Pandora, Tidal, Rdio, and more in an already-saturated market.
Nonetheless, iOS 8.4 is the latest version of iOS out right now, and those interested in jailbreaking their up-to-date iPhones or iPads can do so easily using the TaiG jailbreak tool on Windows or the PP jailbreak tool on Mac.
However, jailbreaking isn't for everyone, and if you find that your jailbroken iPhone or iPad just really isn't what you expected, not all hope is lost, as you can easily unjailbreak and revert back to a normal iOS experience.
A new tool called Cydia Impactor allows you to unjailbreak your iOS device and still stay on that version of iOS that you were on, instead of having to be forced to update to the latest version of iOS.
Luckily, for now, you don't need to worry about being forced to update to the latest iOS version to unjailbreak, since the latest version is jailbreakable anyway, but this is a great tool to have once iOS 9 comes out, which probably won't be jailbreakable at first.
Here's how to use Cydia Impactor and unjailbreak your iPhone or iPad while staying on the same version of iOS.
The first thing you'll want to do is go into Cydia and install Cydia Impactor, which can be found by searching for it and typing in "Cydia Impactor." From there, tap to view the tool and then tap on Modify in the top-right corner. Then select Install from the pop-up that appears.
Once you have it installed and are ready to unjailbreak, be sure to back up your iOS device and then turn off Find My iPhone by going into Settings > iCloud > Find My iPhone. You'll want to backup so that if something goes wrong during the unjailbreaking process, you won't lose any of your precious data, including any saved settings, as well as photos, music, etc.
Now, fire up the Cydia Impactor app and you'll be greeted with a handful of things that you should know before you continue on, some of which I already mentioned, but it's a good idea to give the list a good look-over. After that, simply tap on Delete all data, unjailbreak device to start the process, and then tap Delete All to confirm.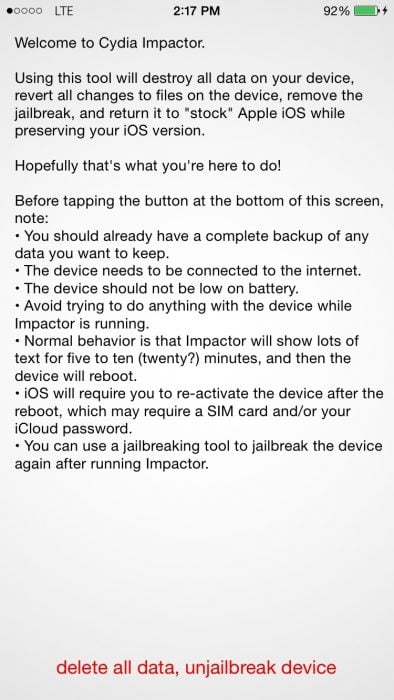 Just sit back and relax as the tool does its thing. It could take up to twenty minutes to complete the process, depending on how much data you had stored on your device (a 128GB full of data will take longer than a 16GB device), so be patient. Once the process is done, you'll be greeted with the iOS Setup Assistant that you might be familiar with when you first set up your iPhone when you bought it, giving you the infamous Hello greeting.
Simply just go through the setup process like usual and you'll eventually get to the homepage, where you'll have clean slate on the same version of iOS that you were left with.
If you want to re-jailbreak your iPhone or iPad, simply just follow the guides linked to above and you'll be on your way. Jailbreaking is a really easy process, and the tools used have come a long way since the early days of iOS.

This article may contain affiliate links. Click here for more details.