How to Unlock the iPhone on AT&T
Yesterday, AT&T changed its policy in regards to unlocking off-contract iPhone devices. Translation, it now offers to unlock these iPhones free of charge. The process is a relatively simple one but we wanted to share just how one might go about unlocking their iPhone on AT&T.
Unlocking an iPhone will allow users to insert any microSIM into the device so long as the microSIM's carrier frequencies are supported. This is useful when traveling abroad where a user can use a foreign SIM card to make and receive voice and data calls.
Before we get to the actual process though, there are a few caveats to the deal.
First and foremost, the AT&T account that is associated with the device must be in good standing. This is pretty ambiguous, but we take it to mean no outstanding bills and a history of on-time payments.
Second, the iPhone can't be associated with a current and active commitment on an AT&T customer account. This means that it needs to be off-contract.
And third, as AT&T says, the iPhone owner needs "to have fulfilled their contract term, upgraded under one of our upgrade policies or paid an early termination fee."
iPhone owners that satisfy all of those requirements should have no trouble unlocking their iPhone.
AT&T has made the process extremely easy for iPhone users. While owners can go to your local AT&T store and deal with the customer service there, those looking to save time can just as easily go online and do it themselves, a process brought to light by Redmond Pie.
There are just a few easy steps to follow in order to make the unlocking happen.
1) The first step is to go to the iPhone's settings. From there, head to General > About and then head down until you find the IMEI number. Copy it down, it will be necessary to have later.
2) Go to AT&T's website and log in. You'll want to find AT&T's Support Chat and make it clear that you wish to unlock your iPhone.
3) The representative will ask for your IMEI number. Give it to them.
4) AT&T will send an email to the email associated with the account indicating that the unlock is ready. This email should arrive within 72 hours. If it doesn't, contact AT&T.
The email will contain a few more steps for iPhone owners to complete, steps that include the ones seen in the image, courtesy of @aedillor, below: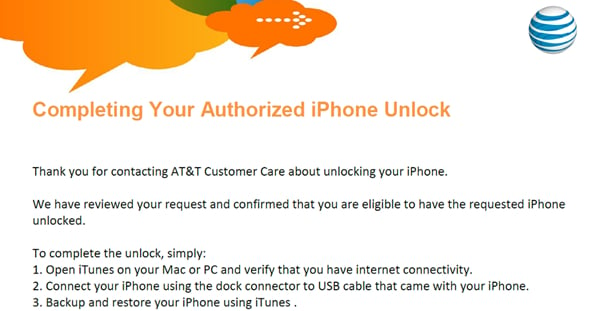 Once the process is complete, owners will be able to use the device with different microSIM cards, perfect for those that do a lot of traveling for pleasure, business, or both.