Apple announced a new version of iOS, the software that powers the iPhone, iPod Touch and iPad last week.
While it may be too expensive for most people to buy the iPhone 5 off contract that doesn't mean they need to wait months for the latest features.
Some of these features include PassBook, a new way to keep track of tickets, coupons and loyalty cards that will hit all iOS 6 devices. Other features like turn by turn voice navigation will arrive on the iPhone 4S. The update also brings a better Siri experience to the iPhone 4S and adds Siri to the New iPad. The video below highlights many of these new iOS 6 features.
iOS 6 brings a collection of great new features to the iPhone 4S, iPhone 4, iPhone 3GS, iPod Touch 4th Generation, the iPad 2 and iPad 3rd Generation.
Prepare for iOS 6
While the iOS 6 update process is simple, and there is little chance of anything going wrong, you should take a few steps to make sure your iPhone is ready.
Read: 5 Things to Do Before You Upgrade to iOS 6
The most important step is to make sure the iPhone or iPad is backed up to iTunes or to iCloud so that your information is safe if the update fails. Once that's done the update to iOS 6 is a snap.
How to Update to iOS 6
Users upgrading from iOS 5 will be able to upgrade Over-the-Air, or without plugging in to a computer. Follow the directions below to update to iOS 6. We recommend connecting to WiFi and doing this with a at least halfway full battery. You cannot use the phone while it is updating, so make sure you are at a point where you don't need to make a call or send a text before pressing install.
Tap Settings.
Tap General.
Tap Software Update.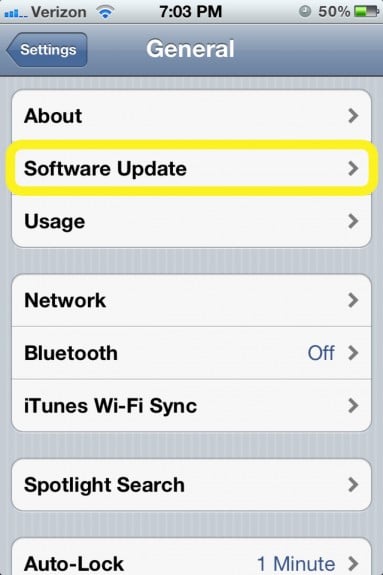 After selecting software update the screen should load and check for updates.
The iPhone should now show a iOS 6 download option. Tap download and let the update download to the device. When prompted, Tap Install Update.
The update can also be installed by using iTunes.
Open iTunes and Select the Devices Tab on the the left side of the screen.
After that Select Summary at the top of the window.
Next, Choose Check for Update.
Once that is done the update will begin to install. It is important to keep the iPhone plugged in as the update will not work if the device becomes unplugged until it is completed.
On the first day it can take some time to download the iOS 6 update, so users may need to retry finding the update. If you have troubles, leave the error codes in the comments and we'll try to help you update to iOS 6.