How to Update to iOS 9 from the iOS 8 Jailbreak the Right Way
iOS 9 was officially released today and if you're currently jailbroken on iOS 8, here's how to update to iOS 9 from the iOS 8 jailbreak the right way.
While some jailbreakers are content with staying on iOS 8 and waiting for an iOS 9 jailbreak to release, other jailbreak users are really excited about iOS 9 and don't mind updating to the new version and lose their jailbreak. For some users, it's a difficult decision.
Keep in mind that updating to iOS 9 will delete your jailbreak and you won't be able to jailbreak your iPhone again until an iOS 9 jailbreak is released, and who knows when that will be.
However, not updating to iOS 9 means that you can't take advantage of all the new features that your friends will brag about on their iPhones. The News app gives you all the news you could want right in once place and there are even a handful of improvements and new features in the Notes app alone, not to mention transit directions in Apple Maps finally.
Furthermore, users can expect the usual performance improvements and bug fixes that will hopefully make iOS more snappy on older devices, especially since iOS 9 supports the same devices that could iOS 8.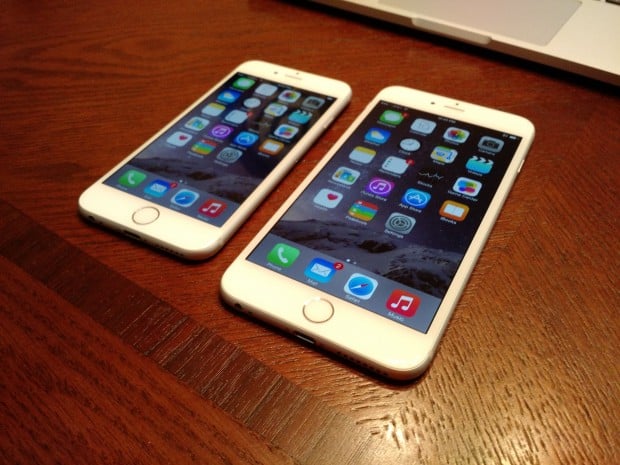 In any case, if you've officially decided that you're updating to iOS 9 and are willing to lose your iOS 8 jailbreak, here's how to update to iOS 9 from the iOS 8 jailbreak the right way.
Before You Begin
Before you start the whole process of updating to iOS 9, it's important that you back up your iPhone first and foremost so that if anything goes wrong, you won't lose all of your apps and settings. Some of this stuff is synced to iCloud, but not everything is, so it's a good idea to back up your iPhone beforehand.
To back up your iPhone, simply plug your device into your computer and fire up iTunes. From there, click on the iPhone icon near the top-left corner of the iTunes window to go to the device's summary page.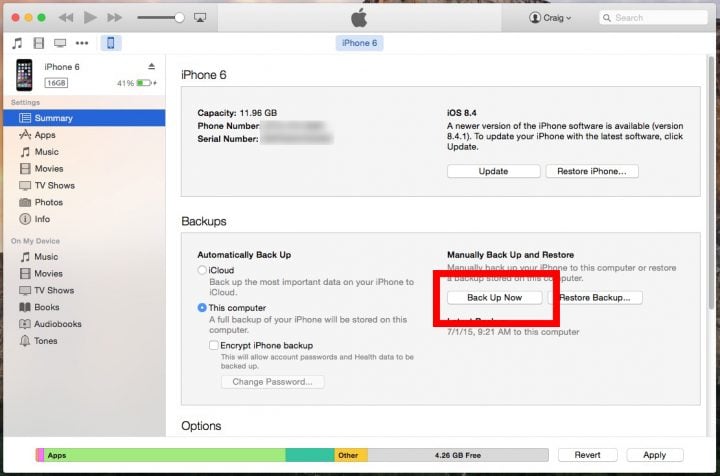 At the bottom on the right side, click Back Up Now to back up everything that's currently on your iPhone. You may get a pop-up saying that you have apps on your iPhone that aren't in your iTunes library and whether or not you want to back these apps up. Go ahead and back them up as well.
The backup process should take around 10 minutes or so, depending on how much stuff you need to back up on your iPhone, but after it's complete, you'll be able to update to iOS 9.
Update to iOS 9
Luckily, the process to update to iOS 9 from a jailbroken iPhone isn't any different than how you would update otherwise. Simply just click Update on the iPhone summary page and follow the steps to update your iPhone to iOS 9. However, you'll need to update to iOS 8.4.1 first before you can update to iOS 9, so you'll essentially be updating your iPhone twice.
However, it's best to do a full restore and install iOS 9 on a clean iPhone. You can do this by clicking Restore iPhone instead of Update. Then after the process is done, you can restore your backup to get all of your apps and settings back onto your iPhone.
Why is it better to update your iPhone on a clean slate? Well, when it comes to updating to a major version of iOS, it's always recommended to factory wipe your iPhone to prevent any updating woes. A lot of users tend to update to a major version of iOS without wiping their devices first, and this usually invites various problem, like updating freezes, boot loops, etc.
When Will We See an iOS 9 Jailbreak?
That's tough to say and there's no real solid evidence that points to a particular release timeline, but iOS 9 has been jailbroken in the past.
Well-known developer iH8sn0w was able to successfully jailbreak one of the iOS 9 beta versions, but he didn't disclose any of the exploits that he used, so TaiG and/or Pangu will still need to figure it all out on their own.
However, at least we know that an iOS 9 jailbreak is being worked on as we speak, so that's certainly good news, but the biggest question is when it will be releasing, and that's something we probably won't know until it just randomly releases one day, which is usually the case for new jailbreaks.
In other words, don't be surprised to suddenly see an iOS 9 jailbreak randomly appear on your doorstep one day.