Apple's newest mobile operating system, iOS 5 is available for download today. iOS 5 brings a collection of new features to old iPhones, iPod Touches and iPads.
There are over 200 new iOS 5 features, which will change the way you use your iOS device. If you have an old iPhone, iOS 5 will help you get ready to upgrade to an iPhone 4S, or it will help you get another year of use out of an old phone.
Apple has made the upgrade process pretty straightforward. If you haven't already done so, you should be sure to prepare your iPhone for iOS 5.
Once you start the iOS 5 upgrade process, you shouldn't stop. Typically upgrading right when the software is available is slower due to a large number of people updating. If you are updating your iPhone, be sure you can be without it for the duration of the upgrade.
iOS 5 is a free upgrade, and works on the iPhone 3GS, iPhone 4, iPod Touch 3rd generation, iPod Touch 4th generation, iPad and iPad 2.
Prepare for iOS 5
If you haven't already read, 5 Things to Do Before You Upgrade to iOS 5, I suggest you give the list a quick glance, but we will cover the essential steps below.
iTunes 10.5 – The first thing you need to do is update iTunes. You can do this by choosing Check for Updates in the app, or downloading iTunes 10.5 directly from Apple.
Follow the prompts to update iTunes to the latest version. This should take 5-10 minutes once the file is downloaded.
Backup – Backup your iPhone, iPod Touch or iPad to your computer. To do this, plug in with a USB cable and allow the device to backup. If it does not automatically backup, you can right click on the device name in the left side of iTunes and choose backup. If moving to a new computer, be sure to transfer purchases to the computer for easy syncing.
How to Update to iOS 5
Now that you are ready, here's how to upgrade to iOS 5.
1. Click on your device's name in the iTunes sidebar.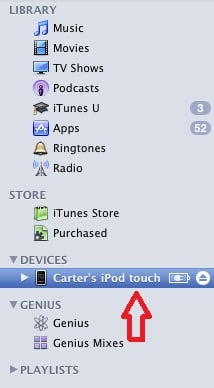 2. This will open up Settings in the right hand area as shown below.
3. Click on the Check for Update button in the middle of your screen.
4. iTunes will now download and upgrade your iPhone to iOS 5. This could take some time. Do not disconnect from your computer or quit iTunes until the iOS 5 upgrade is done.
5. When the update completes your device will restart and you will be prompted to sign in with your Apple ID. You can sync to iTunes to bring back your apps and data if need be.
6. Do not remove your device until your apps have synced back, otherwise you will have to recover lost apps, which is painful.
That's all you need to do. We'll be showing off how to use iOS 5 soon, for now, learn how to use the Notification Center in iOS 5.
While the upgrade to iOS 5 happens, you can watch the iOS 5 overview video from Apple to see what you can expect in the newest iPhone and iPad software.
https://www.youtube.com/watch?v=LLJIef-e-7g&feature=player_embedded

As an Amazon Associate I earn from qualifying purchases.