How to Upgrade to the iPad 2 for $200
There are a lot of Apple fans out there debating whether or not to upgrade from the original iPad to the iPad 2. Of course you can always try your hand at selling your iPad on eBay or Craigslist, but good luck standing out from the crowd, especially now that Apple's selling the original iPad in its refurbished store for $349. So how am I and many others upgrading from the old iPad to the new iPad 2 for $200 or less? Read on to find out.
We already wrote about why some people are upgrading to the iPad 2, including some of our writers.
iPad 2 a Good Value, But Still Expensive
The iPad 2 is cheaper than the competition and brings a lot more value to the table, but it's still an expensive device. There are a whole lot of folks out there that simply don't have an extra $499 sitting around to make the purchase. If you've used the iPad WiFi-version or one with just 16GB of memory for the past year, you may have run into some limitations that would be alleviated with the 3G model or more storage capacity. The top-end 64GB WiFi+ 3G iPad 2 model can sure look tempting, but $829 is some serious coin for a what's a secondary device for many.
Don't forget that you'll need to buy a new case, such as the iPad 2 Smart Cover, and you may end up spending more cash on the HDMI adapter and all the new apps that were shown yesterday. Whatever way you cut it, $499 is just the beginning.
Pain Free iPad 2 Upgrade
If you already own an iPad and aren't feeling generous enough to hand it down to a friend or family member, now is the time to sell. Time is money and there's no reason to waste much of it on selling your old iPad. Instead, the easiest and most painless route is to sell the device to a buy-back service. These services buy used gadgets, freshen them up a bit and then resell them for a profit. I've used Gazelle.com quite a few times, but hear good things about eBay's new service. I recommend Gazelle simply for the fact that I
Gazelle.com Upgrade Process
As I wrote earlier, Gazelle is paying me $434 for each of our used iPads with 32GB and WiFi only. Not a bad deal considering the original price was $599 and Apple's selling the same model refurbished for just about the same price. But I secured that price BEFORE the iPad 2 announcement. Those looking to upgrade now will have to deal with the flood of other iPad upgraders looking for a quick sale.
With Gazelle.com, you simply need to search for the word 'iPad' and select your specific model.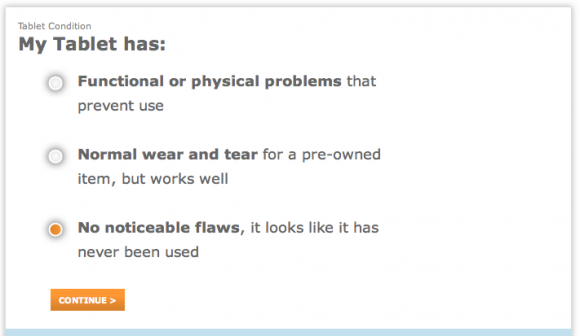 You then need to check one of three boxes to tell Gazelle if your used iPad has any serious dings, normal wear and tear, or is flawless.
You also need to tell Gazelle if you have the original iPad charger and USB docking cable. If you don't have these items, Gazelle will ding you a few dollars.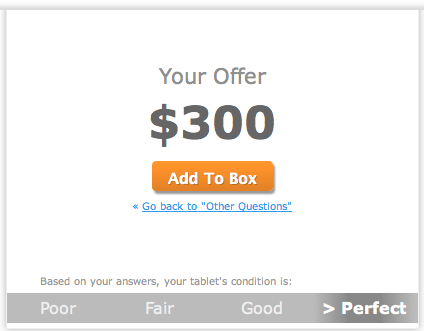 Currently, Gazelle is only offering $300 for the 16GB WiFi iPad. I recommend taking this offer, or one from a competing service as quickly as possible. Otherwise you'll likely get less once March 11 rolls around. You might be able to get a little more cash by relying on eBay or Craigslist, but you'll have to pay fees with eBay and deal with strangers via Craigslist.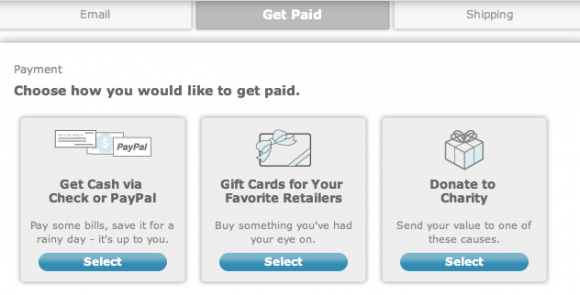 You can then choose a payment method. You can select from cash or gift cards. Or if you're rolling in dough and just want your old iPad out of your life you can donate to charity. If you are in the giving mood, please note that Gazelle doesn't actually send your iPad to a charity, but the 'value' of your iPad. There are countless schools and organizations that could really use an iPad, so we recommend donating directly if you want to go that path.  I typically ask Gazelle for a check to avoid PayPal fees.
Gazelle will send you a box with pre-paid shipping so you don't have to dig up your original iPad box or pack it up yourself. You have 30 days from the time you get your quote for Gazelle to receive your package. If you're a day late your iPad buyback offer is null and void, so make sure you ship it as quickly as possible.
Since Gazelle does give you 30 days to ship in your old iPad, you can wait a week or two until the iPad 2 goes on sale. That way you don't have to go iPad-less for any period of time. I've seen other upgrade services, such as eBay's that only allow for a 10-day window.
Using the eBay Buy Back Program to Upgrade to iPad 2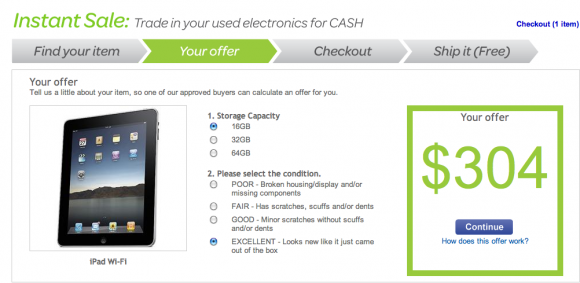 The eBay Buy Back Program offers are very similar to Gazelle's, but there are two important limitations. eBay will only send money via PayPal, so you may have to pay a transaction fee. This is an inconvenience for those without a PayPal account and a way to withdraw money quickly, such as a PayPal debit card. As I mentioned above, you only have 10 days to turn your iPad in, which may not be enough time to get your hands on the iPad 2 you're upgrading to.
Best Buy Buy Back Not a Good Way to Upgrade to iPad 2
Best Buy offers a buy back program, but I can't recommend it as a good way to upgrade to the iPad 2. According to their site, they will only offer you up to 40% of your iPad's original purchase price if it's more than six-months old. What's worse is that you're limited to a Best Buy gift card, which means you have to upgrade to the iPad 2 at Best Buy, which may have limited stock of the new tablet early on.
The upside of the Best Buy buy back program is that you don't have to deal with shipping or waiting for a check in the mail. If you like instant gratification, the Best Buy method might be right for you.
iPad Upgrade Conclusion
Regardless if you use eBay's or Gazelle's buyback programs, you'll be able to upgrade to the new iPad 2 for $200. That's a relatively small price to pay for all the new features, provided you'll actually use them. Just remember, when the iPad 3 rumors heat up, try to get your offer ahead of the official announcement like I did to minimize the cost of upgrading.