How to Upload Photos to Imgur from Your iPhone
If you just took an awesome photo on your iPhone and want to upload it to Imgur right away to share with the world, here's how to upload photos to Imgur from your iPhone.
Imgur is arguably one of the most popular image-hosting sites in the world, as its simplicity makes it really easy to use while still coming with all of the necessary features that make an image-hosting service great.
While the iPhone allows you to share photos right from within the Photos app, it can only do so much. You can send the photo through a text message or share it on social media on Facebook or Twitter, but if you're wanting to share it with the entire world, you'll have to upload the photo to an image-hosting service first.
For example, Reddit heavily relies on Imgur for posting images, so if you wanted to share a photo on Reddit that you just took on your iPhone, you would have to upload it to Imgur first.
Unfortunately, the Imgur iPhone app didn't include an upload feature until just recently. It's perhaps one of the biggest new features that the app has obtained since its existence. Here's how to upload photos to Imgur right from your iPhone.
Uploading iPhone Photos to Imgur
Imgur just recently updated its official iPhone app with an upload feature, meaning that iPhone users can now finally upload photos to the image-hosting service straight from their iPhone without having to transfer the photo to a computer and then using the Imgur web interface to upload the photo.
It was a tedious process, but users no longer have to do that. If you're wanting to upload photos to Imgur directly from your iPhone, just follow these simple steps.
First off, you'll obviously want to download the official Imgur iPhone app, or if you already have it, be sure that it's updated to the latest version. From there, open up the app and click on the big blue plus button down at the bottom.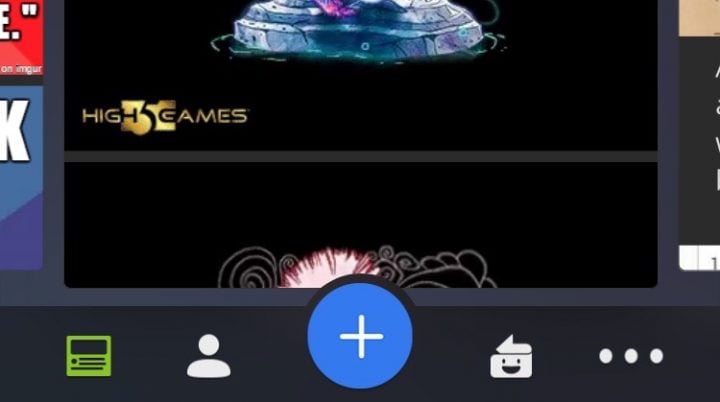 Next, click on Camera Roll and select the photo that you want to upload. Then tap on the checkmark icon in the top-right corner.
On the next page, you can add a title and description for the photo and even add more photos to upload. You can also select at the top whether or not you want the photo to be shown publicly and available for users to search. By default, this is set to Unlisted.
Tap on Upload in the bottom-right corner and the photo will be officially uploaded to Imgur. From there, you can click the small Share button at the bottom (the one with the arrow pointing upwards) and then tap on Copy Link to get the direct URL to the photo. From there, you can paste it into pretty much anywhere: an email, on Facebook, or on Reddit.
Aside from uploading photos that you already took, you can also use the Imgur app to take a photo and then upload it to directly onto the image-hosting service, as the app has a built-in camera of sorts. Simply just take a photo and the app will automatically take you to the next screen where you can upload the image directly to Imgur.
Third-Party Imgur Apps
While the official Imgur app only just received the ability to upload photos in-app, it's not necessarily the first time that iPhone users have been able to do this.
In fact, there are some third-party Imgur apps that allow users to upload iPhone photos directly to Imgur, including Pocketgur, which was one of my favorite Imgur apps before the official app gained uploading features.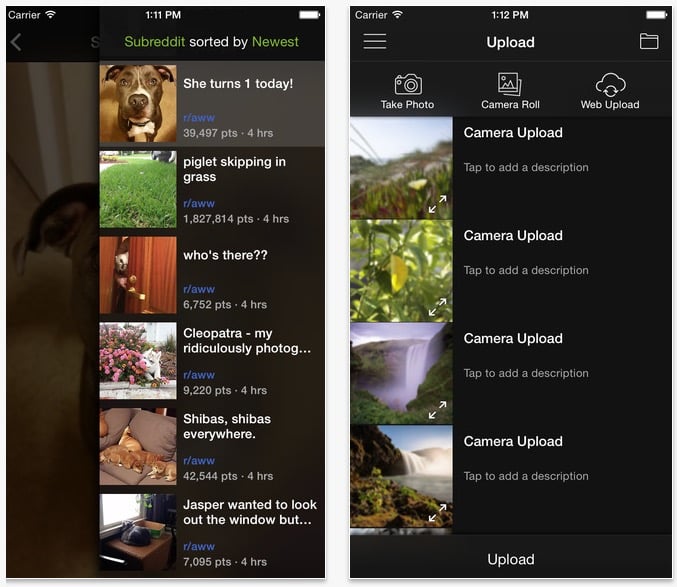 With Pocketgur, users are able to upload photos to Imgur straight from their iPhone, although the user interface isn't quite as pretty as the official Imgur app. However, browsing Imgur photos is actually a bit nicer with Pocketgur.
There's also Imgapp, which has a similar browsing interface as Pocketgur, but doesn't have quite what it takes to compete with the official app.
In fact, now that the official Imgur app finally has built-in uploading features, I'd say it's the only Imgur iPhone app you really need going forward, as its uploading interface is top-notch. However, if you don't quite like the browsing interface of the official app, then perhaps Pocketgur has more of what you're looking for there.

This article may contain affiliate links. Click here for more details.