How to Use 1-Tap Archive on Kindle Fire HDX Tablets
One of the shopping dilemmas users have when considering a Tablet purchase is to determine the amount of storage they think they will need. Many Tablets can be chosen in capacities ranging from 16GB to 64GB, some have larger options available. Apple's iPad's have a 128GB option. Google's Nexus 7 has 16GB and 32GB models. Microsoft's Surface 2 Tablet has 32GB and 64GB options available. And the Surface Pro 2 can be purchased with storage options ranging from 64GB to 128GB. Some Tablets allow you to extend your storage with a SD card, some do not.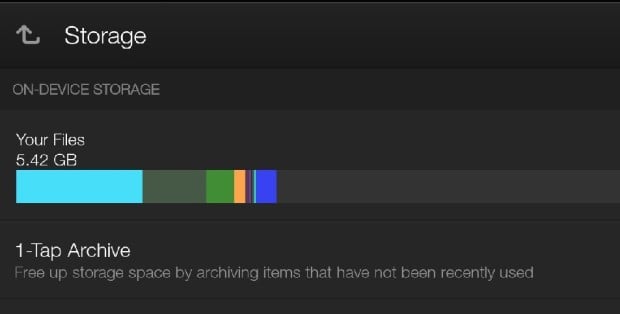 Obviously the lower amount of storage you purchase the less expensive your initial cost. Apple and Microsoft up the price $100 as you double storage capacity. Google ups the cost for a Nexus 7 by $40. Amazon ups the price of its Kindle Fire HDX Tablets $50. Do you need the largest storage capacity available? That all depends on how you plan on using a Tablet, and the Cloud figures prominently into that decision process.
With the advent of Cloud storage and syncing capabilities you can choose to store some content in your Cloud account that you use for your device instead of locally. Again, depending on how you use your Tablet this can save you quite a bit of space. For example, if you are an avid gamer and download lots of the higher end games they will quickly eat up your storage space locally. If you download a lot of video content for offline viewing you can see your storage allotment dwindle quickly as well.
Users with large music libraries no longer have to have those thousands of songs on mobile devices because they can access and play their music from a Cloud storage solution. Or they can use any of the large number of streaming services available. Documents can also be stored in the Cloud.
But that doesn't mean that documents, music files and video files don't magically find their way to your local storage as you use or play them. That doesn't mean that App or Game you downloaded last year isn't just sitting on your device taking up a gigabyte or more of storage. So, if your budget and usage scenario finds you opting for a small capacity device you occasionally have to make sure you are deleting or archiving the old before you can bring in the new.
iOS users with smaller capacity devices had to clear storage space to allow the recent iOS 7.1 update to do its thing. Surface 2 users can see performance hits if too much content is stored locally. Also keep in mind that advertised storage capacity isn't what is completely available. The operating system and pre-installed Apps take some of that storage.
Thankfully with Apps you can delete them off of your device and your purchase record is still maintained in the App Store you use. So, if you delete an App and want to re-download it you can. An personal example of this is the NCAA March Madness App. I don't keep it on any of my devices except for when the tournament is running. Then I delete it. For documents, music, and video, the Cloud versions are always there as long as you're connected.
But removing content from your device can be a time consuming, hunt and peck process. For Kindle Fire HDX Tablet owners, Amazon has come up with a solution it calls 1-Tap Archive.
Read: Kindle Fire HDX 8.9: Review
It is as simple as it sounds. With one tap of one button you can send content in various categories you haven't accessed in a while to Amazon's Cloud for later retrieval. Here's how it works.
First go swipe down from the top of your screen to bring in the Settings menu. Then choose Settings.
From there choose Device.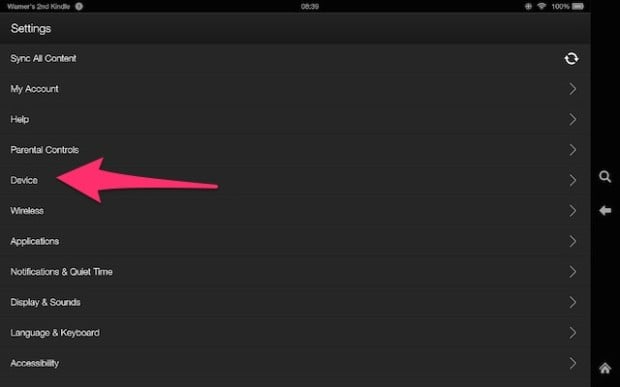 From there choose Storage.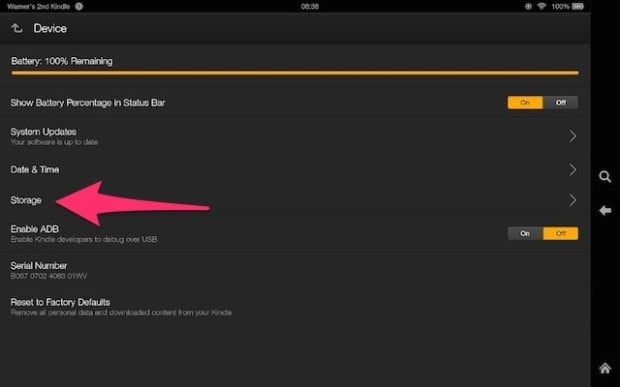 Once you are in the Storage setting screen you will see a list of your content by category. After a few seconds or so an automatic scan of your device will reveal how much storage each category is using with the number of items within each category displayed.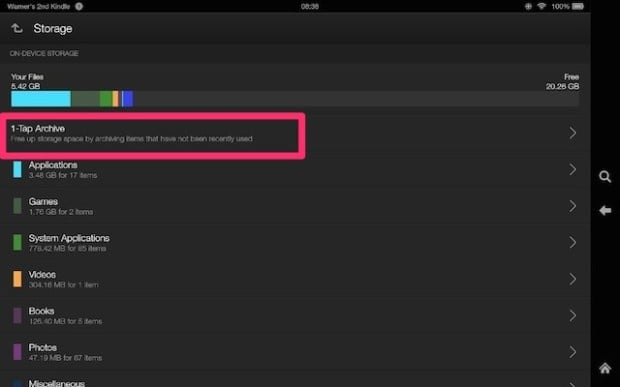 You can tap on any category to drill down to see more detail. Note that Games and Applications are two separate categories.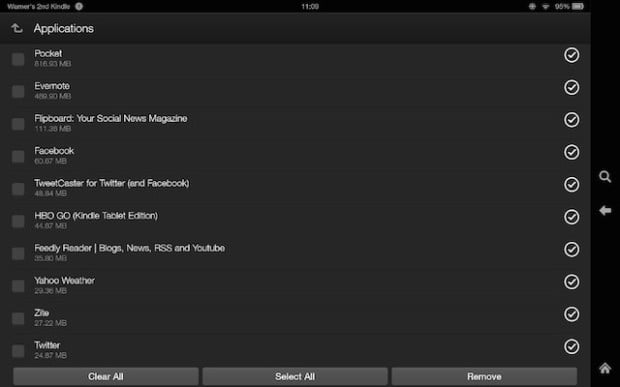 At the top of the Storage page you'll see a colored graph view that represents how your storage is being used among the categories. The colors relate to the categories below.
In between the graph and the list of categories is what we're looking for: 1-Tap Archive. Tap it and a brief scan of your content will take place. Then you'll see content you haven't used or accessed in the last 7 days.
There will be a check mark to the left of the title of the content. Anything checked is ready for 1-Tap Archive. To uncheck an item, tap the check mark to the right of the title. (I'm not sure why we need two check marks.)
At the bottom of the screen you'll see buttons for Clear All, Select All, and Archive. If you tap the Archive button the items you have selected will be removed from your device and stored in the Cloud.
That's it. Simple. Sweet. An easy 1-Tap method for clearing out content from various categories in one place.
Other Kindle Fire HDX coverage and How-To's

As an Amazon Associate I earn from qualifying purchases.