How to Use a Bluetooth Speaker with Your iPhone
Sometimes your iPhone's speaker just doesn't cut it when listening to music, which is why Bluetooth speakers have become so popular. Here's how to use one with your iPhone.
Bluetooth speakers come in all shapes and sizes, and they're pretty much a dime a dozen nowadays. You can pick one up practically anywhere and they range from really cheap to really expensive, so you can spend as much or as little as you'd like for a Bluetooth speaker.
Usually the instructions that come included with a Bluetooth speaker do an excellent job at describing the setup process, but if you happen to have an older Bluetooth speaker around and can't find the instructions for it, here's a quick guide that will take you through the process. Of course, every Bluetooth speaker is slightly different as far as how users need to set them up, but they all usually have the same general setup process for the most part.
Here's how to pair a Bluetooth speaker with your iPhone, and we've also included a few Bluetooth speaker recommendations further below.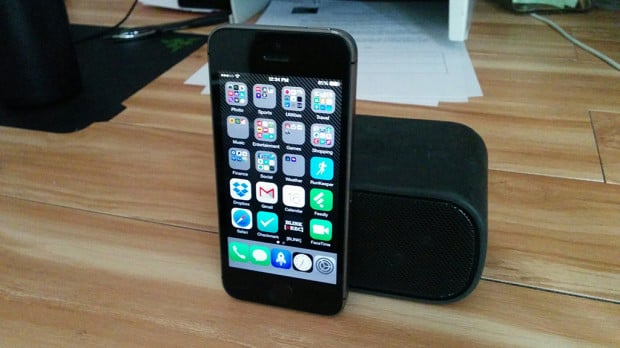 Instructions
The first thing you'll want to do is make sure that Bluetooth is enabled on your iPhone. To do this, open up the Settings app and tap on Bluetooth. Then, you'll want to tap on the toggle switch off to the right until it turns green. Bluetooth is now enabled and can now discover Bluetooth devices within range.
Next, turn on your Bluetooth speaker. Depending on the speaker, it might have an on/off switch that's separate from the pair button, or the power button might be built into the pair button. Usually these kind of buttons, you hold it down for a second or two to turn it on.
If this is the Bluetooth speaker's first time turning on out of the package, it might enter pairing mode automatically. If not, press and hold down on the pair button until the status light begins blinking or it starts making a noise.
Go back to the Bluetooth menu on your iPhone and you should now see the Bluetooth speaker show up in the list. Go ahead and tap on it to pair your iPhone with the Bluetooth speaker. When it has paired successfully, it'll say Connected next to the speaker. You're now ready to begin playing music through the Bluetooth speaker and enjoy much better sound than the iPhone's built-in speaker.
If you ever leave the speaker's range and come back, your iPhone will automatically reconnect to the speaker if the speaker is still on — sometimes they automatically turn off after a certain amount of idle time.
If you want to completely disconnect a Bluetooth speaker from your iPhone, simply tap the small i icon to the right in the Bluetooth menu and tap Forget this Device. If you do this, you'll have to re-pair the Bluetooth speaker in the future if you want to use it again.
Bluetooth Speaker Suggestions
As aforementioned, Bluetooth speakers are a dime a dozen, and there hundreds of different models to choose from, which can make it difficult to choose what speaker you should get.
We've featured some of our favorite picks in the past, but ones that stick out the most include the Jawbone Jambox and Logitech's Ultimate Ears line of Bluetooth speakers (featured in this how-to). Both offer great sound and bass for the small size they come in.
Of course, you'll get what you pay for when it comes to Bluetooth speakers, so spend the amount of money that you're comfortable spending on a Bluetooth speaker. You'd be surprised what $50 can buy you these days.

As an Amazon Associate I earn from qualifying purchases.