How to Use a Keyboard with an Apple TV
The remote that comes with your Apple TV is pretty handy for navigating the menus of Apple's streaming box, but a keyboard can make the experience a lot easier. Here's how to use an Apple Bluetooth keyboard with an Apple TV.
Apple's wireless keyboard comes standard with any new iMac that you purchase, and you can also buy one separately in the Apple Store for $69 so that you can use it with your MacBook or upgrade your old Apple keyboard from an older iMac. However, did you know that it can also be used with an Apple TV?
The Apple TV can detect and support an Apple wireless keyboard, making it easier to type in TV shows or movies when you're searching for one to watch, as you don't have to do the tedious peck-and-hunt with the Apple TV remote.
While you can use pretty much any Bluetooth keyboard with the Apple TV, we find the company's own keyboard to be the best, as it sports an aluminum design that's thin and compact. Plus, you'll the best compatibility using an Apple keyboard with an Apple TV.
Without further ado, here's how to use a Bluetooth keyboard with your Apple TV and say goodbye to the Apple TV remote when it comes to typing out TV shows and movies.
Using a Keyboard with the Apple TV
Once you have a Bluetooth keyboard and your Apple TV is booted up, simply follow these simple steps:
First off, turn on your keyboard and make sure that it's discoverable. A blinking green light on the Apple keyboard indicates that it's in discoverable mode and is ready to be paired with the Apple TV.
Next, on your Apple TV, go to Settings > General > Bluetooth.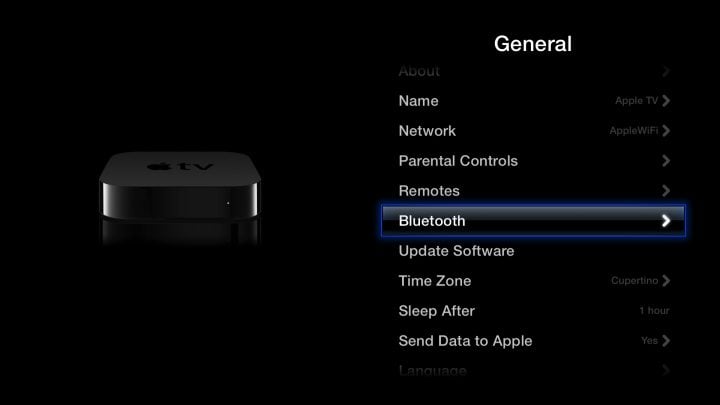 Your keyboard should pop up in the list, so select it using your Apple TV remote and then enter the four-digit code on your keyboard that pops up on the screen. Hit Enter.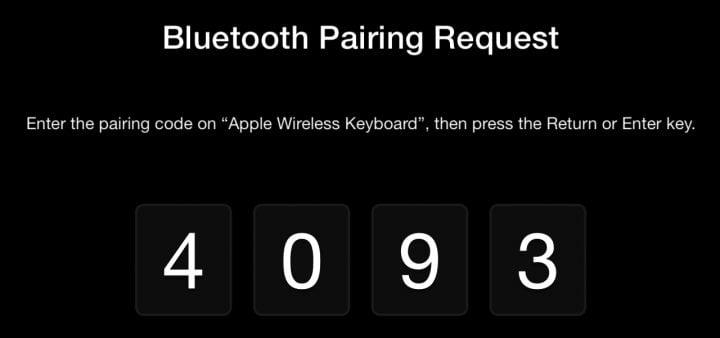 From there, your keyboard will be paired to your Apple TV and you can begin to navigate around the menus using the keyboard, and it'll make searching a lot easier, as you can easily type in a TV show or movie in the search box without having to rely on the Apple TV remote.
To navigate around menus using the keyboard, you can use the arrow keys to move around the selector and then hit the Enter key to select something. To go back, just hit the Esc key.
You can also use the media controls at the top of the keyboard to play/pause content or go to the next/previous song or episode.
Unfortunately, the Bluetooth capabilities of the Apple TV are only for using a Bluetooth keyboard and setting up the Apple TV when you first get it. If you have a third-generation Apple TV and an iOS device that runs iOS 7 or newer (although it has to be an iPhone 4s or newer, third-generation iPad or newer, iPad mini, or fifth-generation iPod Touch), you can set up your Apple TV the easy way without having to navigate through on-screen menus manually.
All you have to do is simply just set your iPhone or iPad on top of the Apple TV and it will detect the automatic setup. We're not really sure how it detects the contact, since it merely just uses Bluetooth, but we're guessing it might use a technology similar to the Bump app, where both devices detect a bump at the same time and automatically pair them up.
In any case, this will bring up a pop-up where you'll enter in your Apple ID credentials. From this point on, you can take back your iOS device and it no longer needs to sit atop the Apple TV unit. Enter in your Apple ID information and continue the setup instructions.