How to Use Apple Pay with the Apple Watch
The Apple Watch has a ton of cool features that iPhone users can take advantage of, but you can also use the wearable to pay for stuff at the store. Here's how to use Apple Pay with the Apple Watch.
Apple Pay was launched a little over a year ago, and while it's still growing, there are already a ton of different stores that accept the new payment platform, including McDonald's, Staples, Panera Bread, Starbucks, and many more.
The new payment service from Apple allows iPhone users to wireless pay for goods at the store by simply just placing their iPhones near the payment terminal and place their finger on the Touch ID fingerprint sensor to authorize the payment.
Read: How to Set Up Apple Pay
It's claimed at being a faster and easier way to pay than using a credit or debit card, but there's an even quicker and more convenient way. What if I told you that you could pay for items at the store without getting out either your wallet or your iPhone? Sounds pretty awesome, right? You can make that happen with your Apple Watch.
Your Apple Watch can be used to pay for goods at the store using Apple Pay. Here's how to set it up and use it.
Setting Up Apple Pay on Your Apple Watch
While you can have many settings on your Apple Watch mirror the settings on your iPhone, you have to set up Apple Pay on its own on the watch, and it's a bit of process, but it's fairly easy to do.
However, you'll first need to enable a passcode on your Apple Watch before you can use Apple Pay, as Apple requires this as a security feature.
To do this, open up the Apple Watch app on your iPhone and select Passcode. Then tap on Turn Passcode On and follow the instructions to set up a passcode on your Apple Watch. Don't worry about having to enter it in every time you want to get on your watch, as you'll only have to enter it once after you put on your watch.
Now that you have the passcode enabled on your Apple Watch, we can set up Apple Pay on the device. Go back into the Apple Watch app on your iPhone if you're not already. Then scroll down and tap on Wallet & Apple Pay. From there, add a new credit or debit card.
You can either take a photo of the card to have the app enter in the details automatically, or you can enter them in manually if you want. Either way, you'll need to enter in the security code manually.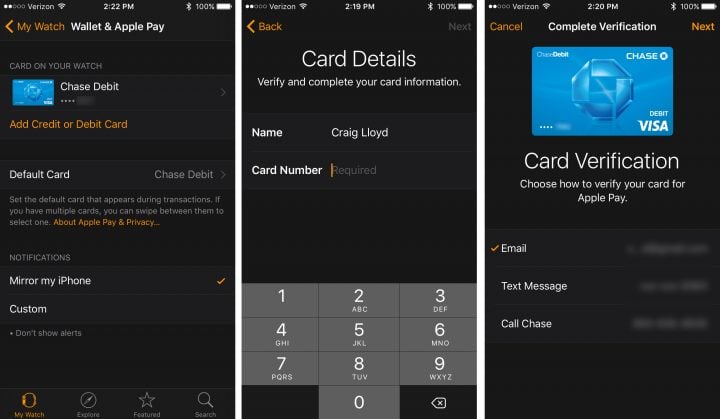 Depending on who your card issuer and bank are, you may need to verify your card by receiving a text message or email to confirm your identity.
After that, though, the card will be added to Apple Pay on your Apple Watch, and it will also be available to use on your iPhone.
Using Apple Pay on Your Apple Watch
Now this is where the fun begins. Instead of pulling out your iPhone to use Apple Pay and having to place your finger on the Touch ID sensor, you can simply just use your Apple Watch.
Basically, if you thought using Apple Pay on your iPhone was cool, using it with your Apple Watch is even cooler. All you have to do is double-click the big side button on the Apple Watch and Apple Pay will pop up. If you only have one credit card stored in Apple Pay, it'll be ready to go. Otherwise, you can scroll through your cards and then select one.
You can also access Apple Pay by opening up the Wallet app on your Apple Watch and tapping on your credit card, but the easiest way is to double-click the side button.
From there, just hold your Apple Watch near the pay terminal at the check out lane and wait for it complete the payment. There's no Touch ID to mess with at all. It really is easier than using your iPhone.

As an Amazon Associate I earn from qualifying purchases.