How to Use Cortana for iPhone
Microsoft, makers of the Office suite of productivity apps, the Xbox and more, is hoping that you'll forget any misgivings that you have about its Windows operating system. To win you back, the company has an army of new apps and services. No app or service released yet perfectly encapsulates the promise of Windows 10 like Cortana for iPhone.
Like Apple's Siri, Cortana is a digital personal assistant. She lives within Windows 10's Taskbar, if you let her. The assistant doesn't fetch coffee, but she does make it easier to set reminders and monitor your calendar. She handles more complicated tasks too, like keeping you abreast of the latest news and weather conditions, tracking your packages, keeping an eye on your college courses and ordering you an Uber in enough time to make your movie.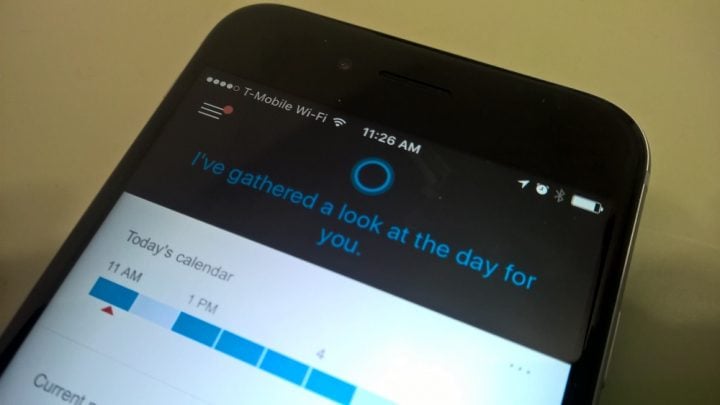 Getting Cortana on iPhone
Cortana on iPhone is absolutely free for you to download from the iTunes App Store, just like most of the other apps that Microsoft makes available to iPhone owners. There are no gimmicks, no subscription plans and no gotchas. Microsoft plans to keep Cortana for iPhone updated overtime with new features and new options.
That being said, there is some setup required. For Cortana for iPhone to be effective, you really do need to have the Windows 10 operating system installed on your PC. There, she's the most powerful, offering options not yet available on any other platform. Upgrading to Windows 10 is free, if you have Windows 8, Windows 8.1 or Windows 7 installed on your device currently.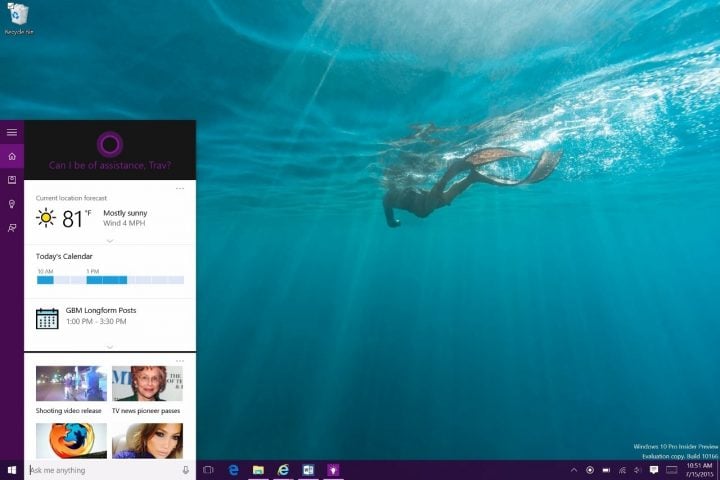 Note that after you've installed Cortana for iPhone, you'll need to give it your Microsoft Account username and password. Be sure to use the same Microsoft Account you do on other services and products from the company. Use the same Microsoft Account that you log into Windows 10 with for the best results.
Before you set up Cortana, there's something you need to know. Cortana pulls information from your email, calendar and physical location so that she can be helpful. If that's not information you're comfortable with providing, don't install the app on your iPhone. Microsoft doesn't share the interests and data Cortana collects with third-parties. That being said, it does sync that data to its servers so that it's available to every version of Cortana you're using.
Cortana Reminders, Interests & Voice Commands
Opening up the Cortana for iPhone app, gets you a brief greeting from the personal assistant and a briefing on what you've got going on that day. Weather, meetings, traffic and the things that she's tracking for you show up on this home page.
Besides pulling down weather from where your iPhone tells her that you are, Cortana interfaces with Microsoft's servers to get information about what you like and don't like. You can set these interests in Windows 10. Interests can range from business news, to getting traffic updates when it's time to head home from work.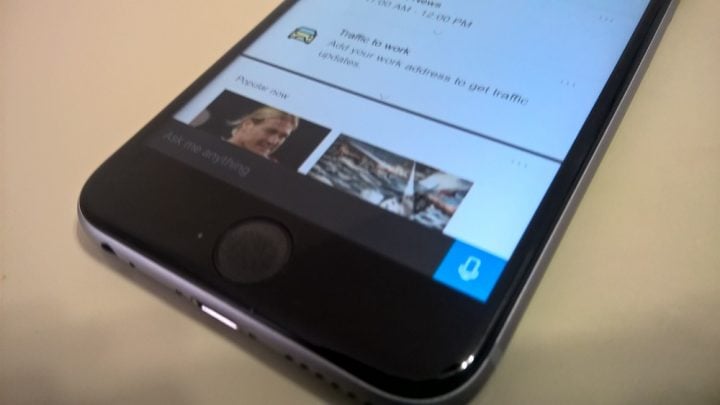 Like Siri, you interact with Cortana using both your voice and text. The search bar along the button of the Cortana for iPhone app provides access for both options. When you're in a room with other people or don't want to disturb someone else, typing out a message is great. In situations where you're alone or unable to type in any text, pushing the voice button gets Cortana for iPhone listening for voice commands and questions. Siri can be opened on the iPhone 6, iPhone 6s, iPhone 6s Plus and iPhone 6 Plus without pushing a button, but Cortana for iPhone can't. That's an important distinction if you're thinking about switching to Cortana full-time.
Using information provided to her by Bing, Cortana will attempt to answer any question that you ask her. When you ask question or search with your voice, she'll talk back to you. If you type out a message, she'll reply in text.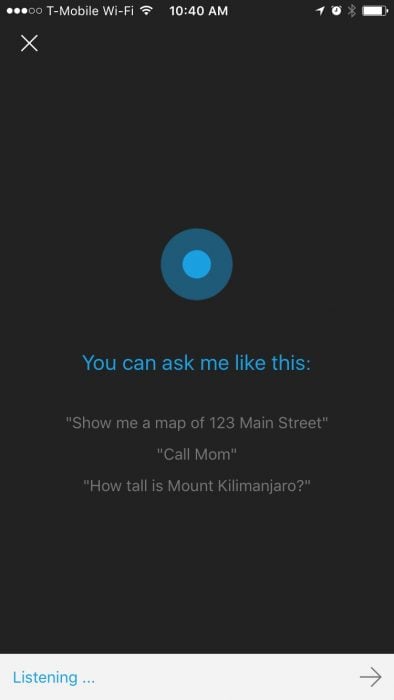 From Cortana's menu you can get access to the Reminders that you set. Reminders sync to any version of Cortana that's connected to your Microsoft Account. For example, asking the personal assistant to remind you to get cabbage the next time you go near a Kroger's grocery store, gets you a reminder on your iPhone too. Reminders can be set for specific times or specific places with voice or with text.
Cortana's Notebook
Cortana on iPhone's Notebook is where all of your interests and settings are. Cortana keeps all the things she knows about you here in the Notebook. You can add new interests or remove old interests.
Again, what's in your Notebook syncs across devices with your Microsoft Account. Travel, Weather, Meetings, News, Packages and Reservations or among the most popular options Cortana has. Microsoft is always adding more capabilities to Cortana through the Notebook. For example, ordering an Uber in time enough to make a reservation is a fairly new feature for the personal assistant. Adding new interests in the Notebook adds new cards to Cortana for iPhone's home screen.
For some Interests, Cortana for Windows scans incoming email and adds new cards to your experience. Only after you've explicitly given her permission to add a piece of information to your notebook – like travel arrangements or the address of your work – will it show up on other devices. Microsoft says this is to protect your privacy.
Cortana iPhone Integration
Cortana for iPhone simply can't integrate into your iPhone in all the ways that Siri can. Apple just doesn't allow for that. That being said, Microsoft hopes that having Cortana on your notebook, desktop and tablet will be enough to overcome the disadvantage.
For iPhone users specifically, there is a widget that can be added to the notifications area. This widget gives you quick access to your reminders and a button to ask the personal assistant questions quickly. Swipe down from the top of your iPhone's screen to add the widget.
Cortana Commands
For some reason or another, Microsoft doesn't provide a very robust list of voice commands for Cortana. Perhaps, it's because the company is hoping that users will discover new commands over time. Here are some rather basic commands that the company provides online.
Tell me a joke.
Show me the latest NBA scores.
How many calories in a boiled egg?
Put swimming on my calendar for tomorrow.
Change my 3 PM event to 4.
What's happening this weekend?
I've found that adding events to my calendar with a voice command like "Add (name of event) to my calendar for 4PM" works well. Many of my favorite voice commands, aren't yet available in Cortana for iPhone. For example, on Windows I can tell Cortana to play a specific genre of music. I can't do that on iPhones.
Good luck with Cortana for iPhone.

As an Amazon Associate I earn from qualifying purchases.