How to Use Facebook Live Video: Broadcast Live From Your Phone
With competitors breathing down their necks, Facebook has started letting users broadcast live video straight to their Facebook feeds from iPhone or Android devices. Here's how to use the new Facebook Live Video.
While live streaming video has been a regular feature of the Internet for the past several years, it's only recently that live video has become accessible to the average user. Apps like Periscope (acquired by Twitter before it released) have made sharing live video with other people easier than ever, thanks almost entirely to its integration with Twitter.
One of the major issues with the adoption of live streaming video up to this point has been sharing that broadcast with your audience. Whether that audience is thousands of Twitter followers or blog readers, or just a couple of friends and family, the best scenarios involved embedding 3rd party services into your blog or website. Periscope works by integrating your Twitter followers into the app, so you can start broadcasting video, and your followers can watch.
What is Facebook Live Video?
Live Video is exactly what it sounds like. In addition to recording video and uploading it to share on Facebook, the social networking giant is now letting its users broadcast video, as it happens and uncensored, straight to the site.
Facebook's Live Video functionality was likely developed both in response to threats such as Periscope and as a means to keep users on the site for even longer. It was originally released last year to a select few – read: famous people – in order to test how well the broadcasting functionality worked. Recently, however, Facebook began rolling out the feature across the U.S., to anyone who uses the Android or iPhone Facebook apps.
Now, just with your smartphone, you can record video that's better than the quality shot by most broadcast news stations just a few years ago, and broadcast it for free to Facebook. It'll appear as a normal Facebook post in your feed, and anyone who sees your regular Facebook posts will see the Live Video broadcast. If someone watches your broadcast, they can click a subscribe button, and the next time you broadcast, they'll get a notification to watch it.
Users who watch Live Video are able to interact with the broadcaster; they can send comments, Likes, Reactions, and other emoji; these submissions will appear on your phone, and you can respond over the broadcast if you choose.
How to Use Facebook Live Video
Currently, to broadcast video to Facebook, you must use the phone app. There's no way to take any other video source and broadcast it, but it's probably just a matter of time before Facebook opens it up to Wi-Fi-enabled cameras, GoPros, and other enthusiast devices.
When you're ready to broadcast, open up the Facebook app on your phone. Tap on the Status button to update your Facebook status, just like you would with a normal text entry. At the bottom of your screen, look for an icon of a person in front of two concentric circles. This is the Live Video button. Tap it, and you'll see the regular update screen replaced with a full-screen video.
Here, Facebook gives you a chance to customize your broadcast. Currently, you can't do much – that is, you can't put your own graphics or logos into the broadcast (at least not yet, but it's almost certainly on the way) – but you can choose the audience, just like with any Facebook post. Setting the first one to "Only Me" is a great way of trying out the Live Video feature without making an awkward broadcast to your friends and family; just be sure to change it back if you decide to use it again.
If your child has a phone or tablet with a Facebook account, you should take a moment to learn about the Live Video features, as many parents would be uncomfortable with their kids broadcasting live, location-aware, public video to the Internet.
By default, the video starts by using your front-facing camera, where applicable; if you want to shoot something other than yourself, just tap the icon to switch to the rear cam. Facebook also asks you to describe your live video, giving you an opportunity to title your post before you start streaming. Below that is a big blue button that reads "Go Live" – press it, and your broadcast starts.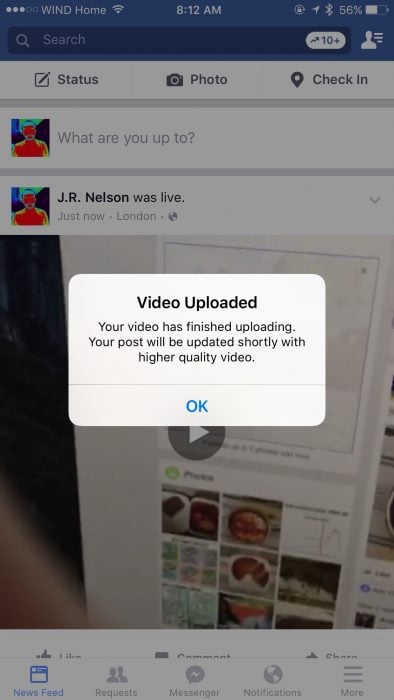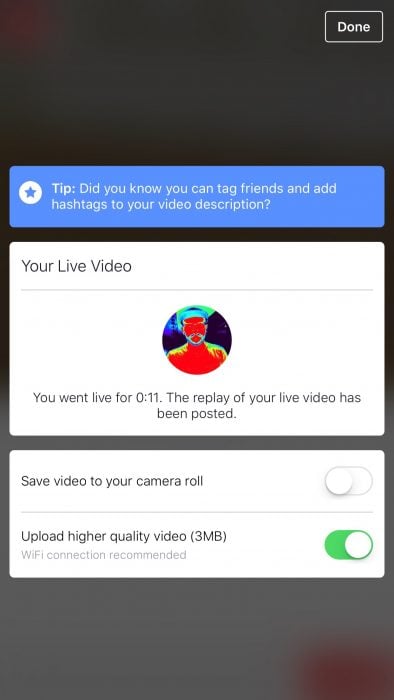 While you're broadcasting, you'll see the number of live viewers as well as the names of any of your friends who are watching. Below the video, you'll see a real-time stream of comments that people are typing into the post beneath your broadcast. If you end up with trolls harassing your post, you can tap the profile picture of the offending comment, where Facebook gives you the option to block the person from watching.
When you're finished, just tap the Finish button, and Facebook will stop recording and finish uploading the video, where it will live on your feed as any other video upload would. Currently, Facebook caps the Live Video streams to a maximum of 30 minutes – at that point, it acts just like it would if you'd hit the Finish button. You can also choose to save a video copy of your broadcast to your local phone storage before you close the Facebook app.
How to Watch Facebook Live Video
If you'd rather watch someone broadcasting to Facebook instead of starring in your own reality show, it's really easy. We mentioned earlier that Facebook treats the live video as they do any other video upload. If you're on a browser or using the mobile app, you'll see a post that reads "So-and-so is live now." Beneath that is a regular video, but if you click or tap on it, you get the live broadcast.
To get notifications of when your loved ones – or whoever else you follow on Facebook – are broadcasting, watch one of their live streams and click on the Subscribe button. Every time they broadcast from that point forward, you'll get a Facebook notification alerting you to the event.
Facebook also introduced a fun new feature called the Live Map, which is currently only available on the desktop (that means a web browser on either your desktop or laptop). It's a map of the planet, with little blue dots appearing and disappearing. Each dot is a publicly available broadcast – just click on one and you're watching a stranger do, well, who-knows-what. It's a really fun feature, and a great way to experience someone else's life for a time – but remember that there's no filter on these videos, which means you might see something you aren't comfortable with.

As an Amazon Associate I earn from qualifying purchases.