How to Use Facebook on Windows 8.1  
Our notebooks, tablets and desktops enable so much that it's easy to forget the things we do with them on a daily basis. If you have a computer with internet access, chances are you visit Facebook often.
Facebook has everything. You can instant message people regardless of geographic location or wireless carrier. You can scroll through their status updates, looking for clues to how their life is going. Facebook is where many people upload and store their pictures. With Windows 8.1, Microsoft hoped to make activities we repeat multiple times a day easier. Visiting Facebook is among those things. Here's how to use Facebook on Windows 8.1.
Primarily, there are three different ways you can use Facebook in Windows 8.1. Two of the those ways are likely very familiar to you and the third is a dedicated feature of the People app in Windows 8.1. You can use a web browser, download the dedicated Facebook app for Windows PCs, and that dedicated People app.
Download the Facebook App
The Windows Store included on your Windows 8.1 device gives you easy access to thousands of apps made by third-party companies and a huge swath of apps dedicated to tasks that you probably do in your web browser now. Facebook has a free app available in the Windows Store. This app includes everything from messaging, to status update browsing, to photo uploading.
To use Facebook on your Windows 8.1 PC, download the Facebook app here. Note that you'll need to sign up for a Microsoft Account if you haven't already. You can add a Microsoft Account to your PC from the Settings app under Account. Since the app is free, you shouldn't need to add a credit card if there isn't one attached to your Microsoft Account already.
Once you've downloaded the app, open it from the Start Screen. Since it hasn't been pinned to the Start Screen yet you'll need to add it there by tapping or clicking on the arrow at the bottom of your screen to see a list of all your installed apps.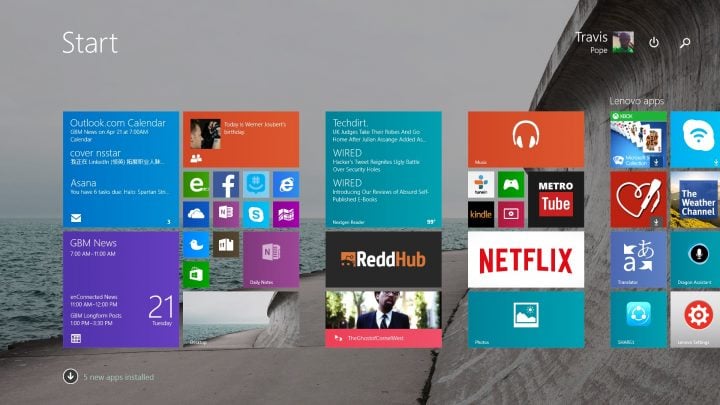 Open Facebook.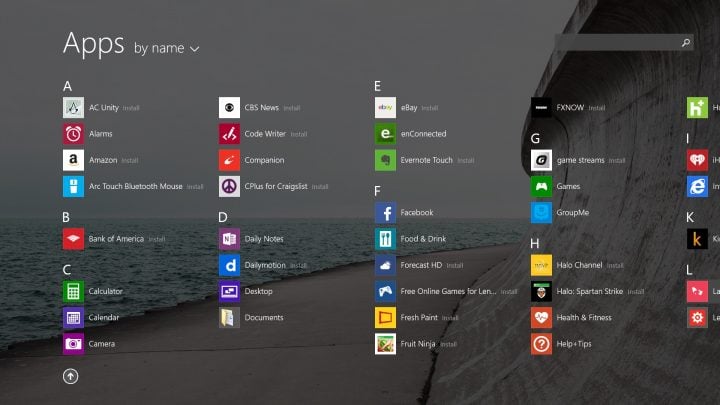 Login with the same username and password that you'd log into the Facebook website with.
Welcome to the dedicated Facebook app for Windows 8. On the left you'll find the navigation, and easy to browse collection of your events, friends, photos, messages and a news feed. At the top of the screen are buttons for adding Status updates, Photos and Check-In. A list of your favorite friends on the right hand side.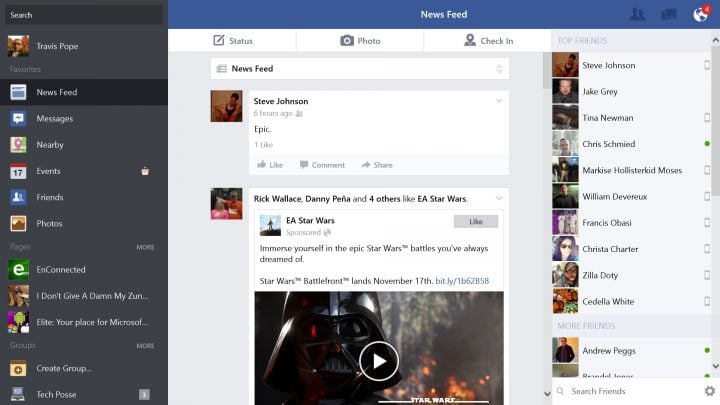 Use The People App
Microsoft attempts to weave your contacts and social network messages into one app. That's the People app, and it's available in every version of Windows 8.1 and through the Windows Store.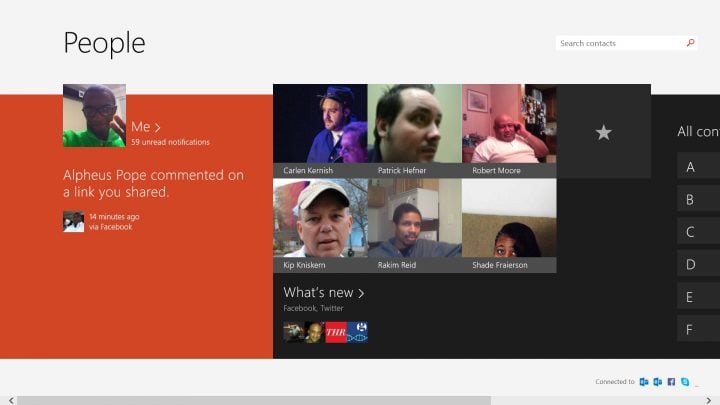 The People app supports Twitter and Facebook, but it's the latter we're focusing on here. Go to the Start Screen and look for the orange People icon. You need to add permissions for your Microsoft Account to access your Facebook Account, if you haven't already done so. To do that, open the People app and place your finger on the right side of your screen and slide it slowly to the left to reveal the Charms Bar. Then tap Settings. If you have a mouse and keyboard, place your pointer in the top-right corner of your screen and then click on the Settings Charm. Now tap or click on Accounts.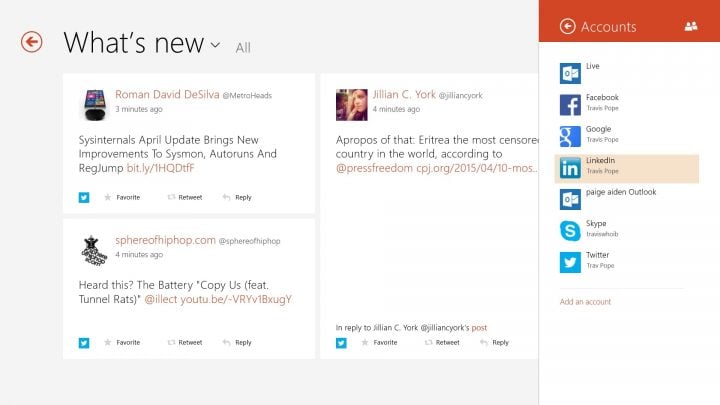 Welcome to the People app. Tap or click on the Me tile to get a breakdown of all the incoming messages from Twitter or Facebook you've received. You can send new messages to Facebook under the What's New area.
Tap or click on a particular status update to add a comment or like it.
The People app is a great way to take charge of you Twitter and Facebook accounts all from one place. That being said, it's really limited in what it offers.
Another What's New area from the apps home page gives you a real-time look at what's being see on both social networks. Unfortunately, it's really made to be touch-centric and isn't ideal on notebooks and desktops.
Use Internet Explorer
Finally, there's Internet Explorer. Instead of using the dedicated Facebook app you can open the Internet Explorer app and go directly to the Facebook website. Visiting the website gets you a familiar design and access to the site's complete list of features. Pin it to your Start Screen for easy access by clicking on the star icon after you've navigated to Facebook.
Then click or tap  on the Pin icon.
Now click or tap on Pin to Start.
Once you log into Facebook in Internet Explorer you'll be asked to save your password just like you would in an app.
Good luck using Facebook on your Windows 8.1 notebook, desktop or tablet.