How to Use the Facebook Reactions
The new Facebook Like button is available to everyone on the Facebook website and in the Facebook app for iPhone and Android. The new Facebook reactions include six ways to respond to a post or photo — five more than you had with only the like button.
This guide will show you how to use Facebook Reactions on the web and in your apps, as well as what each Facebook Reaction means.
With the new Facebook reactions options you can now express how you feel using six different Facebook emoji. The new Facebook like button still includes a like, but it also includes a Love and four emoji that you can use to cover other emotions.
Facebook announced the new way to share your reactions on February 24th after almost half a year of testing the new feature.
All Facebook users have access to the new Facebook like button to use a Facebook Reaction. If you don't see the option yet, it will likely arrive on your app and your computer in the very near future.
Instead of simply using a Facebook dislike button to tell people you don't like a post, the new Facebook emoji capture reactions to things your friends share including sympathy, excitement and other reactions that are more complex than a thumbs up or a thumbs down.
This is not a Facebook dislike button. Rather it is a way to simply share your emotions and reactions to a post with more than a like or a comment. Facebook writes,
"We've been listening to people and know that there should be more ways to easily and quickly express how something you see in News Feed makes you feel"
You can see the new Facebook reactions below, which can help you understand what the new Facebook like button options are. Here's what are, for lack of a better description, the new Facebook emoji that may replace your like button.
| Facebook Reactions Emoji | Name |
| --- | --- |
| | Like |
| | Love |
| | HAHA |
| | WOW |
| | Sad |
| | Angry |
You can use the new Facebook Reactions to leave a new type of Facebook emoji response on posts in apps and on your computer.
How to Use Facebook Reactions
Hovering over the like button on your computer allows you to use Facebook reactions on Mac or PC. If you don't see the option, you will need to wait a little while, but it will be available to all Facebook users shortly.
Long pressing on the Like button on iPhone or Android will open the Facebook Reactions options on Android and iPhone.
You can simply press the like button to leave a normal like and there will be fast access to the three most common Facebook reactions.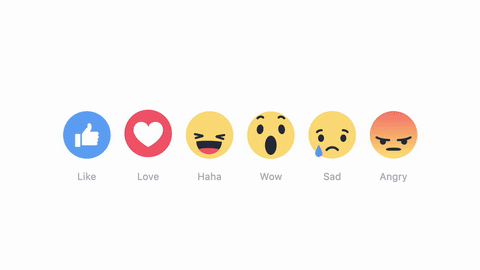 How to Unlock Facebook Reactions
If you don't have Facebook Reactions on your computer, iPhone or Android you can use this trick to enable the features without waiting for it to show up.
On your computer you should see the option by mousing over without the need to login or out of Facebook. If you don't see the option when you hover the mouse over Like, close that tab and go back to Facebook and you should get them.
You don't need a Facebook update to use the new Facebook Reactions on your iPhone or Android.
If you don't see the option, you need to close the Facebook app. To do this double press home on iPhone then swipe up on the Facebook app. On Android look at your currently running apps and swipe to the side to close it.
When you open the Facebook app back up, you can long press to use the Facebook Reactions. On the iPhone 6s or iPhone 6s Plus, don't try to use 3D Touch for this feature.
What Facebook Reactions Mean
One very important part about using this is that whenever you react to a post you will tell Facebook that you want to see more of that kind of content.
In the future Facebook may treat reactions differently, but for now saying something makes you sad or angry will tell Facebook to show you more of that.
Don't use an Angry reaction as an attempt to tell Facebook you don't want to see something. For that you can use this tool to block Political Facebook posts.
Facebook Like Reaction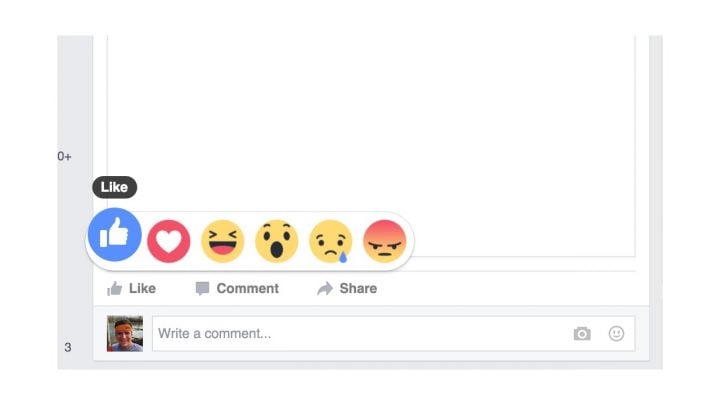 You can still Like a Facebook post with the normal like button, but you can also now use the new Facebook Reaction to like a post.
This will still let someone know that you saw and responded to their post, but instead of the normal like it will show that there is a Facebook reaction.
Facebook still treats this as a Like on the backend so nothing major changed. You should use this the same way as you would a normal like.