How to Use Galaxy S4 Camera Flash for Alerts & Notifications
When it comes to getting notifications or alerts for incoming calls or SMS messages, there's a few different options available. Vibrate-mode isn't as inconspicuous as many users would like, and setting a phone to silent mode can have you missing important calls or texts.
As a result there's a third option (aside from the blinking notification LED on the front) that many users can opt to use, or would like to disable. That is the camera flash. The Samsung Galaxy S4 camera flash can be used as a bright notification or alert system, and this works on the Galaxy S3 or Note series as well. We've heard this was enabled on some recent Android 4.3 updates too, so below we'll explain how to enable (or disable) the camera flash for alerts and notifications.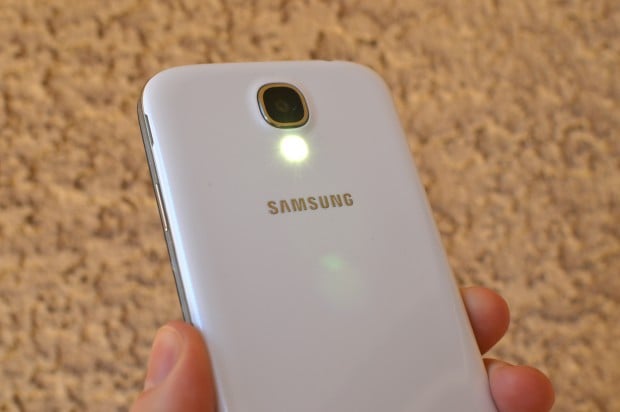 My Verizon Galaxy S3 had this randomly enabled by default after Android 4.3 Jelly Bean arrived, so many users may be looking for a way to disable the flash. That said, this is primarily about how to enable the feature, even though the steps are the same to enable or disable camera flash alerts.
It may be obnoxious in movie theaters or to many users in any scenario, but using the camera flash to blink like disco lights is a great way to never miss calls or texts. It's a very noticeable notification and many users love it. The Galaxy S4 has a few simple steps required to enable it, and you'll be set.
Instructions:
For those looking to enable the camera flash for alerts or notifications on the Galaxy S4 (or other Galaxy devices) there's a few simple steps and taps in settings you'll need to do, and that's it. It seriously takes less than 30 seconds once you know what you're doing. You'll want to head into settings, then tap the "My device" tab up top.
Settings > My Device > Accessibility > Flash notification (check to enable)
Once you check the option for Flash notifications in settings you'll now have a super bright flash of the camera LED whenever there's an incoming call or text, and this can often times be configured by third party Android apps. However, for beginners, simply enabling this will be more than enough.
Alternatively, simply uncheck this to disable the feature if someone has enabled it for you, or a recent update turned it on.
Read: How to Close Apps on the Samsung Galaxy S4
Samsung devices have tons of "motion controls" and features to also make using the device easier. Things like flipping the phone over (if enabled) will silence a ringtone, and tons of other features. Once users enable the flash notifications you'll get the popup below, which is one more option to help manage alerts and notifications.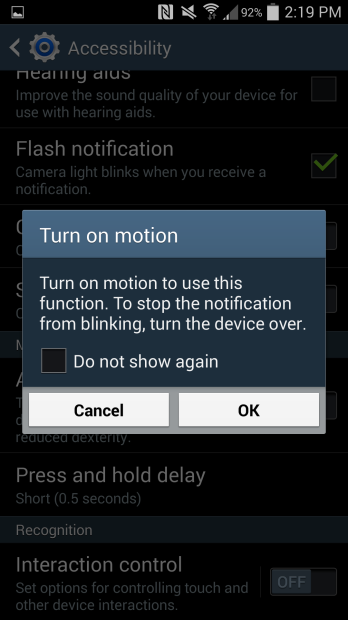 Once enabled, this motion control will silence or prevent the flash alert notification from continuing to annoy people around you. Simply turn over your Galaxy S4 and the flash will stop. This will help you never miss an incoming call, but stop the notification with ease.
Read: How to Cut, Copy & Paste on Android
That's all there is to this awesome and convenient feature on the Samsung Galaxy S4. There's no 3rd party apps you need to download and install, no custom software, nothing. Simply head into settings and enable the flash notifications. Enjoy!

As an Amazon Associate I earn from qualifying purchases.