How to Use Galaxy S6 Edge & Galaxy S6 Emoji
You don't need a new keyboard to use Galaxy S6 emoji, but you do know where to tap to find the Galaxy S6 Edge and Galaxy S6 emoji keyboard options.
Samsung includes a nice Galaxy S6 keyboard that does include many emoji, but you need to know where to look for it and how to switch from one side to the other.
Emoji are a fun new way to send small pictures that are like a more advanced smiley face. You can send emoji from the Galaxy S6 to another Android phone, to an iPhone and to other devices. Most modern devices display a variety of emoji, though the actual design is slightly different on each device.
The Galaxy S6 emoji are similar to those on other Samsung devices and on other devices running Android 5.0 Lollipop.
In Android 5.0 on the Galaxy S6 and Galaxy S6 Edge you can use the built-in Samsung keyboard to access the Emoji on both of these devices.
How to Use Emoji on the Galaxy S6 & Galaxy S6 Edge
Although you will find many emoji keyboards on the Google Play Store you don't need to download any of the options you'll find there. In some Android apps there is a specific button for the Galaxy S6 emoji keyboard, but in others you will need to use this method.
In the video below we'll show you how to use the Galaxy S6 Edge or Galaxy S6 Edge emoji keyboard inside any app on the phone.
In the quick video above you'll see where the Galaxy S6 emoji keyboard is and how to use it inside Google apps and on other apps. If you already use emoji on other recent Android devices you'll know the basics, but here is a specific guide to the Galaxy S6 Edge and Galaxy S6.
Use the Samsung keyboard that ships with the Galaxy S6 to send emoji. This means that you can have fun with emoji while still using the handy predictions, number row at the top and the trace to type option of the Samsung keyboard. The Samsung keyboard also delivers a top-notch dictation option that you can use, and that you won't find on some third-party options.
Read: How to use Galaxy S6 Edge Notifications
Here is a step-by-step guide to switch to the Galaxy S6 emoji keyboard and to switch back when you want to type in letters and words again.
You cannot use emoji in email or phone number fields, but in any other field you can use emoji. Tap on a normal text field in messages to bring up the Galaxy S6 keyboard.
Locate the microphone to the left of the space bar. Tap and hold on it for a little more than a second. This will open up a secondary option. You can let go once this appears. Now, tap on the smiley face icon. This will open the emoji keyboard on the Galaxy S6 or S6 Edge.
In some apps like Hangouts and some messaging apps there is a smily face icon that will open up the Galaxy S6 emoji keyboard with one tap. On some other apps like Facebook this will open stickers instead of emoji.
Tap on the Emoji that you want to use in your message. Scroll up and down to see more emoji in that category. If you tap on the other icons at the very bottom of the keyboard you can see more emoji. The one that looks like a clock shows your most recently used emoji, while the others are for emoji that sit in that category.
When you are done you can tap on the ABC or the Sym key to go back to the standard Galaxy S6 keyboard.
9 Exciting Galaxy S6 Cases
OtterBox Galaxy S6 Cases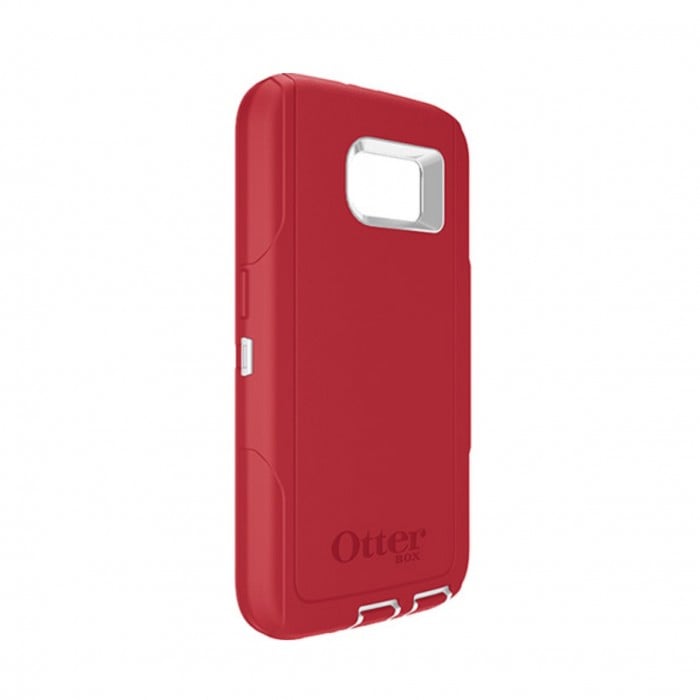 Users that need a lot of protection should check out the Galaxy S6 OtterBox cases including the Defender and Commuter series that offer a lot of protection for the device.
OtterBox Defender Galaxy S6 cases come in seven colors for the shell and seven for the cover, allowing users to combine to get the color scheme they want. The case is $49.95 and there are higher-priced options with RealTree camo and with sports teams on the back. This case includes a screen protector and port covers to keep dust out of the ports. OtterBox Defender Review.
The OtterBox Galaxy S6 Commuter case is slimmer with less protection, but a more pocketable size that appeals to many users. The dual-layer protection can absorb drops and it includes a stick on-screen protector. This case is $34.95 with the same variety of color options. OtterBox Commuter Review.

As an Amazon Associate I earn from qualifying purchases.