How to Use Galaxy S7 Edge & Galaxy S7 Emoji
With the release of the Galaxy S7 and Galaxy S7 Edge running Android 6.0.1 Marshmallow, owners have access to over 200 of the latest emoji characters added to Android late last year. You won't need an update or a new keyboard to use Galaxy S7 emoji, and compared to last years Galaxy S6 they're easier than ever to find.
Samsung includes a nice assortment of emoji on the Galaxy S7 and Galaxy S7 Edge, and thanks to Google adding more into stock Android there are tons to choose from. Popular ones like the Taco, animals, smiley faces and much more.
Read: Galaxy S7 Warranty: What You Need to Know
Thankfully Samsung used all the emoji from Android 6.0 Marshmallow and built them right into the stock keyboard that comes installed on the phone. They're easier to find, but users will still need to know where to look and how to switch or scroll through all the choices available. Read on for more details on Galaxy S7 and Galaxy S7 Edge emoji.
There are countless emoji keyboards available on the Google Play Store, or even add-on apps that combine additional emoji options to popular text message apps like Textra, including an iOS add-on. However, Samsung Galaxy S7 owners won't need to do any of that.
Our video below is from the Galaxy S6 last year, but most of the same steps, places, and rules apply. Simply opening up a text message or Facebook messenger and using the stock Samsung keyboard will put all the Galaxy S7 emoji you need right at your fingertips.
The video above shows where emoji are located in things like some of Google's most popular apps, Facebook, and even text messages. Typically Samsung's keyboard will have them front and center, or a long-press of the gear-shaped settings button on the keyboard will pop-up a menu where owners can simply tap the smiley face emoji to change out the keyboard for emoji characters. It's literally that easy no matter what app is being used.
Using Samsung's keyboard means owners will get all of the prediction and swipe-based typing features, and a long-press away are all those emoji. Here's how to find them in messages, Facebook Messenger, Google Hangouts and more.
Instructions
Arguably the two most popular places users will need or want emoji is while sending text messages, or while chatting in Facebook messenger, so we'll focus those two. Samsung added a one-click instant way to access emoji while using their stock "messages" app to send text messages. If you've installed a 3rd party text app the instructions may differ.
While using messages just tap the "smiley face" near the input field where a message is being written, and select from any of the emoji shown. There are five different categories and each category has multiple pages to swipe through in order to find exactly what you need to express yourself. The "clock" option is recently used emoji, for quick access to favorite or most used emoji.
Owners can also long-press the settings button to the left of the comma, as shown above, to also switch into the Galaxy S7 emoji keyboard. Both options do the same thing.
This same long-press and hold process in the stock Samsung keyboard will open the emoji keyboard for almost any app used on the Galaxy S7. Certain apps like Google Hangouts, Facebook Messenger and others may have a different emoji smiley elsewhere, which opens their own default ones, or "stickers", not emoji being offered by Samsung or Android.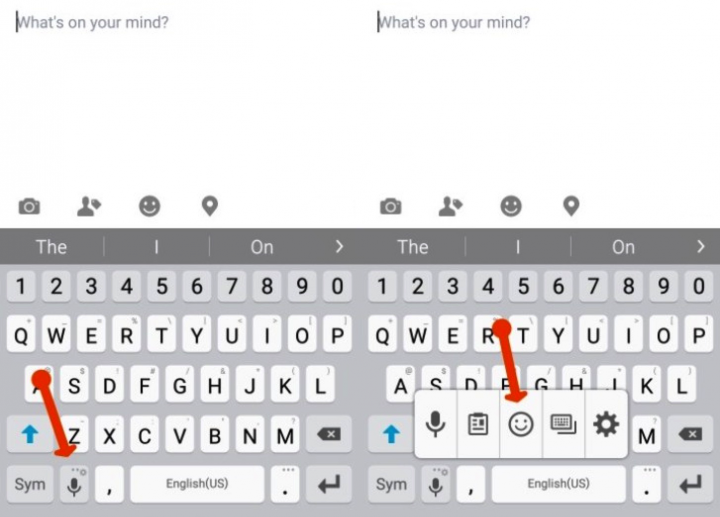 Simply follow the steps shown above for almost all scenarios to use the Galaxy S7 emoji keyboard rather than typing. It's more feature-packed with tons of options, including the controversial birdie finger and more, not to mention it's easier than ever before to pull up and use any emoji you'd like.
When you're done using the Galaxy S7 emoji keyboard just tap the "ABC" button on the bottom left to instantly return to the default keyboard to continue writing an email, or typing a message.
That's all there is to it. Using emoji on Samsung's new phones is extremely easy. Drop a comment below with any other questions or concerns.