How to Use Immersion Reading on Kindle Fire Tablets
One of the benefits of the marriage between Amazon and Audible.com is the ability to have both text and audio versions of books on your device and to use them almost interchangeably between the two using Amazon's Whispersync for Voice technology to keep the two versions in sync. Amazon bought Audible.com in January, 2008. In order to take advantage of Whispersync for Voice on a Kindle Fire Tablet  and also now on iOS and Android, you need to have purchased both the text version of a book and also the audio version, which you can get as an upgrade once you've purchased the text version.
Another nice feature of having both versions on your Kindle Fire Tablet is called Immersion Reading. Essentially if you have both the audio and text versions on your device you can have the audio portion read the professional narration along out loud while you are perusing the text. There are some who really like that feature and some who find it distracting, but like most things in life that's up to individual.
Amazon recently updated its Kindle App for iOS and Android to make it easier to switch back and forth between audio from Audible and text from Amazon. Curiously that feature hasn't come to the Kindle Fire tablets yet. But, Immersion Reading is a feature that you can, at the moment, only get on Amazon Kindle Fire tablets.
Read: How to Use the New Kindle App for iOS and Android to Listen to Audio
Immersion Reading should not be confused with the audio narration called Text to Speech. Text to Speech doesn't require you to have an Audible audio version purchased or downloaded, but it only delvers a computerized audio version of the text.
When using the Immersion Reading feature a visual highlight will follow along in the text. That essentially dictates your pace of reading. In the lower right corner of your screen you'll see a small half-dial that allows you to adjust the pace of the audio with a range of 0.5x to 2x with stops along the way at 1.x 1.25x 1.5x and 1.75x. The feature can certainly be useful for those who want to have audio follow along with their reading or follow along with text while listening.
To use the Immersion Reading on a Kindle Fire Tablet you need an Kindle Fire Tablet obviously. The models that feature Immersion Reading include The Kindle Fire HDX, Kindle Fire HD 2nd Generation, Kindle Fire HD, and Kindle Fire 2nd Generation. You also need to purchase and download both the text version of a book from Amazon and the Audible audio version.
If you have purchased the text version of a book, then you can use an Amazon service called "The  Matchmaker" to see which books are eligible for audio upgrade pricing. That pricing ranges from  $.99 to $12.99 for the audio version. Those prices are set by the publisher.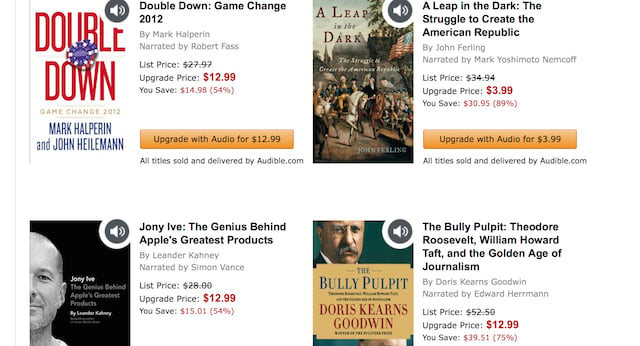 If you have both an Audible and Amazon account you most likely have merged those accounts by now as Amazon worked to make that happen awhile ago. If for some reason those accounts are not synced you can do so here. Once you have both the text and audio versions on your Kindle Fire tablet you essentially set and ready to go. That said, in testing this feature and also the new Kindle app for iOS and Android I noticed a few bumps in the road.
Instructions from Audible say that if both versions exist on your device you'll see a Play button in the lower portion of your screen. Initially the Play button didn't appear for me. In searching on Amazon's customer support forums I saw a number of users suggesting to turn on the Text to Speech feature. That only turns on the robotic computerized voice, not the Audible narration. So to use this Immersion Reading feature make sure Text to Speech is turned off. You can find the on/off for Text to Speech under the View menu which allows you to change font size, background color, and line spacing among other controls.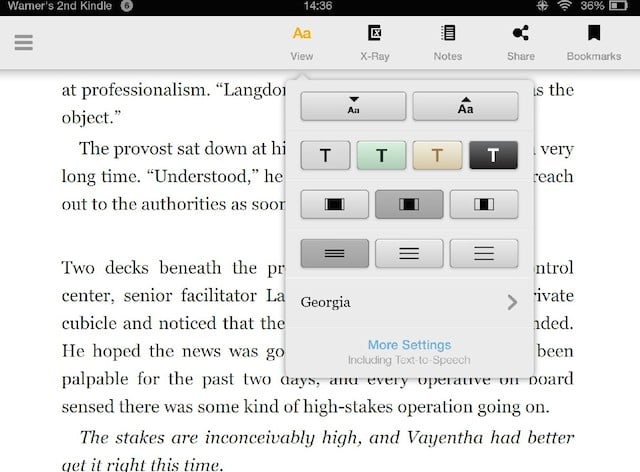 Other users suggested that you perform a sync of your content to get the Play button to show up. You can find the Sync All Content command under Settings for your tablet.
Other users noticed that the Play button simply showed up after not appearing initially. I'm not sure which worked for me, but at one point in my testing the Play button did indeed show up.
Once you've confirmed that the feature is working with the title you want to read/listen to, it really is as simple as hitting the Play button. If you want to switch the audio off, just hit the Play button again. If you then read ahead in the text without audio accompaniment then the next time you want to listen to the audio you'll pick up where you left off reading in the text.