How to Use iOS 5's Custom Keyboard Shortcuts
One of the cool new time saving features coming in iOS 5 is the ability to add your own customized keyboard shortcuts. This allows you to type nbcm and have iOS 5 expand it to Notebooks.com, saving time and possibly some auto-correct issues if you add the right shortcuts.
You can add almost anything you like as an iOS 5 shortcut, so that you can personalize the new shortcut feature to meet your needs. I will show you how iOS 5 shortcuts work and suggest some options to get you started. If you fall in love with shortcuts, you may like Text Expander, which does the same thing on your Mac.
To use this feature today you will need to be running the iOS 5 Beta. If you can't put up with bugs or glitches, consider this a preview and wait for the official release this fall, otherwise you can get the iOS 5 Beta for free or as low as $5.
How to Add Shortcuts
To add a custom iOS 5 keyboard shortcut, go into the Settings App and choose General. From there choose Keyboard. At the bottom you will see an entry that says, "Add New Shortcut…". Select it and you will see a screen like the one below.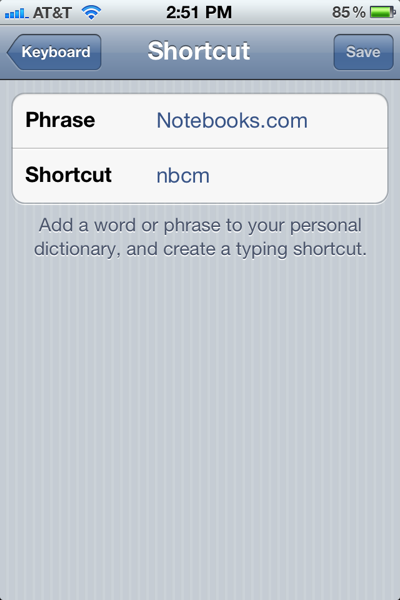 In the Phrase box type in the string that you want the shortcut to expand to. Above I typed the address to our sister site Notebooks.com. In the Shortcut box type in the shortcut that you will actually type. I chose nbcm. Be sure to use something that you would not normally type at other times. I thought about using nbc, but what if I was writing an email to a friend about a show on the TV Network? It would automatically ask to expand to Notebooks.com every time I typed the network name.
Suggested Uses
Here are some suggested shortcuts that you might want to add with a suggested string of letters to use:
Your address – addr
Phone number – phn
Your name or names of people you often type – your initicals, like kap for me
Websites – shorten the site name like nbcm
Repeated sentences – "I'll call later" or "Thanks for the email message" – use the first letters of each word like icl for I'll call later
Strings of numbers or special characters – instead of tapping the 123 button to enter numbers like a part serial number that you commonly sell, use the first few letters of the part name.
From now on, whenever you type the shortcut, iOS will popup a suggested spelling for the letters you typed. See below.
You can accept it by hitting space or return or reject it by tapping the little X in the popup just as you would with typical spelling autocorrect.
Another cool new iOS 5 feature we highlighted was the ability to add customized vibration notifications for incoming calls from specific people.

As an Amazon Associate I earn from qualifying purchases.