How to Use Your iPhone as a Spotify Remote on the PS4
If you want to play Spotify music through your television's speakers but want to control the music from your iPhone, here's how to use your iPhone as a Spotify remote with your PS4.
Many home theater audio receivers have Bluetooth capabilities, meaning that you can connect your iPhone to it and play music through your TV speakers pretty easily. However, if you have a more basic setup, but have a PS4, there's an easy way to play Spotify music through your TV speakers using the PS4 as the middle man of sorts.
This little trick can be great if you're having a party and want some background music for guests to enjoy. Plus, you can manage the music from anywhere in the house in the Spotify app, since your iPhone and your PS4 communicate through WiFi rather than Bluetooth.
There's only a little bit of setup needed to get this to work, but it's actually really simple and easier than you might expect.
Here's how to use your iPhone as a Spotify remote on your PS4.
Spotify on PS4
The PS4 got an official Spotify app earlier this year, which allows you to sign into Spotify on your PS4 and play music through the console to your television speakers. However, you can take things a step further and control your Spotify music from your iPhone, but still have it play through your PS4.
To do this, you'll simply need to download the Spotify app from the PlayStation Store, which you can do so by searching for it and selecting it from the list that pops up.
From there, install it and after it's done, head back to the home screen. You'll see PlayStation Music on the home screen, along with Spotify as a joint effort. This is what allows you to log into Spotify on your PS4 and play music directly from the console.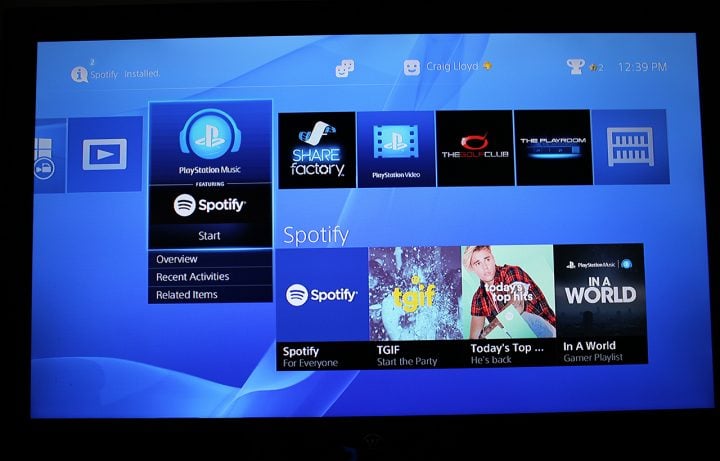 However, if you want to control music using your iPhone, you actually don't need to open up the app on your PS4, but you do need to make sure that your iPhone and your PS4 are connected to the same network or else it won't work.
Simply open up Spotify on your iPhone, start playing a song, tap on the Now Playing bar at the bottom to bring up the album art and controls, and click on the Spotify Connect button at the very bottom.
You'll receive a pop-up where you'll select which device you want to stream the music to. Your PS4 should pop up in the list. Go ahead and tap on it.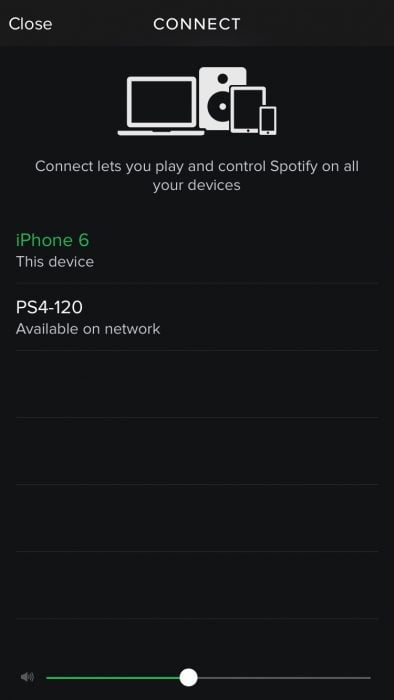 From there, your Spotify music will automatically begin playing through your television's speakers and you can continue to play a game on your PS4 just like you normally would. Furthermore, you can hold down the PS button on your controller and control some things in the quick access menu like playback volume, play/pause the music, and even go to the next/previous track.
There are a lot of cool things you can do with your PS4 and it's not just a gaming console, but an all-around entertainment device. You can watch Netflix and Hulu, as well as watch funny videos on YouTube. You can also watch live sports with apps like MLB.TV and NHL GameCenter.
You can also live stream games for other PS4 users to watch, as well as take screenshots and share them instantly with friends.
Again, you could just use a Bluetooth speaker or even use the Bluetooth capabilities on your audio receiver, but if you don't have either, then using your PS4 is the next best option.

This article may contain affiliate links. Click here for more details.