How to Use Low Power Mode on iOS 9
The new Low Power Mode in iOS 9 can seriously improve your iPhone battery life when you need more power.
You can manually turn on the iOS 9 Low Power Mode on your iPhone to add several hours to your iPhone battery life instead of just the added hour that you'll get when the iPhone prompts to turn on the new iOS 9 feature. We'll also show you how to turn on Low Power Mode with Siri.
If you constantly need Low Power Mode on iOS 9 to get through the day, you may want to look into fixing your bad iOS 9 battery life or investing in an iPhone battery case that can boost your power.
[contextly_sidebar id="JNIoddchToZPhE9WdxhatJWsgyFsOrVx"]Low Power Mode is a new iOS 9 feature that tones down battery draining features so you don't need to charge your iPhone immediately. When you turn on Low Power Mode it turns off the following items;
Mail fetch
Background app refresh
Automatic downloads
Visual effects are reduced or turned off
The combination of these changes can add an hour of battery life from the 20% mark or according to tests, should make a full iPhone battery lasts 1.43 times as long, potentially adding 4-6 hours of added iPhone battery life.
The new iPhone battery boost tool in iOS 9 works on the iPhone 4s, iPhone 5, iPhone 5c, iPhone 5s, iPhone 6, iPhone 6s Plus, iPhone 6s and iPhone 6s Plus. There is no Low Power Mode for the iPad at this time.
We'll show you how to manually turn on iOS 9 Low Power Mode on the iPhone to get better iPhone battery life on iOS 9.
How to Turn on Low Power Mode in iOS 9
There is no Control Center shortcut for Low Power Mode in iOS 9, because Apple views it mainly as a tool that you will turn on when you need to get a little more power out of your iPhone at the end of the day.
You can manually turn on Low Power Mode at any time, which can dramatically add to your iPhone battery life.
There are two ways you can turn on Low Power Mode in iOS 9. Simply hold your home button and tell Siri, "Turn Low Power Mode on." Siri will turn this on for you and show a toggle on-screen. Simply say, "Turn off Low Power Mode." and Siri will turn it off for you.
The second way to do this is to go to Settings, where you can control the Low Power Mode manually. There are no options or individual settings to choose and turn on or off, just one switch.
Go to Settings ->Battery -> Low Power Mode -> On.
When you turn this on the first few times you may see a pop up explaining the changes, but you will not see this every time you use it.
"How can I tell if Low Power Mode is on?" is a common question we are hearing. The simple way is to look at your iPhone battery icon in the upper right. When iOS 9 Low Power Mode is on, you will see a yellow battery icon.
iOS 9 vs iOS 8: What's New in iOS 9
iOS 9 vs iOS 8 Walkthrough - Home Screen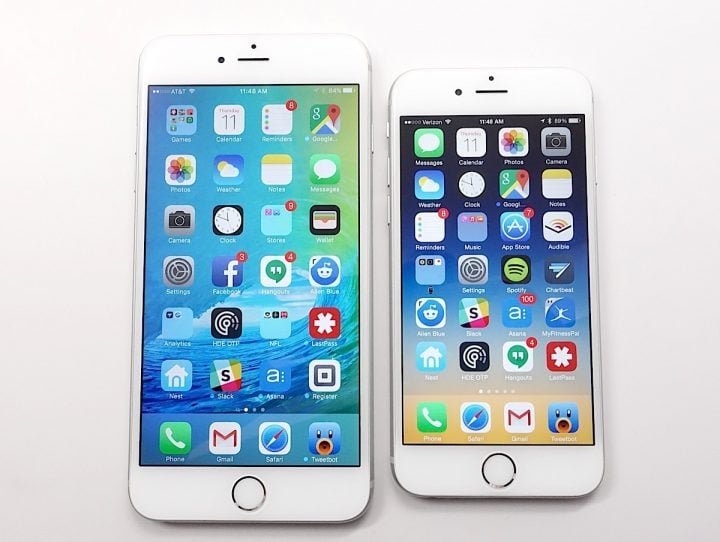 The image above shows that the iOS 9 home screen looks very much like the one on iOS 8. This is not surprising, but you will notice one major change to this screen.
The new iOS 9 font on the home page carries over through settings and apps. It's surprising how much the look of the system can change with a small tweak to a new font.
From the home screen you can now swipe left to a new search screen, and you can still swipe down to Spotlight from any of the home screen pages.
When you upgrade you will also see options to add iCloud Drive to your home screen.
Apple adds two new default iOS 9 apps that you cannot delete. Find iPhone and Find Friends apps now come with the iPhone by default. You can hide them in a folder, but you cannot delete the apps. The Find My iPhone app is a very good addition, while Find My Friends is still not as widely used.