How to Use Your Mac as a WiFi Hotspot
If you need to connect your mobile devices to WiFi, here's how to use your Mac as a WiFi hotspot.
There may come a time when there's only a wired connection available, like in a hotel room where you might have to pay for the WiFi, but you can connect to ethernet for free if you want. Or if the WiFi connection is particularly weak, but the ethernet offers a better connection, turning your Mac into a WiFi hotspot is a great trick to know.
Turning your Mac into a WiFi hotspot will make it act as a router of sorts, or even WiFi repeater. It'll take the connection from the ethernet cable and turn it into a wireless signal using the Mac's built-in WiFi radio.
If you're getting a pretty bad WiFi connection, turning your Mac into a hotspot can boost the signal giving you a better connection on your mobile devices. Plus, you can also connect a laptop to your makeshift hotspot if you want, as well as connect multiple devices at once.
Here's how to use your Mac as a WiFi hotspot.
Turning Your Mac into a WiFi Hotspot
The best part about using your Mac as a WiFi hotspot is that there are no third-party tools or pieces of software that you need to download and install for this, unlike Windows. All it takes is a few minutes of time to tinker around with the network settings in OS X.
To use your Mac as a WiFi Hotspot and connect other devices to it, just follow these simple steps:
First off, open up System Preferences and click on Sharing.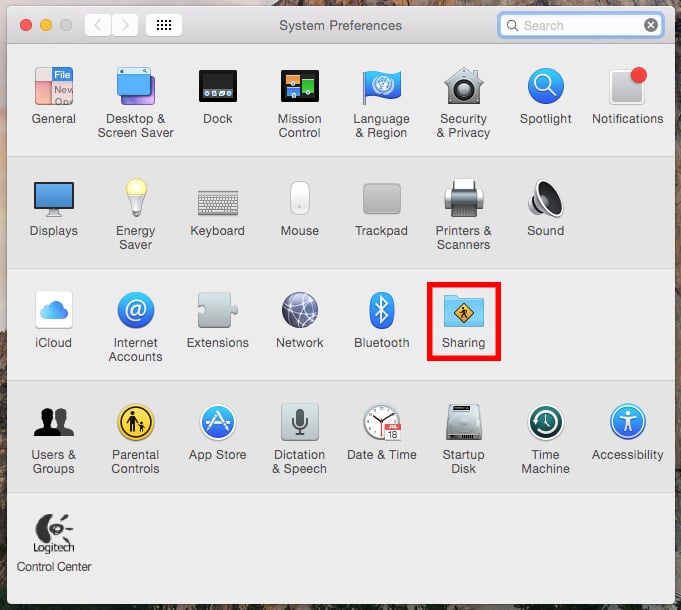 From there, click on the drop-down menu next to Share your connection from and select your ethernet port (it could also be named Thunderbolt Ethernet if you have a newer MacBook).
Below that where it says To computers using, select Wi-Fi from the list.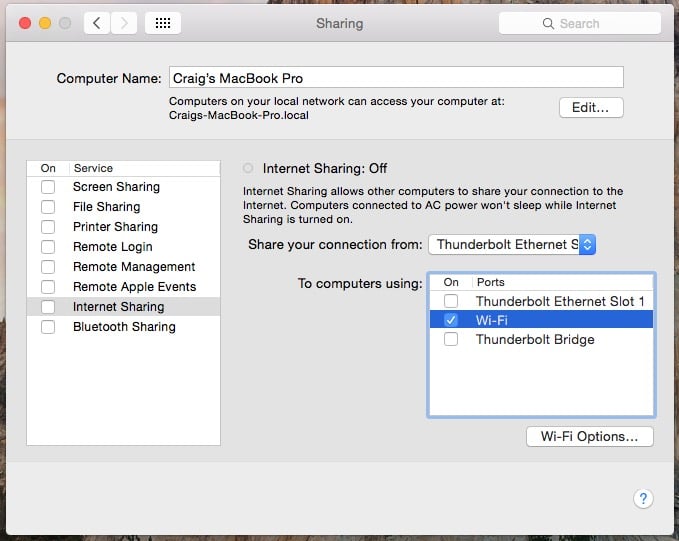 Next, click on Wi-Fi Options at the bottom.
On this pop-up screen, you can set up the name of the WiFi hotspot and give it a password that users have to enter in order to access the hotspot. Click OK when you're done.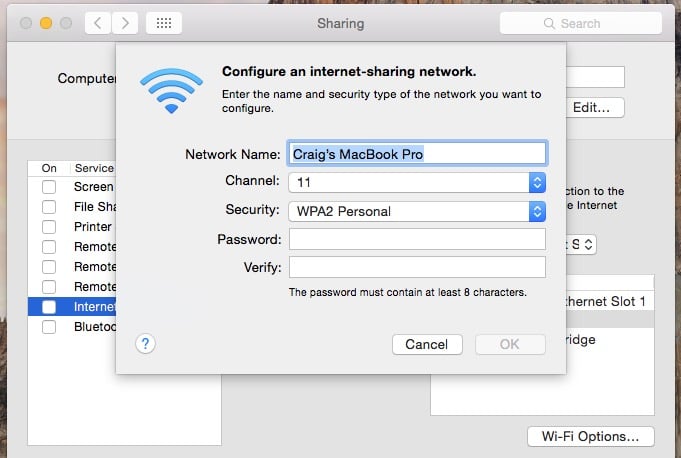 Next, put a checkmark next to Internet Sharing on the left side in the sidebar. A pop-up will appear where you'll then click Start to officially fire up the WiFi hotspot.
The only downside here is that you can't create a WiFi hotspot while your Mac is connected to WiFi. The only way to do this is if you plug in a USB WiFi adapter which will give you a second WiFi chip on your Mac.
Of course, it's very rare that you would need to do this in the first place, but there are some hotels that only let you connect one of your devices to their WiFi, so using your Mac as a WiFi hotspot can be a great way to bypass that rule, but your Mac would also be connected to WiFi, so you'll want the second WiFi chip in order to do this.
An alternative would be to connect another device to your Mac over Bluetooth using a Bluetooth PAN. So if your Mac is connected to WiFi and want to share that connection with another device, you can share the connection over Bluetooth. The speeds won't be as fast as WiFi, but it's at least something, and battery life will be a benefit as well.
This is a great feature to know whenever you're in a situation where you need WiFi, but only ethernet connections are available. Again, it's not something that you'll come across all the time, especially since WiFi is so prevalent now, but even if the WiFi signal is pretty weak, this little trick can save the day.

As an Amazon Associate I earn from qualifying purchases.