How to Use Microsoft Office for Free
It's no coincidence that one of the first things users ask when they purchase a new device is how to download Microsoft Office for free. Microsoft Office is the world's premiere piece of productivity software, that one suite of applications that allows users to get more done at work and at home. Thankfully, you can use Microsoft Office for free without a free trial or download thanks to Office Online.
Why Use Microsoft Office Online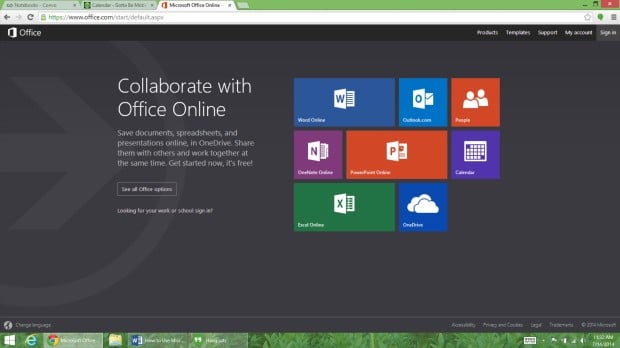 Before we discuss how to use Microsoft Office Online to access to Word, Excel, OneNote and PowerPoint, it's important that you understand why Office Online is such a big deal.
To put it mildly, Microsoft's Office suite of productivity apps are expensive. Buying Microsoft Office Home & Student for a single PC costs a whopping $139.99 and this version doesn't include all the extras that professionals might need, like the Outlook email and calendar tool. Outlook is only included in Microsoft Office Home and Business, which costs a whopping $219.99.
Users who purchase either of these two versions can only download and install them on a single PC. For people who aren't comfortable with those prices Microsoft also sells the Office suite of productivity apps as a sort of subscription service. Users who want to install Microsoft Office on one PC pay Microsoft $6.99 a month for access to a full download of Microsoft Office on a single PC. Paying $9.99 a month gets users access to Microsoft Office on as many as five different desktops and laptops.
Either way, both of these options add up to a lot of money spent in the long-term and that's why Office Online exists and why every user – Mac or PC – should be considering it. It's a way to get access to Office without jumping through any hopes, and since it relies on OneDrive is an easy way to access documents and presentations on just about any device.
How to Use Microsoft Office Online
Armed with your Microsoft Account username and Password go to the Office Online website.  Click the Sign In button in the top-right corner of your screen.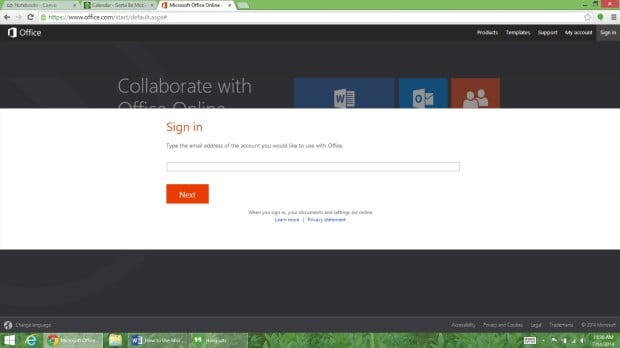 Only with a Microsoft Account will your documents, PowerPoint presentations and Excel spreadsheets be available to you through Office Online. If you already have a copy of Microsoft Office 2013 installed on a machine than you should use the same Microsoft Account you used in that version of Microsoft Office. Microsoft Accounts are also used in Windows 8, Outlook.com and the Xbox One. Don't create a new account if you don't have to.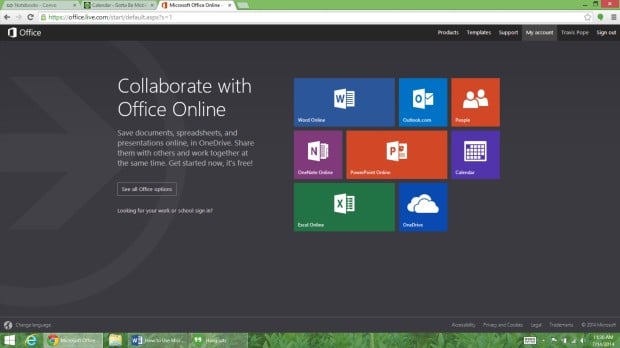 Once you're logged in, click on the app icon for the Microsoft Office app you'd like to use. For this example we're using PowerPoint. Click on the icon that best corresponds to the activity you'd like to complete. If you just need a blank document the plus symbol is what you want to click on, the folder on the far-right will allow you to open documents uploaded to OneDrive. Again, we're showcasing this in PowerPoint Online but the process is the same for Word Online, OneNote Online and Excel Online.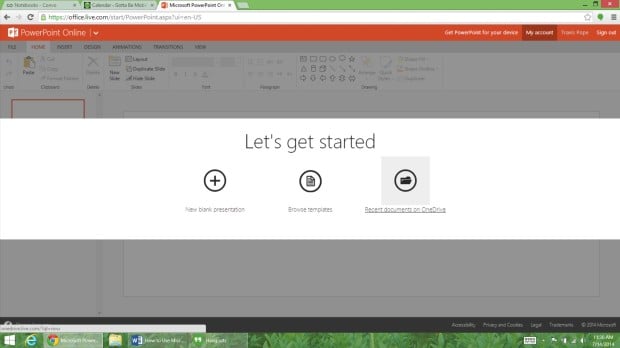 Every command in each Office Online app is accessed from the bar that floats along the top of the window. Microsoft calls this the Ribbon, because it displays every option to users in a long row that runs from the right to the left side of the screen. Browse around each tab in each Office Online app so that you learn where the important commands are. When using Office Online remember to consider what task you're trying to complete. For example, if you're trying to make your slides more attractive in PowerPoint Online, you'll want to click on the Design tab.  If you think the Ribbon is taking up too much space, minimize it by clicking on the arrow in the ribbon on the far right.
Printing and opening new documents is managed through the File button on the far-left like in other versions of Microsoft Office. Documents created in all Office Online apps are synced from OneDrive.
What to Keep In Mind
Before you commit to using the Office Online apps there are a few key things that you need to know. They're not reasons to not use Office Online as much as they are warnings and tips.
First, there's absolutely no Save button in a single Office Online app. At first glance that might seem insane, but you have no reason to worry. Office Online is constantly saving copies of your documents to Microsoft's servers. There isn't a Save button because it's not needed.
Second, Office Online isn't a native app in the sense that it saves documents and things to your device's local storage pool. It's doesn't. It saves everything to OneDrive, which you can then sync back to your computer. You can also sync things manually but you won't be able to open them without a Desktop version of Office. If you're a use who doesn't spend a lot of time with a decent internet connection that this absolutely isn't the Microsoft Office version for you. An Office 365 subscription might be better for your needs.
On the other hand, Office Online is perfect for people who aren't heavy Microsoft Office users in the first place. It's has just enough features to make it a decent light replacement for a desktop version of Office – provided that there aren't any advanced features that you need.
Good luck with Office Online and remember to download one of Microsoft's Office apps on your phone or tablet to compliment the Office Online experience. The iPhone and iPad versions are absolutely free as long as you're viewing documents that you've created.