How to Enable Night Mode on Google Pixel
Google's new Android 7.1 Nougat update is loaded with neat features, including one that will help users sleep better. This quick guide will go over how to use "Night Light" on the Pixel and Pixel XL. Essentially Android's version of Night Mode.
Night Light is a new feature that aims to cut down on eye strain while using a smartphone at night. It's also been shown to increase sleepiness and help owners fall asleep faster. Here's how it works and what you need to know.
Read: 10 Things Every Pixel Owner Should Do
The Google Pixel runs a brand new version of Android 7.1 Nougat, slightly different from Android 7.0 that was unleashed in August. And while many of those features will come to all Android devices, some are exclusive to the Pixel. Like Night Light, fingerprint scanner gestures, and others.
Night Light disables most of the blue LEDs and lights in our smartphone display, and replaces them with more prominent red and orange colors. Studies have shown blue light causes sleeplessness, and will make owners more alert. Which in turn keeps you awake longer, makes it harder to fall asleep, and cause additional eye strain. Especially while using a bright screen in a dark room.
Once you enable this feature on the Google Pixel, based on custom settings the screen will turn red. Allowing phones to be enjoyed at night and let owners still fall asleep with ease.
Instructions
Night Light can easily be toggled off and on, set to be enabled based on the time of day, or automatically turn on/off with the sunrise and sunset. It even uses display sensors to adjust based on environment brightness for the best experience possible.
Users can navigate to the settings app on the device or simply pull down the notification bar to access settings. Then it's just a few taps away and the screen will quickly turn red.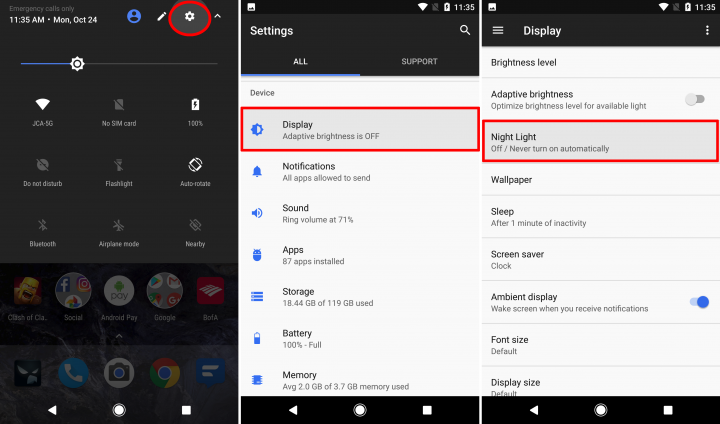 How to Enable Night Light
Pull down the notification bar and select Settings (gear shaped icon)
Scroll down and tap on Display
Choose the third option called Night Light
Toggle the On/Off Switch or create a custom schedule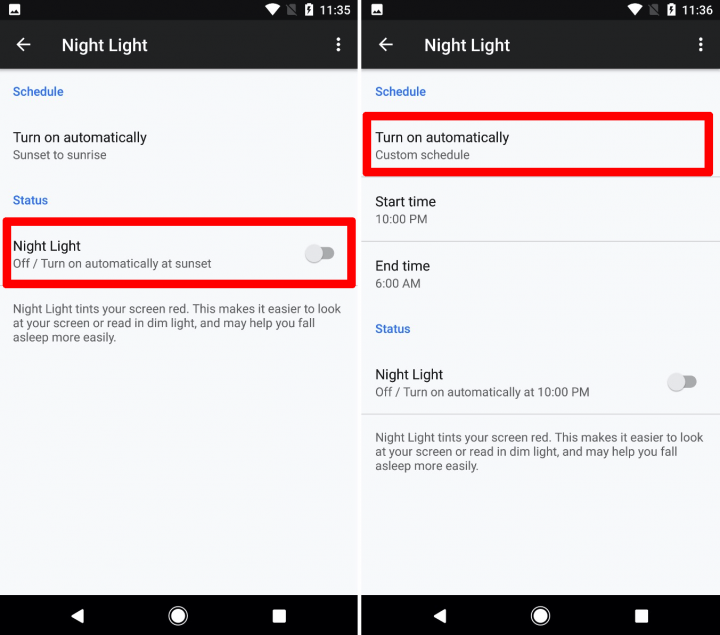 Following the steps mentioned above is all it takes to easily turn on and enable Night Light on the Google Pixel. Alternatively, owners may want to choose from the two options available. One being automatic based on the sunrise and sunset, or based on the time of the day.
Select the first option in settings and choose which method works best for you. Sunrise to sunset may turn it on a little early for some, which is why we'd recommend creating a custom schedule.
Tap schedule, choose a start time roughly around when you head to bed, then an end point during the morning hours. Now, the phone will do everything automatically. Night Light can also be added in the notification bar quick toggles for even faster access and total control. The first few days using this feature may feel unnatural and make the phone seem extremely blue during regular operation, but your eyes and brain will thank you for it. This may come to other Android 7.1 devices in the future, but as of right now Google plans to keep it a Pixel exclusive.

As an Amazon Associate I earn from qualifying purchases.