How to Use a PS4 Controller on Windows
If you want to use a PS4 controller to play PC games on your Windows machine, here's how to connect Sony's DualShock 4 controller to a Windows PC.
Playing PC games doesn't always require a keyboard and mouse. You can easily use a gamepad, which makes it easy easier to play certain games, especially racing games where a D-pad or joystick makes it way better.
However, Windows only supports the Xbox controller officially, as well as some third-party gamepads made specifically for Windows, which is sort of a bummer if you have a PS4 controller that you could just use.
The good news is that it's still possible to use a PS4 controller on Windows, as long as you have a bit of patience and don't mind some third-party software to make it happen.
There are actually a couple of ways you can connect a PS4 controller to a Windows PC. You can do with an adapter, or get an app to do the work for you. The former requires money and the latter does not, but which one is best?
Here's how to use a PS4 controller on Windows the easy way.
Using a USB Adapter
If you don't want to use third-party software to configure a PS4 controller to work on Windows, you can buy a USB adapter that instantly lets you use your PS4 controller on your Windows machine, essentially tricking your computer and telling it that it's an Xbox controller that's plugged in.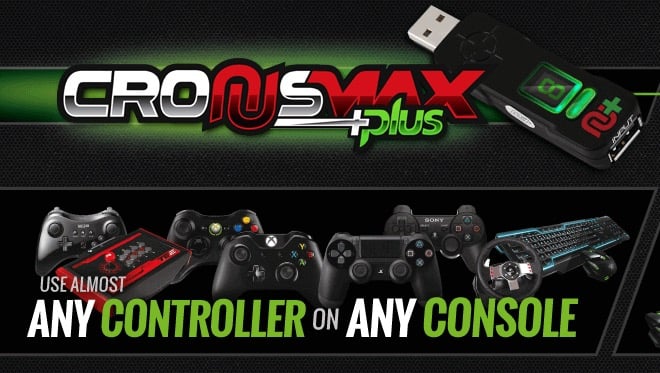 There are a couple of USB adapters to choose, but the most popular and best options include the CronusMAX and another called the Titan One. Both allow gamers to connect a handful of controllers to a Windows machine via USB.
The biggest downside with using a USB adapter is that the Titan One costs $60 and the CronusMAX is priced at $65, which is just as much as what a brand-new PS4 controller costs. The upside, though, is that it makes it easy to connect a PS4 controller to your Windows machine without having to install any other software. Plus, you can use the adapter for other controllers as well — not just a PS4 DualShock 4 controller.
Using Third-Party Software
If you don't mind downloading and installing some third-party software on your computer in order to use a PS4 controller, then there's a really easy way to make that happen without spending any money at all.
An app called DS4 Windows allows you to plug in a PS4 controller via USB and it essentially tricks your computer into thinking that it's an Xbox controller.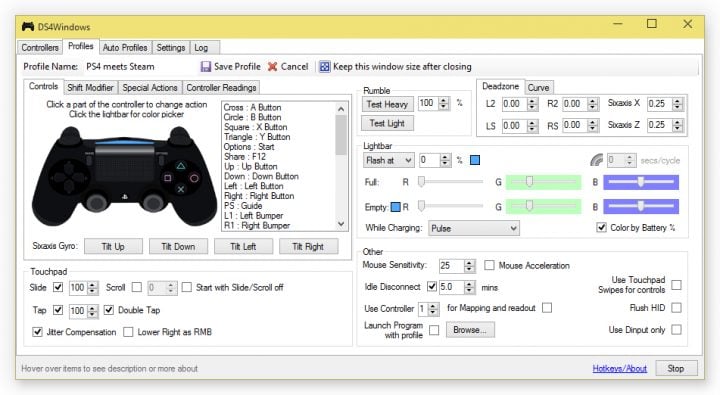 The utility can be as simple or detailed as you'd like, since it offers a default profile that allows you to just pick up and play, or you can get down to the nitty gritty and customize controls to your heart's content. You can even set up different profiles for different games and have them switch automatically between your games when you fire one up.
Plus, DS4 Windows also lets you do a ton of cool stuff, like button remapping, adjusting the touchpad's sensitivity, setting up macros, and even customizing the color of the PS4 controller's light bar.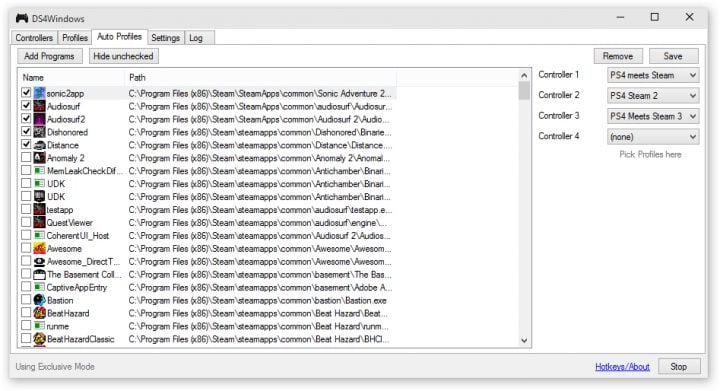 You can use your PS4 controller over Bluetooth on Windows, and it can be paired through Windows' default Bluetooth menu. All you have to do is hold down the PS button and the Share button on the controller until the light bar begins flashing. From there, the controller should show up in the Bluetooth menu to connect. From there, you can use DS4 Windows to configure the controls.
In the end, it might just be easier to buy a cheap and used Xbox 360 controller for your Windows gaming, that way you don't have to put up with any fuss, but if you have a PS4 controller already lying around, we don't blame you for giving that a try first.

As an Amazon Associate I earn from qualifying purchases.