Siri is Apple's voice recognition personal assistant on iPhone and iPad that allows users to execute commands by voice. We'll be showing you how to use Siri, how to customize it, and how to get the most out of the virtual personal assistant.
Siri first debuted in 2011 with the release of the iPhone 4s on iOS 5, and didn't come to the iPad until that next year when iOS 6 was released, first appearing on the third-generation iPad.
The virtual assistant aims at being a hands-free solution to navigating your iPhone or iPad and — at times — doing those things quicker than you could with your own fingers.
The reliability of Siri has been a much talked-about issue ever since it debuted, but Apple continuously improves it, and we'll be showing you how to use Siri, as well as how to get the most out of it. You might be surprised at all the things it can do.
How to Use Siri
When you first set up your iPhone or iPad, the Setup Assistant will ask you whether or not you want to enable Siri. You most likely clicked yes, but if you didn't, then you may have to go into your device's settings and enable it from there.
To do this, open up the Settings app and navigate to General > Siri. From there, toggle the switch to the right until it's green. A pop-up window will appear that tells you that Apple sends voice input and location data to their servers to process. If you're okay with this, tap Enable.
From now on, whenever you click and hold down on the Home button, Siri will be activated and you can start talking to her. When you're done saying a command, Siri will automatically stop listening and begin giving you an answer. However, you can continue to hold down on the Home button as you say your command and then release it when you're done (works on iOS 7.1 and newer). This speeds things up a bit, as Siri won't have to wait a couple of seconds to make sure you're done talking.
How to Customize Siri
So now that you have Siri up and running, you can begin to customize it, by changing some of its settings and even teaching Siri who your family is.
You probably already know that there are a few settings you can play around with, but if not, we'll give you an overview of all of the Siri settings that you can manage.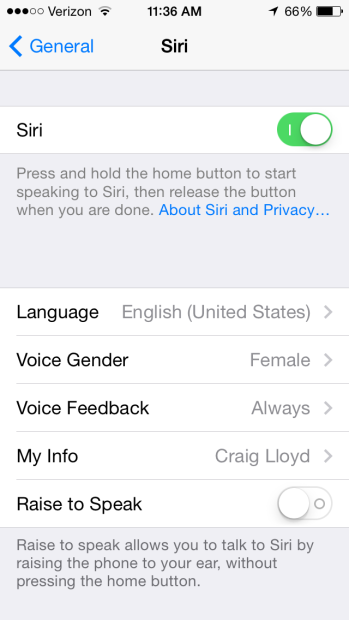 Language: You can change the language that Siri recognizes and speaks, but you most likely don't need to change this setting.
Voice Gender: You can either choose between a male or female voice when Siri speaks back. Both are pretty good at understanding, so it's really up to you which one you choose.
Voice Feedback: Here you can select whether you'd like to always hear Siri talk to you or only when using a hands-free device, like a Bluetooth headset. If you simply want to read Siri's responses without having to listen to them, select Handsfree Only and don't use a Bluetooth headset.
My Info: This is where you list your own name and contact information, that way when you say commands like, "Take me home," Siri can see what your address is in your contact information and instantly give you directions back to your place.
Raise to Speak: Enabling Raise to Speak allows you to activate Siri by simply holding your iPhone up to your ear just like you would a phone call. This prevents you from having to press down on the Home button.
That's all of the settings in the Siri section of the Settings app, but there's one more setting that you may want to consider changing. While still in the Settings app, tap on Passcode. Go down to the section titled, "Allow Access When Locked" and make sure the toggle is switched off. This feature can be handy since you don't have to unlock your device if you quickly want to use Siri, but it can open up the door for iPhone thieves to access your device without having to unlock it.
So those are the settings that you can change, but that's not all. You can also tell Siri who you're family is, that way she'll know who you're talking about when you say "dad," "mom," "sister," etc.
Read: How to Make Siri More Personable in iOS 7
To do this, you can either enter them all in manually in the Contacts app, or you can save yourself some time and just tell Siri herself. Hold down on the Home button until Siri pops up, and then say something like, "Bob Smith is my dad," or if you're like me and have your dad's name in your contacts as "dad," just say to Siri, "Dad is my dad." It'll sound weird, but once Siri sets it up, you can easily refer to him as your dad to Siri. Do this for all your contacts that you have a family relationship with. You can even let Siri know if you're married or not by saying, "Jane Smith is my wife."
From now on, you can say commands to Siri, such as "Text my wife" or "call dad," making it easier to get a hold of your loved ones without a lot of awkward dialogue getting in your way.
Commands You May Not Know About
You probably know about some of the simple commands that you can tell Siri, and we've already provided some examples earlier, but here are some commands that you may have not heard of before.
Get Unit Conversions: Believe it or not, Siri can convert a ton of units of measure, and can even convert currency. Just ask something like, "What is 3 tablespoons in teaspoons?" or "What is five dollars in pesos?".
Search on Specific Sites: Siri uses Bing as the default search engine when it needs to search for something that you request. However, if you want Siri to only search Google, Wikipedia, Twitter, etc., just say something like, "Search Wikipedia for black spiders."
Get Your Complicated Math Questions Answered: It's not too surprising, but many users don't realize that you can use Siri as a calculator. I use it all the time for percentages by asking Siri, "What is 70% of 4,640?" In other words, Siri is really good at math.
Set Location-Based Reminders: Setting reminders is a common command for Siri, but you can also set location-based reminders by adding the name of the store to your contacts and including the address. Then, you can tell Siri, "you can tell Siri something like, "Remind me to buy milk when I get to Walmart." When you get near Walmart, you'll get a reminder to pick up milk.
Change Settings Without Navigating Menus: The Settings app is essentially a complicated maze full of toggle switches, so if you'd rather not navigate your way around them and would rather simply just get to the setting you want, you can tell Siri things like, "turn off WiFi" or even "put my phone on silent."
Obviously, this is just a small sample of what you can do with Siri. If you have neat Siri tricks of your own, shout them out in the comments below.

As an Amazon Associate I earn from qualifying purchases.