How to Use Slide Over Apps on iOS 9
In an effort to make multitasking better on the iPad, iOS 9 has a new feature called Slide Over. Here's how to use Slide Over apps on iOS 9.
While Split View multitasking is one of the big new features in iOS 9 for the iPad, Slide Over is another multitasking feature that is actually a part of Split View in a way, but with a couple of differences.
While Split View lets you use two apps at once in a split-screen layout, Slide Over simply lets you go into another app without leaving the original app that you were in, and you can easily exit out of the new app and go back into the original app quickly. You can also switch between apps with Slide Over without exiting the original app.
Multitasking has been a big frustration for iPad users for years, as iOS never truly supported multitasking until iOS 9. Even with the quick app switcher, you still couldn't really switch between apps effortlessly, as once you exited out of an app, it would suspend the app and would need to reload once you brought it back up.
Read: How to Use iOS 9 Split View Multitasking on iPad
However, that has all changed in iOS 9, and iPad users are rejoicing, but if you're not quite sure how the new multitasking features work in iOS 9, there's a shallow learning curve, thankfully.
Here's how to use Slide Over apps in iOS 9 on your iPad.
Using Slide Over in iOS 9
With Slide Over, you can bring in another app and use it without exiting out of the app you were in. From there, you can close out of the new app you opened and instantly go back into the original app with ease.
To use this feature, simply open any app on your iPad. Once it's open, simply swipe to the left from the right edge of your iPad's screen. This will open a window pane where you can scroll through Slide Over-capable apps.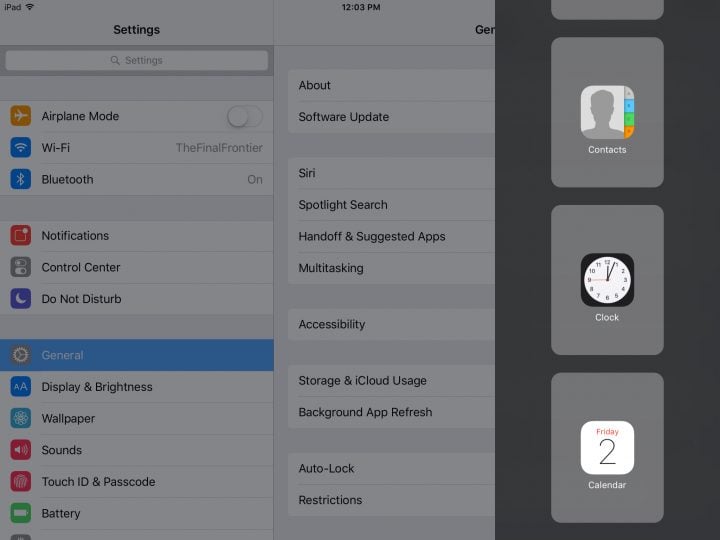 Tap on one and it will load the app in that small window pane and you can begin using it fully just like if it were loaded as the main app.
You can then swipe down from the top of the window pane to close out of that app and open up a new one.
Unfortunately, with Slide Over, you can't use Split View unless both apps support the feature, meaning that the original app that you were in, as well as the new app you opened in Slide Over must be compatible with Split View.
Also, not all apps will support Slide Over, so if you activate Slide Over and scroll through the apps and don't see the one that you want to bring up, that's because the app doesn't support the feature yet. Hopefully, this will change quickly as app developers continue to update their apps, but in the meantime, you're stuck with only a handful of apps that have Slide Over capabilities.
However, when you have two apps that support Split View, you can then press and hold down on the divider between the two apps and adjust the size that you want each window pane to be. From there, you can use both apps simultaneously.
Slide Over and Split View on iOS 9 only works with the iPad Air 2 and the upcoming iPad Pro, so it's a fairly limited feature, but it's safe to say that it will be on every new iPad that we see from here on out, so its usage should vastly grow in the future.
With that said, if you're looking to buy a new iPad and are really wanting these new multitasking features in iOS 9, your best bet is to buy an iPad Air 2, since other iPad models won't have this feature, including the iPad mini.