How to Use Snapchat Video Filters: Slow Mo, Fast & Rewind
A recent Snapchat update adds three new Snapchat video filters that allow you to slow down, speed up or play your videos in reverse.
We'll show you how to use the Snapchat video filters and how you can combine them with Snapchat Lenses to deliver bigger visual effects and how to combine up to 5 filters on a single Snapchat video.
This Snapchat update is only available for iPhone at this time, but we expect that an Android Snapchat update will arrive in the near future with similar options.
The October Snapchat update also includes 3D Touch support for the iPhone 6s and iPhone 6s Plus to quickly add friends and go to chats.
Many Snapchat users know how to add filters to photos, but they may not know how to use Snapchat video filters to change how a video looks and works.
This guide will show you how to record a Snapchat video, add a Snapchat video filter and then save or share it. You can also combine this with Snapchat Lenses for crazy effects.
How to Use Snapchat Video Filters
To make full use of this guide, make sure you have the October Snapchat update installed. You can use the Snapchat video filters on any recent version of Snapchat for Android or iPhone, but the new slow motion, fast motion and rewind filters are only on the new Snapchat update for iPhone right now.
Open Snapchat and choose which camera you want to use to record the video. You can use the new Snapchat video filters on either of them.
To record a Snapchat video, simply hold down the button at the bottom of the screen instead of tapping it. This allows you to record a short video. Talk, move, do whatever you want as long as you hold this button it will record. Let go to stop the recording or hold until it stops it for you.
If you want to use the new Snapchat Lenses, tap and hold on your face while using the front-facing camera then choose from the options at the bottom of the screen. You can then tap and hold on that button to record a video with the Snapchat Lens in place.
There isn't a way to trim the video after you record it in Snapchat, so make sure that you get it right.
After you record the video slide from right to left to start applying Snapchat video filters. You'll swipe through six filters until you get the new options to use slow motion, fast motion or reverse.
When you have the filter you want you can tap the down arrow at the bottom of the screen to save this to your camera roll. You can also press the arrow to send it to another user on Snapchat.
If you want to add text or emojis, you can use the options at the top of the screen.
That's all there is to recording a Snapchat video, adding a Snapchat Lens and using the new Snapchat video filters.
Snapchat Update: 5 New Lenses We Want to See
Star Wars Snapchat Lenses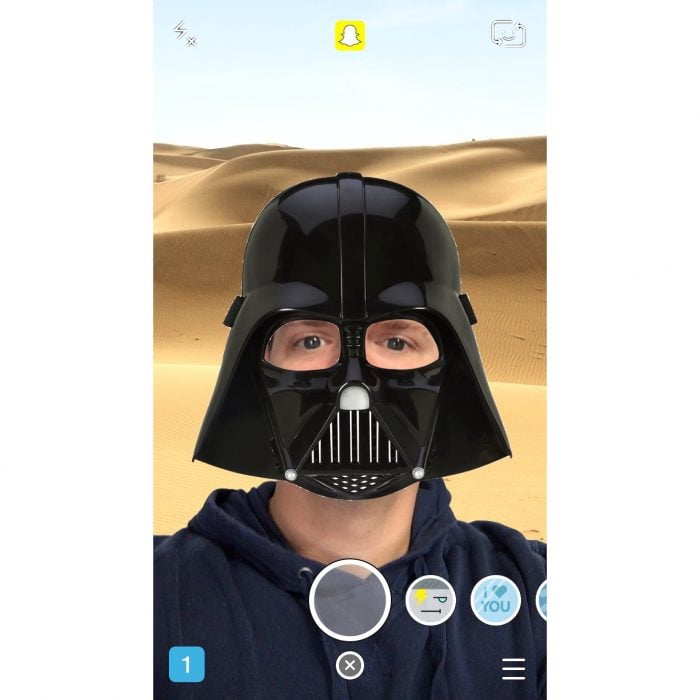 Disney and LucasFilms have the budget to deliver Star Wars Snapchat Lenses for the new Star Wars: The Force Awakens movie release later this year.
Specifically we would love to see a Darth Vader Snapchat Lenses option that delivers breathing sounds and places a mask on our face .
If this isn't up the alley of Disney executives let's go for C3P0, Chewbacca, Han Solo, a Fighter pilot or Rey.
Star Wars is littered with opportunities to deliver new Snapchat Lenses that will allow users to get ready for the release without actually putting on costumes for the wait in line.