How To Use Suggested Apps in iOS 8
iOS 8, the operating system that is included on Apple's iPhone 6 and iPhone 6 Plus devices is stuffed full of features. New camera optics allow iOS 8 to capture slow motion videos at levels never achieved on a smartphone before. The iPhone 6 and iPhone 6 Plus also have NFC chips that allow iOS 8 to communicate with credit card machines as a payment method for users who are lucky enough to have a bank that supports it. All of the iOS 8 features that are grabbing headlines involve upgrading iPhones. That is except for one: Suggested Apps, which we're going to show you how to use.
Suggested Apps is a perfectly good example of Apple rethinking the annoyances involved in owning a smartphone and clearing them up. With Passbook, Apple made it easy for iPhone owners to clear the clutter out of their wallet or on their key chain by storing gift cards and loyalty cards on their phone. While opening cards from Passbook was certainly more convenient than little plastic cards, limitations sometimes got in the way. Users would pull out their iPhone, but still need to dig through the apps on their home screen to find their gift card or trackdown the coupon they had in their Kroger app.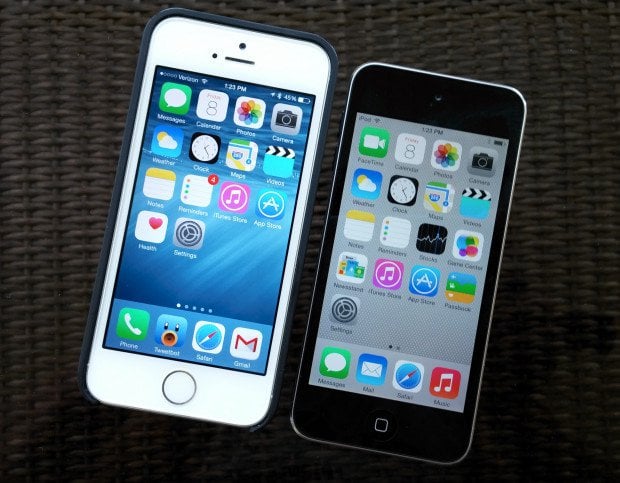 Suggested Apps takes care of this problem by using information an iPhone gathers in the background to learn where you are. Should there be an app that corresponds to your location, it's surfaced on the iOS 8 lock screen so that users can simply swipe up and be ready in a moment's notice.
Before we begin, it's important that you have the iOS 8 update. If you're on the iPhone 6 or iPhone 6 Plus, your device came with it installed. If you aren't on iOS 8 or haven't updated your iPhone in some time then you'll need to update now. iOS 8 is supported on the iPhone 4s, iPhone 5, iPhone 5s and the iPhone 5c. Connecte your iPhone to the computer you installed iTunes on to update to iOS 8 free of charge.  The third generation iPad, fourth generation iPad, iPad Air and first two versions of the iPad mini are also supported.
Read: iOS 8 on the iPhone 5s – Impressions & Performance
How to Turn On Suggested Apps
Pick up your iPhone with iOS 8 and unlock it by sliding your finger across the bottom of the screen, entering your passcode or using TouchID to unlock it with your finger.
Now locate the Settings app on your Home Screen and open it. If you've customized your device, the Settings app could be buried in a folder or on a second page of apps. Look for the silver cog.
Inside the Settings app you'll need to scroll down until you find the option for iTunes & App Store.
Scroll down until you see the entries labeled Suggested Apps. Flip the switches for My Apps and App Store.
How to Use Suggested Apps
Suggested Apps really is an app shortcut. Using your GPS location, your iOS 8 devices will track where you go. When there's an app available in the iTunes App Store that takes advantage of the location you're at, that app is surfaced on the lockscreen where you can quickly get into that app.
By flipping My Apps and App Store, you're inviting Apple to present you with apps based on your location whether you've installed them or not. Not having App Store turned on means your iPhone will only present apps on your lock screen that are already installed.
In the brief time we've had Suggested Apps on the feature has proved incredibly accurate. Walking into Starbucks we were able to quickly pay for a drink without having to first find the app on the Home screen. We've also seen some good results with other large business like the Kroger chain of grocery stores. Support for small business remains a bit spotty though.
Suggested Apps didn't immediately pull up the iPhone App for our local barbershop for example – despite us having it installed. Clearly, that'll get better over time. It doesn't appear as if app makers need to do anything on their part for Suggest Apps in iOS 8 to work. That's certainly great news, and that means there isn't anything preventing Suggested Apps from getting better and more widespread quickly.
Since Suggested Apps does use location information to surface apps on the locks screen it is possible that turning the feature on impacts battery life slightly. That being said, we haven't noticed any huge changes in the time our iPhone lasts with Suggest Apps turned on and it's been three days.
Unfortunately, Suggested Apps is completely dependent on GPS location information. If for some reason you'd prefer not to be tracked there's no way to use the feature. It doesn't seem as if Apple is sharing the location data with third parties, but security conscious users should be careful just the same.

As an Amazon Associate I earn from qualifying purchases.