How to Use T-Mobile Wi-Fi Calling On The iPhone
When Apple announced that it'd be introducing Wi-Fi calling in the iPhone 6, iPhone 6 and some of the iPhones getting iOS 8, legions of tech reporters cheered. As of a few weeks ago Wi-Fi calling is available on the iPhone on T-Mobile in the USA and its coming to other carriers soon.
Why users wanted the technology so much comes down to ease of use. Wi-Fi calling isn't some new technology that allows users to place phone calls for free. For that iPhone users will have to try other services. Instead, Wi-Fi calling on the iPhone is all about extending the coverage a mobile network. In the United States Apple worked with T-Mobile to create a set of standards for Wi-Fi calling. When turned on Wi-Fi calling on the iPhone is a complete substitute for a wireless signal. Users can send text messages to their friends. Anyone who calls when an iPhone is connected Wi-Fi and has Wi-Fi calling turned on still gets the call, even if there's no cellular network reception. Switching between Wi-Fi calls and standard cellular calls is easy. Instead of hanging up users simply just walk outside of their wireless network and the iPhone switches to T-Mobile's cellular network immediately.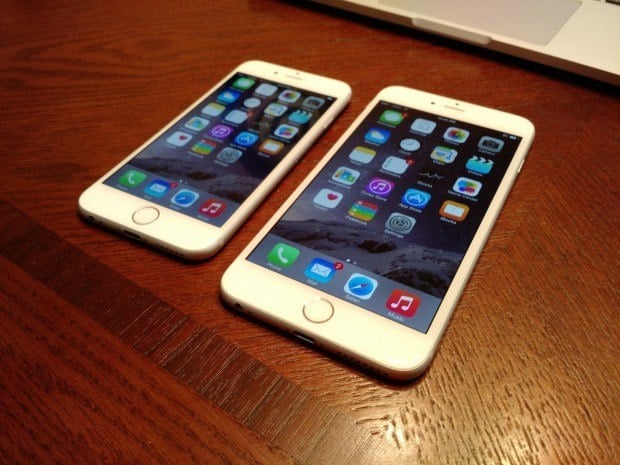 Wi-Fi calling has been around for ages, but it's never been as seamless as it is on the iPhone. Here's how to use T-Mobile Wi-Fi calling on the iPhone now.
First you'll need an iPhone running iOS 8, the latest version of Apple's mobile operating system. iOS 8 is free and available to any iPhone beginning with the iPhone 4s. That includes the iPhone 5, iPhone 5s and iPhone 5c. If you don't have iOS 8 already installed on your iPhone, here's how to get it. The iPhone 6 and iPhone 6 Plus come with iOS 8 out of the box.
Turn on your iPhone and unlock it by putting in your four-digit PIN. If you're using the iPhone 5s, iPhone 6 or iPhone 6 Plus then you've probably setup the TouchID fingerprint reader on your device. If so, place your finger on the iPhone's home button to unlock it.
Once you've successfully unlocked your iPhone, look for the Settings app on your device's home screen. It's represented by a silver cog. In our example it's sitting in the bottom right corner.
Inside the Settings app, scroll down until you see Phone settings.
Tap on Phone.
Tap on Wi-Fi calls.
Tap on the switch sitting beside Allow Wi-Fi Calls.
You've successfully turned on Wi-Fi calling on your iPhone but there's another step you need to take to be on the safe side. Because Wi-Fi calling doesn't include GPS information, emergency responders aren't able to find you in the event of an emergency. To make up for that, Apple allows you to update your address so that it can provide it to emergency responders in case something goes wrong. Tap Update Emergency Address.
Because this information is provided by the carriers themselves, you'll need to enter the information into a web page for your carrier. In this example our carrier is T-Mobile. Enter your address details and then hit Save.
Tap Close.
That's it. That's all the set-up you have to do. From this point on your iPhone will route calls through its wireless internet connection. If you already get pretty decent coverage in your area this won't be much of a change. You may notice that your calls sound a bit better, but that's it. If you typically don't get decent coverage at home or in your office then you'll notice a big difference in call quality. Text messages should find you more reliably and calls should sound crisp.
Wi-Fi calling means you don't have to keep your eye on your iPhone's signal bars, but it doesn't mean you don't have to watch how much time you talk. Even over Wi-Fi calling you're being billed for the minutes you use. For example, a plan that includes 500 minutes still translates to 500 minutes of Wi-Fi calling. If you have a plan with a set number of minutes, you'll need to stick to that set plan. If you have unlimited calling, you can use Wi-Fi calling to your heart's content.
One rather disappointing thing is that the iPhone 5c and iPhone 5s are the only older iPhones that can handle Wi-Fi calling. Users with those devices are also restricted in what they can do. For example, you can't use be on a call with either of these devices and switch between a Wi-Fi network and a cellular network, according to Recode. That's a shame, since that's supposed to be one of the huge benefits of having Wi-Fi calling built into the iPhone 5s at the software level.
Read: AT&T confirms Killer iPhone 6 iOS 8 feature Coming in 2015
As other carriers like AT&T and Verizon add Wi-Fi calling to their networks, this process will work on those carriers too. You don't need to make any changes to your wireless router or cable modem to get Wi-Fi calling on the iPhone to work.

As an Amazon Associate I earn from qualifying purchases.