How to Use the DROID Turbo as a Personal Hotspot
The Motorola DROID Turbo can act as a personal hotspot, a portable internet connection that can be shared to the millions of iPad, Nexus 7 and laptops we use. Letting them connect to the internet anywhere there is a cell phone signal. Here we explain how to use the Turbo as a personal WiFi hotspot.
Whether you call it a personal hotspot, portable hotspot, Mobile hotspot or just tethering — we're talking about using the Moto DROID Turbo to connect other devices to the internet. Our smartphones signal and internet connection for data can be shared and essentially deliver faster speeds than many home networks to your laptop or tablet, no matter where you are.
Read: DROID Turbo Android 5.1 Lollipop Update: What to Expect
It's a feature many users still don't understand, even some tech-savvy users, but below we'll explain just how easy it is to use your DROID Turbo (or any Android phone really) as a personal hotspot and internet connection. This is a useful feature that if your carrier plan allows, you'll want to take advantage of.
The most common and preferred method is to use WiFi tethering. Essentially sharing your phones data connection over WiFi to any of your devices. Whether this be your laptop, or sharing it with tablets in the car for your kids. It's similar to how you connect to the Starbucks WiFi, only it's using your phones connection, not Starbucks or a hotel. Alternatively there's also wired USB tethering, so your DROID Turbo can charge while it shares that connection to your Macbook, Nexus 9, or laptop of choice.
The easiest way to do this requires users to have an account through their carrier with support for the hotspot function, which sadly will usually cost an extra $15-$20 a month unless you're on some of the recent high limit data plans. Many of the mobile family share plans have hotspot enabled, thankfully, just make sure you don't use it all and go over the limit. It's the easiest way, but it'll cost you if you use all your data.
Below we'll explain where to go in settings to enable the personal hotspot, how to change the name and add a password so others can't use it if you're in public, then how to actually connect your laptop or tablet to your DROID Turbo connection.
Instructions
To enable a wireless personal hotspot you'll start by heading into settings by tapping the gear-shaped settings icon, or swiping down and hitting settings in the notification pulldown bar. From here you'll see Airplane mode, WiFi and more, and the sixth option is "more" and you'll want to tap this.
Once you hit more you'll be in the right wireless & networks settings menu. Our Turbo is on Android 4.4 KitKat, and this could slightly change when Android 5.1 arrives. From here just tap Tethering & mobile hotspot as shown below.
Next up is all the tethering and WiFi hotspot options and controls. Once you turn it on a popup warns you about battery life, and data usage. Then you'll want to head into "Mobile hotspot settings" and change the name, and more importantly, make sure a password is enabled. This makes it so others can't use your connection. Change the name to something you'll recognize, and a secure password, and hit save.
The tethering option will restart with your new settings, and that's it, you're all done. Alternatively you can manage what devices are allowed to connect, for added security and connectivity control. Let the kids tablet connect while on the road, or whoever you'd like.
Your iPad or laptop can now simply search for a WiFi connection just like you always do, find the Turbo with the name you created, enter the password and you're set. You're now using its internet connection on another device. Again, if you don't have an unlimited data plan be careful, as you can quickly use your entire months limit and get stuck with huge overage charges.
USB Tethering
In the same Tethering and hotspot menu in settings, you'll notice there's also a "USB tethering" option by the WiFi hotspot on/off switch. Instead of sharing the connection over WiFi where anyone can connect, USB tethering uses the micro-USB cable provided with your DROID Turbo. Plug this into your laptop, and into the Turbo, and you can share the internet connection via USB. This is faster, more secure, usually more stable. Not to mention it will even charge your phone at the same time.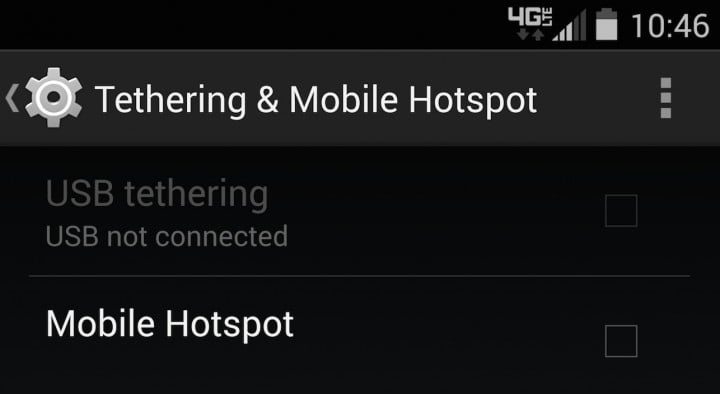 Using USB is our preferred method for tethering and using a hotspot function, not to mention it charges up your device at the same time to keep you full of battery for a days work.
Read: How to Make a WiFi Hotspot Widget on Android
If your carrier happens to be one that wants to charge $10 or $20 for the hotspot function, or it doesn't come free with your carrier plan, there are a few other options. In the Google Play Store you can find "Tether without root" apps that once setup, will enable USB tethering to share the internet connection all for free. Our favorite is Klink, since it's a simple wired connection, but Easy Tether Pro and other options are also available for those interested.
Some third party options require root access (Android's version of Jailbreak) and some don't. Unless you're an advanced user the tether without root options are your best bet.
Last but not least, it's a good idea to add a data usage reminder or alert so you don't spend all of that 2 or 5GB data plan. Head into Settings > connections > data usage and set the slider at an appropriate limit to keep things under control.

As an Amazon Associate I earn from qualifying purchases.