How to Use the Galaxy Note 3 Camera Flash for Notifications
When it comes to getting alerts and notifications on your Galaxy Note 3 for incoming calls and text messages, there's multiple different options available. From ringtones to custom vibrate modes and more. There's also one more you've probably seen before from many iPhone owners. And that's the camera flash.
Setting your phone on silent mode can have you missing important calls or texts, so instead Samsung's also integrated an option on the Galaxy Note 3 (and other Samsung devices) to enable the camera flash to alert you of incoming calls and texts. It's one of the brightest and most noticeable notifications around, and here we'll explain how to turn this feature on.
Alternatively, someone may have enabled this option for you, and you'd like to disable it. The instructions to enable and disable the camera flash for alerts and notifications on the Galaxy Note 3 are the same, and below are the few steps users will need to take.
Some may think this feature is obnoxious, and you're not alone, but for those who can't afford to miss a message it's an excellent solution. Having the phone go off like a disco ball of lights surely helps you never miss a call. It only takes a few moment, so here's how to do it.
Instructions:
For those looking to enable the camera flash for alerts or notifications on the Samsung Galaxy Note 3 (or other Galaxy devices) there's a few simple taps in settings you'll need to select, and that's it. It seriously takes less than 30 seconds once you know what you're doing. You'll want to head into settings, then tap the "Device" tab up top.
Settings > Device > Accessibility > Flash notification (check to enable)
Go ahead and check the "Flash notifications" box, and that's it. You're all done. You'll now have a super bright camera flash LED blinking and firing up every time you receive an incoming call, or text message. This feature can also usually be configured and tweaks by third party apps from the Google Play Store.
There's been a few reports that the recent Android 4.4 KitKat update has enabled this flash alert option for some users, although the problem isn't widespread. So, if you'd like to disable the camera flash for notifications on the Galaxy Note 3 simply uncheck the box. The same Settings > Device > Accessibility > Flash notifications box just needs to be unchecked, and it's always good to reboot after a settings change of this level.
Read: How to Cut, Copy & Paste on Android
As many of you Galaxy Note 3 owners already know, Samsung phones have tons of features for motion controls, on top of those S-Pen features. Enabling motion can allow you to quickly silence your phone by flipping it over, and this same feature works with the camera flash notifications.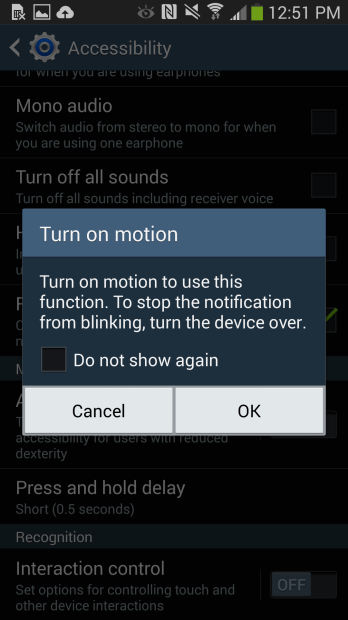 Simply enable (hit OK) on the motion option that pops up whilst enabling the camera flash notifications, and this will let you turn off the flash by turning your phone over. This way you won't irritate nearby people, especially in a movie theater or dark setting. We've all seen it, don't be that person.
Read: How to Close Apps on the Galaxy Note 3
Simply turn your Galaxy Note 3 over and the flash stops. That's all there is to this awesome and convenient feature on many recent Samsung Galaxy smartphones. No 3rd party apps required, nothing to download and install, no custom software. Simply head into settings and enable the flash notifications. Enjoy!